This Vegan Gingerbread Bundt Cake is full of warming winter flavors and gingerbread spices.This is the perfect holiday dessert to impress your family and friends.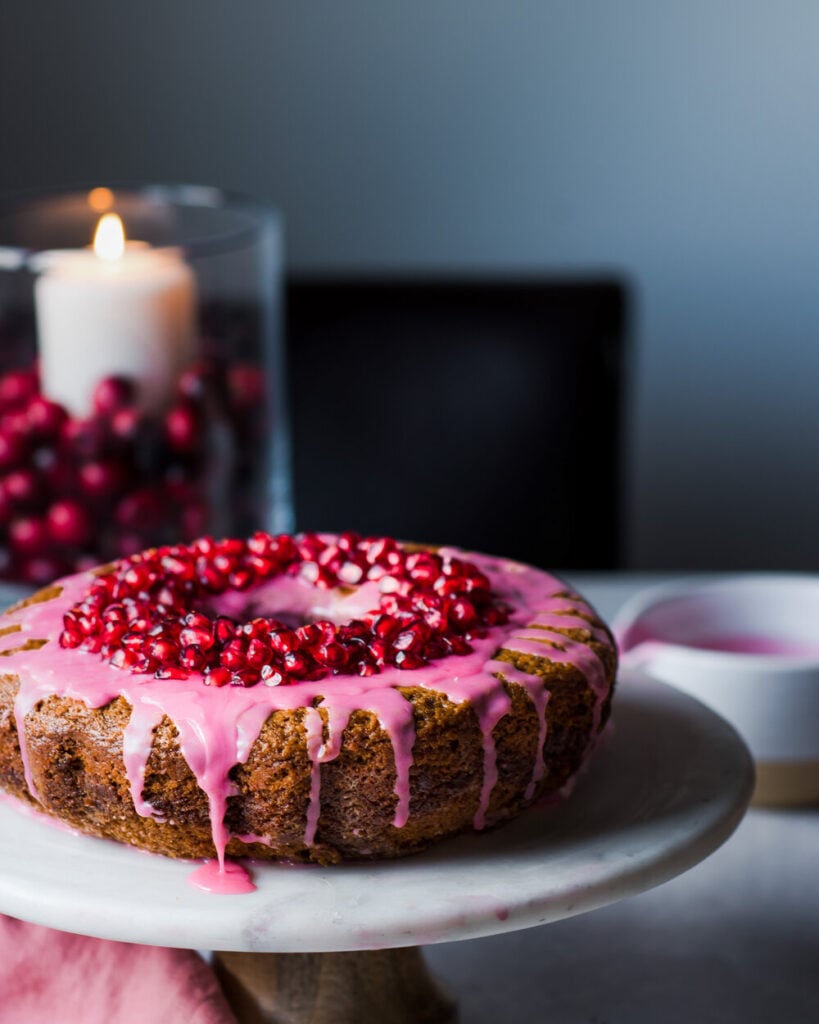 Ingredients
2 3/4

cup

all purpose flour

2 1/2

tsp

baking powder

1/2

tsp

baking soda

1/2

tsp

fine sea salt

2 1/2

tsp

ground ginger

1/2

tsp

ground allspice

1

tsp

ground cinnamon

3/4

tsp

ground nutmeg

1/4

tsp

ground cloves

heaped

1

cup

plant based milk

3/4

cup

sunflower oil

1/2

cup

unsulphured molasses

1

cup

brown sugar

1 1/2

tsp

pure vanilla extract
Pomegranate Glaze
2

cup

powdered sugar

4

tbsp

pomegranate juice

1

tbsp

lemon juice
Instructions
Preheat the oven to 350°F/175°C and position the oven rack in the middle of the oven. 

Generously grease a 10-inch (12-cup) Bundt cake pan (or a 9-inch, 10-cup Bundt cake pan) with a neutral oil, cooking spray, or vegan butter, and sprinkle with flour and dust off any excess flour. You want to make sure you really grease the pan well; otherwise, you will have trouble inverting the cake and some of the cake might stick to the bottom of the pan.  

In a large bowl, sift together the flour, baking powder, baking soda, salt, ginger, allspice, cinnamon, nutmeg, and cloves. 

Make a well in the center of the flour mixture and then add the almond milk, oil, molasses, brown sugar, and vanilla. 

Using an electric mixer on slow speed, combine the dry and wet ingredients until you have a smooth, thick batter, scraping down the sides of the bowl with a rubber spatula.

Pour the cake batter into the greased Bundt pan and smooth the surface with a rubber spatula. Bake the cake in the preheated oven for 40-45 minutes, until the cake is firm and springs back when touched. If you are using a 9-inch (10-cup) Bundt pan, you will likely need to bake the cake for an additional 5 minutes. 

Allow the cake to rest until it is cool enough to touch. Then, carefully invert it onto a cooling rack. Then drizzle with the Pomegranate Glaze and serve.
Pomegranate Glaze
Place the powdered sugar in a large bowl. Add the lemon juice and then the pomegranate juice, one tablespoon, at a time, whisking until smooth and thick. The glaze should be glossy in appearance and the texture should be sticky and pourable. If it is too thin, whisk in more powdered sugar. If it is too thick, add more pomegranate juice.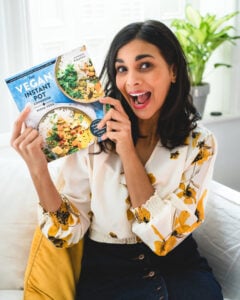 Be sure to check out Nisha's Cookbook here!