Vegan tacos just got a little bit yummier! These battered cauliflower vegan tacos have all the delights of a fish taco without the fish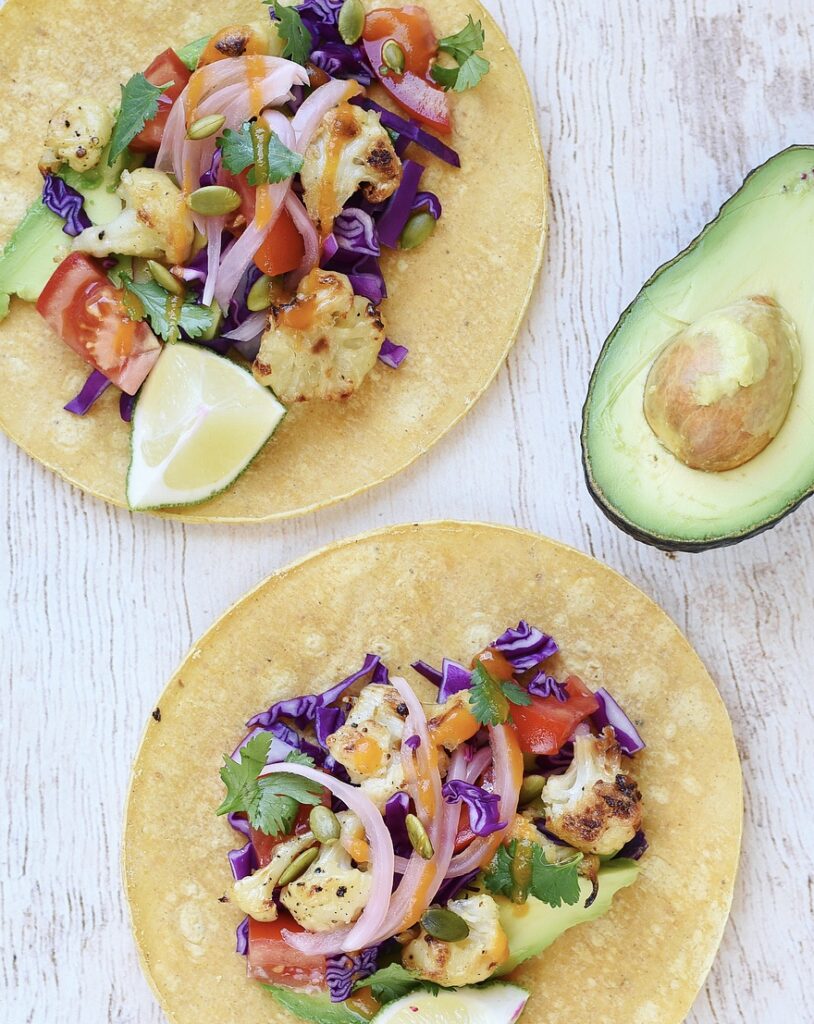 Ingredients
Pickled Red Onions
1

medium red onion sliced thin

1

cup

apple cider vinegar

1

cup

water

1

tbsp

sugar

1

tsp

salt
Purple Cabbage Slaw
1/4

head purple cabbage

1

tbsp

olive oil

1

tbsp

apple cider vinegar

salt & pepper to taste
Crispy Cauliflower
1

head cauliflower

1

cup

water

1

cup

all purpose flour

1/2

tsp

salt

1/8

tsp

pepper

1

tbsp

safflower oil

or other heat tolerant oil + more for oil dispenser
Taco Toppings
8

10 corn tortillas

1

vine

ripened tomato

1

avocado

1

bunch cilantro

toasted pepitas

pumpkin seeds

1

lime cut into wedges

habanero hot sauc
Instructions
Thinly slice the red onion and pack it tightly into an 8 oz mason jar. Leave about ½ inch of space at the top of the jar.

Bring the water and vinegar to a boil. Add the sugar and salt and stir until dissolved.

Carefully pour the vinegar solution into the jar making sure to fully submerge the onions.

Allow to cool before adding the lid, then keep stored in the refrigerator for 3-4 weeks.

Preheat your oven to 450º.

Wash and cut the cauliflower into small florets.

Prepare your steamer basket in a large stockpot with a small amount of water. Steam the cauliflower for 4-6 minutes.

While the cauliflower is steaming, prepare the batter by combining the flour, water, salt and pepper.

When the cauliflower has finished steaming, batter the cauliflower by dipping each piece into the batter and allowing the excess to drip off (or see my short-cut in the blog post).

Prepare your baking sheets by lining then with silicon baking mats or parchment paper. Using a basting brush, thinly spread 1tbsp of safflower (or other high-temp oil) on the bottom of the baking sheet.

Place the cauliflower florets on the baking sheet being careful to keep them separated. Lightly spray the tops of the cauliflower with additional safflower oil.

Bake the cauliflower on the middle rack for 20 minutes. Flip each piece and then bake for 10 minutes more. The cauliflower should be brown and crispy when finished.

Thinly slice ¼ head of purple cabbage.

Toss with olive oil, apple cider vinegar, salt and pepper. Set aside.

While the cauliflower is baking, slice the avocado, wash and tear the cilantro, dice the tomatoes and cut the lime into wedges.

When the cauliflower is finished baking, prepare your tacos with crispy cauliflower, purple cabbage slaw, pickled red onions, sliced avocado, chopped tomatoes, fresh cilantro, toasted pepitas and habanero sauce.
Kate's Tips: I recommend making the pickled red onions the night before. Or, if youâ??re like me, having them on hand in the refrigerator all the time. If not though, you can still make these and have the rest while you prep the other ingredients.