This creamy vegan lasagna soup is flavorful, hearty, comforting, tasty, and can be prepared in just one pot!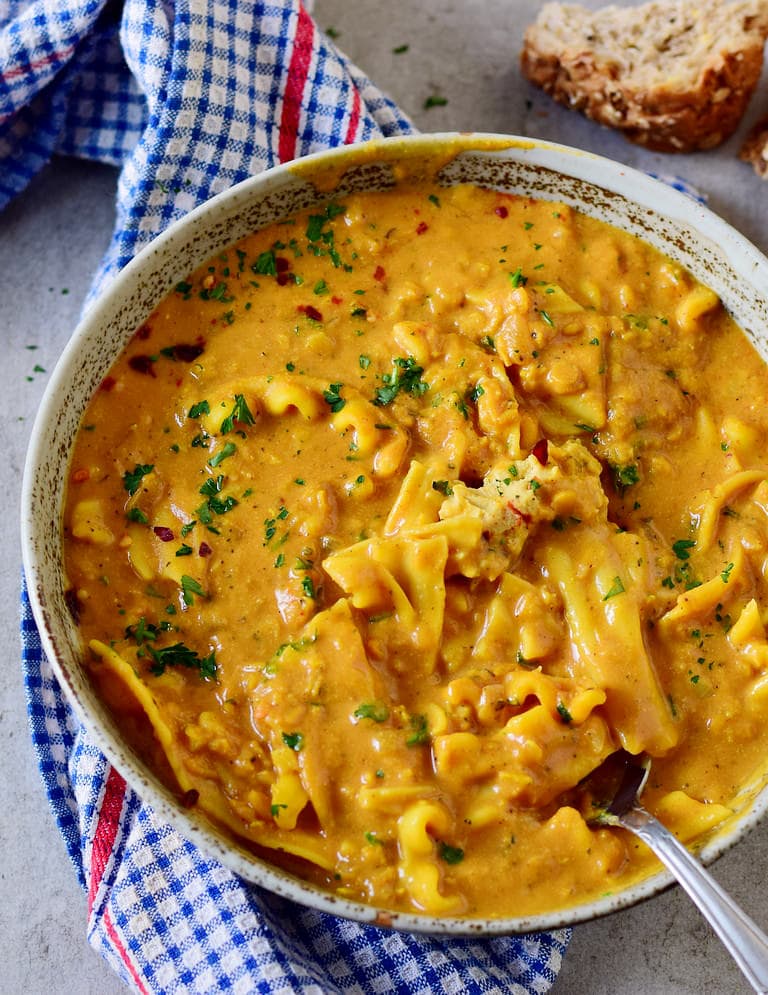 Ingredients
1/2

tbsp

oil

1

small onion diced

4

garlic cloves minced

1 1/2

tsp

Italian seasoning

1

tsp

onion powder

1/2

tsp

paprika

1 1/4

tsp

sea salt or less/more to taste

Black pepper to taste

1/2

cup

105 g dry red lentils

5

cups

1200 ml water or vegetable broth

1/2

cup

120 ml plant (based milk or cream)

1/2

cup

120 ml tomato sauce (passata)

1

tbsp

tomato paste

6

150 g lasagna noodles broken into pieces (you can use gluten (free noodles))

1/4

cup

nutritional yeast

1/3

cup

80 g cashew butter

1

tbsp

lemon juice

Red pepper flakes

optional

Vegan ricotta or mozzarella to garnish

optional

Fresh herbs

e.g. parsley to garnish
Instructions
In a sieve, rinse lentils under running water, set aside.

Chop the onion and garlic.

Heat oil in a large pot and sauté the onion for about 3-4 minutes over medium heat. Add garlic and sauté for a further one minute.

Add all spices (Italian seasoning, onion powder, paprika, sea salt, black pepper), the lentils, tomato sauce, tomato paste, cashew butter, and the vegetable broth or water. Stir with a whisk and bring to a boil.

Meanwhile, break the lasagna noodles into smaller pieces. Once the soup boils add the lasagna noodles and cook for about 9-10 minutes or until the noodles are al dente.

Finally, add the plant-based milk (or cream), the lemon juice, and nutritional yeast. Turn off the heat.

Taste and adjust the seasonings. Add more salt, pepper, Italian herbs as needed. You can also add red pepper flakes or hot sauce for a spicier soup!

Serve immediately and garnish with fresh herbs. Enjoy!

The soup will thicken over time, as the noodles will absorb a lot of the liquid. Simply add more vegetable broth if you want to eat leftovers the next day. Store covered in the fridge for up to 5 days.