Never cooked polenta before? Don't be intimidated. This recipe is easy to make, delicious, and gluten-free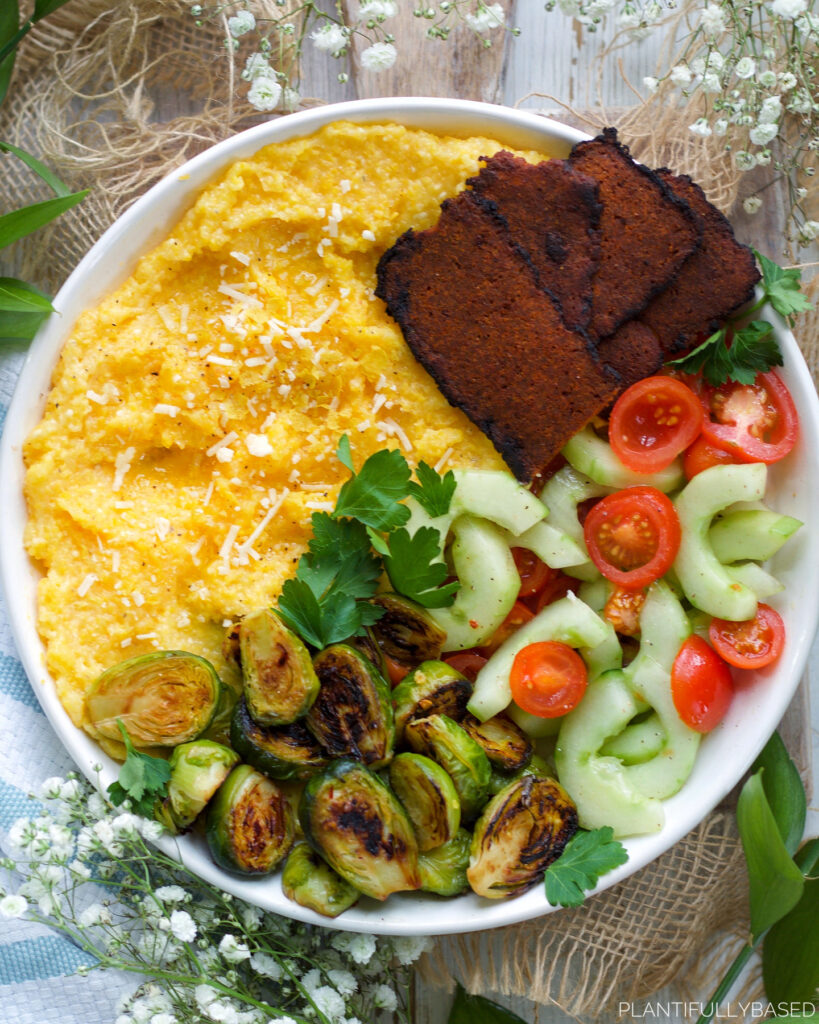 Ingredients
Cheesy Polenta
3/4

cups

polenta

1 1/2

cups

water

1/4

cup

vegan cheddar

1

tsp

nutritional yeast
Spicy Sesame Brussel Sprouts
15

Brussel sprouts

1/2

cup

water

1

tsp

sesame oil

1/4

tsp

salt

Pinch

of red pepper flakes

to taste
Cucumber Tomato Salad
1/2

cucumber

5

6 tomatoes

1/4

tsp

extra virgin olive oil

1

tsp

red wine vinegar

Dash of salt and pepper

to taste
Extras
Vegan bacon

Vegan parmesan cheese
Instructions
Prepare cucumber and tomato salad by adding all ingredients into a bowl. Toss to mix together and set aside while you prepare the rest of the elements of the bowl.

To make the Brussel sprouts take a pan and fill it with a 1/4 cup of water. Add the Brussel sprouts cut side down. Cover and cook for 5-7 minutes on medium low heat. Brussel sprouts will turn bright green. Once water is all gone add in another 2-3 tbsp and cover and cook one more time. Now Brussel sprouts should be softer. Drizzle the sesame oil and add salt and red pepper flakes. Toss and remove from the heat.

To make the polenta add the water and salt into a pot and bring to a boil. Once the water is boiling, lower the heat, add the polenta in and begin to whisk. The polenta will start to thicken. After about 1-2 minutes of whisking add in the vegan cheddar cheese and nutritional yeast. Continue to whisk for an additional 4-5 minutes. When done whisking the polenta will be thick, bright yellow and look creamy. You can give a taste and add in more salt. If the polenta is a bit gritty you can add in another 1/4 cup of water and whisk more. Then cover it for 3-5 minutes. *all polenta has different cooking times but the finer the polenta the less cooking time it needs.

To cook the bacon I like to add a bit of coconut oil spray into a pan. Place the bacon in the pan and cook for 2-3 minutes per side to get crispy.

When ready to assemble the bowl add all the elements in. I topped the polenta with a small drizzle of extra virgin olive oil and vegan parmesan. I added a bit of salt and pepper to the whole bowl and enjoy!