The combination of mushrooms and butternut squash just work so well and together with the tofu they create the perfect 'ricotta' style filling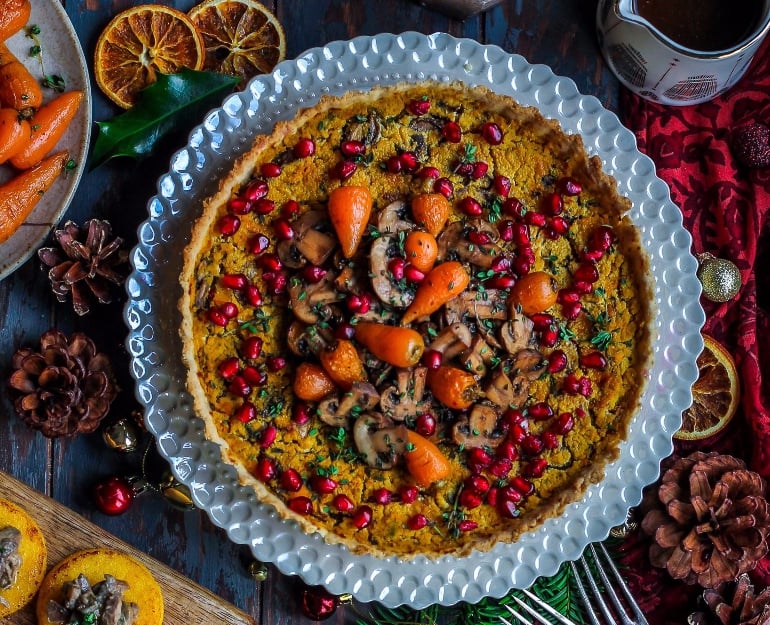 Ingredients
Base
1

cup

of ground oats into flour – just blend them into a blender unit you have a flour consistency

3/4

cup

of ground almond

1/3

cup

of wheat or spelt flour

3

tbsp

of coconut oil – not melted but soft

2

tbsp

of runny tahini

1/2

tsp

of salt

1

tsp

of dried thyme

3

tbsp

or more of cold water
Filling
Around 130g of chestnut mushrooms – sliced

1

white onion – finely chopped

2

garlic cloves – minced

1

block of firm tofu – 280g

2

tbsp

of nutritional yeast

1

tsp

of chopped sage

Few sprigs of fresh thyme

1/4

tsp

of ground nutmeg

2

cups

of butternut squash – peeled and chopped Into small cubes

3

tbsp

of olive oil

1

tbsp

of soy sauce

2

tbsp

of unsweetened plant milk

Plenty of salt and pepper to taste
Instructions
Preheat the oven at 180 degrees Celsius. Spread the butternut squash cubes into a baking tray. Drizzle with some salt and pepper and roast in the oven for 20 minutes until soft. Then remove and leave it onto one side.

In the meantime make the crust: Add the oat flour, ground almond, salt, dried thyme, and wheat flour into a large bowl. Make a dwell in the middle and add in the coconut oil, tahini, and water. Start mixing with a spoon and then carry on with your hands. Mix everything together until you have a fairly sticky dough when pressed between your fingers. Add a dash more of water if needed.

With some extra coconut oil grease a quiche/ tart case. Spread the dough around the tin and with your hands pack the dough all the way around the edges. With a fork pierce the base of the tart (to prevent from puffing up while baking) and bake in the oven for 10 minutes. Remove and let it sit onto one side while you are making the rest.

Add 1 tbsp of oil to a large pan. Once hot add in the chopped onion, cook for 5-8 minutes until it starts to brown and caramelize. Add in the garlic, thyme leaves, sage, and ground nutmeg and cook for another minute.

Remove the onion mixture from the pan and add it to a food processor together with the tofu. Add the plant milk and blitz until you have a 'ricotta' cheese kind of texture.

Put the pan back on the hob (no need to wash it) and add in the sliced mushrooms and dry sauce. Cook on medium heat until all the water from the mushrooms has evaporated and they are soft but not soggy. Pour the tofu mixture into a bowl and fold in the cooked mushrooms and roasted butternut squash cubes. Mix until everything is combined.

Spread the tart filling mixture onto the base. Spread evenly until the tart case is full. Bake in the oven at 180 degrees Celsius for 25 minutes until the tofu is set and slightly browned.

Remove from the oven and let it cool down slightly for 5 minutes. The tart is delicious as it is or if you want to decorate it I have used some extra cooked mushrooms, roasted baby carrots, and pomegranate seeds.