This is a sponsored post * [what is this?]
A group of bold women walk the streets in lingerie to raise awareness of animal cruelty in a brand new short documentary broadcast on UnchainedTV, the all-vegan streaming TV network.
The Lingerie Protest features Australian Dita Von Teese model and activist Stefania Ferrario, who wanted to draw attention to the cruelty animals face.
In the documentary she said: "Unfortunately animals in animal agriculture have no bodily autonomy so for us to use our bodies to spread awareness was incredibly powerful."
Fueled by the lack of news coverage about the devastation of animal agriculture, Ferrario teamed up with fellow activist and vegan influencer Tash Peterson.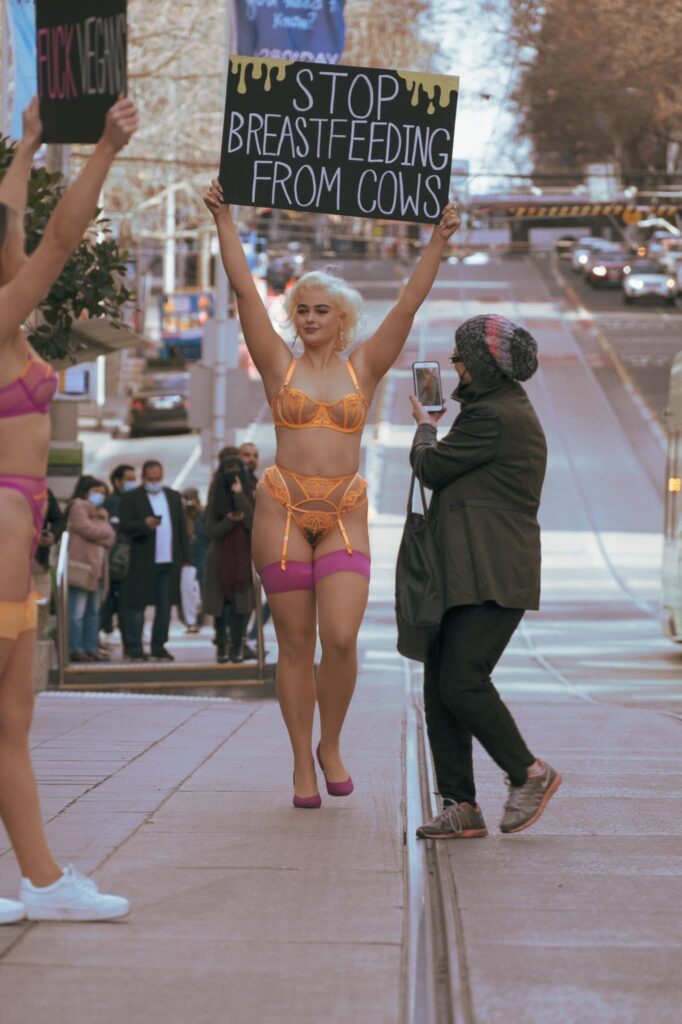 They wanted to get the public's attention and wake people up by whatever means necessary.
Wearing nothing but lingerie and holding provocative signs, the two women brought together a group of vegan influencers who took to the streets of Melbourne to share their message.
This started a wave of similar animal rights protests around the world.
Now women (and some men) are braving the streets of major cities in the US, Europe, and Asia in defense of animals, carrying signs with slogans such as "stop abusing animals" and "stop breastfeeding from cows." The documentary is a collaboration between UnchainedTV and New York-based production company CaveLight Films.
To watch the Lingerie Protest, download the free UnchainedTV app via the iPhone or Android app stores. Or, enter UnchainedTV on your Roku device, AppleTV device, or Amazon Fire Stick. You can also download UnchainedTV on LG and Samsung SmartTVs.
Alternatively, visit UnchainedTV.com and click WATCH NOW.
Doing anything it takes to defend animals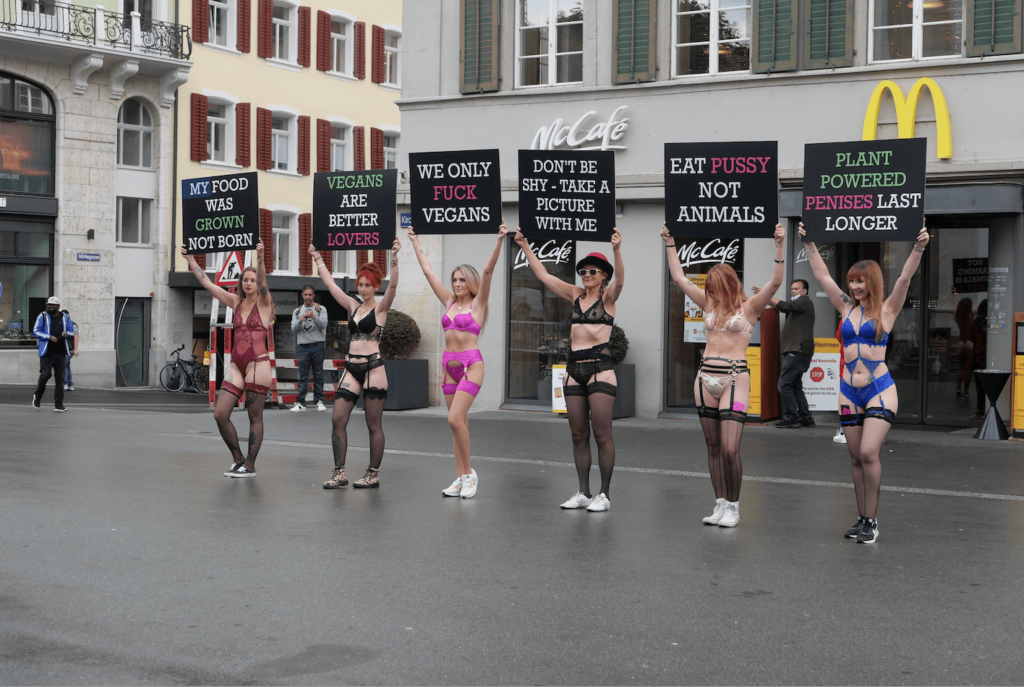 This isn't the first time these women have stood up for animals. Last year, Ferrario worked with PETA Australia on a campaign encouraging consumers to "leave wool behind."
She appeared on billboards and in videos sharing the reality of Australia's wool industry, where 70-80 percent of merino lambs are still mulesed, sometimes without pain relief.
Mulesing is a surgical procedure that removes four strips of perineal skin to prevent a parasite infection known as flystrike.
In one PETA video Ferrario described the abuse at sheep shearing facilities in the country as "rampant."
The international model has worked with some of the biggest fashion labels including Dita Von Teese, Myer, Target, and Berlei.
She is said to have a clause in her contract stating she won't wear any animal-derived materials in advertisements.
Meanwhile, Peterson is notorious for activism in Australia and online, where she's known by the name Vgan Bootyy on Instagram. Peterson made headlines in 2021 after entering a Louis Vuitton store in Perth wearing nothing but panties.
She was reported to have said she was protesting against cruelty in the leather, wool, and fur industries.
Global protests
The protests taking place for the UnchainedTV mini series have already reached millions and helped spark important conversations around the world.
Not all protestors were able to walk the streets in lingerie though. In Japan, where there is a risk of being arrested for such an act, the women participating chose to wear Santa costumes instead.
The seven-minute pilot episode, available free for subscribers to the UnchainedTV network, raises questions about animal welfare, the climate crisis, body autonomy, and woman empowerment.
It includes high quality footage of the global lingerie protests and interviews with Ferrario, as well as high-profile protestors who took part in New York, Tokyo, and Switzerland.
Renowned vegan content
Those tuning into UnchainedTV will also gain access to classic vegan movies, including Earthlings, Countdown to Year Zero, The Invisible Vegan, and Vegucated. But also cutting-edge climate campaigns.
Viewers will find plant-based recipes and profiles for some of the world's most successful vegan business leaders and plant-powered athletes.
Visit UnchainedTV.com to learn more.
* This is paid-for content; funds from this article help Plant Based News continue to provide millions of people around the world with free content they know and love. We only work with brands we support and use ourselves.