Would you pay £1,710 for a cap made from a slaughtered bear, or choose a virtually identical fabric that doesn't cost a penny? Cruelty-free, for free, is the obvious choice – unless you're the Ministry of Defence (MoD), stuck in the past, apparently with plenty of taxpayers' money to waste.
Despite being offered specially designed, free faux fur until 2030, the MoD continues to fund the hunting of black bears for their skins. It has spent a million pounds on this in the last seven years alone. Yet the iconic, tall black caps are purely ornamental, serving no military purpose, and each one takes the skin of at least one bear to produce.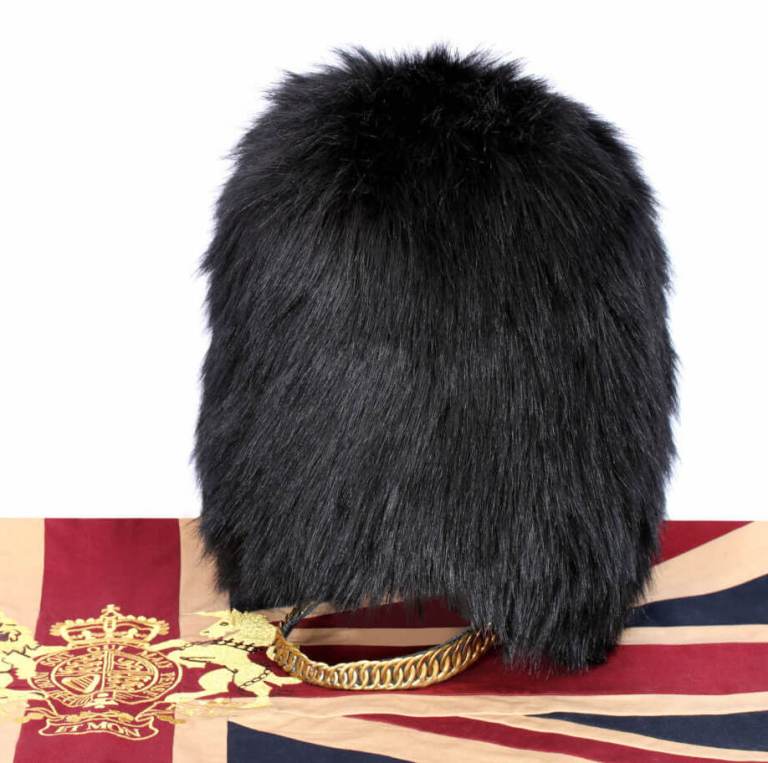 Even though the MoD told PETA that it would do a trial run of any suitable faux fur we developed to replace the caps (doing nothing itself to find an alternative), it has been actively thwarting our attempts to attain this goal.
We teamed up with luxury faux-furrier ECOPEL and invested time and money in creating a high-performing faux fur that we paid to have tested at the MoD's own accredited laboratory.
The results showed that it met the ministry's standards for waterproofing and performed just like the original caps in the water-shedding test. Yet the MoD has now moved the goal posts, contriving new hoops for PETA to jump through – while the slaughter of bears continues unabated.
Bear fur trade
It's outrageous that the MoD is allowed to get away with this. The Canadian bears hunted to make the ceremonial caps endure unspeakable suffering. In some provinces, it's legal to hunt them with guns, spears, and even bows and arrows. Many are wounded rather than being killed outright, leaving them to die slowly of blood loss. Since some of the bears are mothers, each cap can represent the death of an entire family as the orphaned cubs are left to starve.
In a desperate attempt to cling to its cruel traditions, the MoD would have you believe that the bear fur is the by-product of a "cull" overseen by Canadian authorities – as though this would somehow make it okay. Yet there is absolutely nothing to substantiate this. We have found no evidence of any Canadian province running – or having run – a bear-culling program.
When PETA pressed the ministry about the source of the bearskins, it admitted it didn't actually have a clue, saying, "No information in scope of this element of your request is held by the department … [T]he MOD receives the final product from our contracted suppliers and is not involved with the licensed cull sanctioned by the Canadian government."
What we do know is that the Canadian government issues tags to hunters who kill bears for "sport" and "trophies." These individuals may then sell the bearskins to fur auction houses and other suppliers for financial gain. By buying bearskins, the MoD is making the sale of bear fur a profitable pursuit for cowardly hunters.
Leaving animal cruelty in the past
These caps date back to the Napoleonic era, but we are now well into the 21st century and attitudes towards fur have evolved. Fur farming has been banned in the UK for more than 20 years. Her Majesty the Queen – whom the regiment is charged with protecting – no longer buys fur, and almost every major fashion house and retailer refuses to sell it. Instead, more companies are humanely reproducing the desired aesthetic using faux fur.
Please call on the MoD to follow suit. If you are a UK citizen or resident, you can sign this petition – launched by Britain's Got Talent judge Alesha Dixon – and encourage everyone you know to do the same.
The government has issued a pathetic and misleading response that must be challenged. When we reach 100,000 signatures, we'll force a parliamentary debate on the issue, restoring power to the British public to demand a modern, humane alternative that would save taxpayers' money and bears' lives.
---
This article was written by Elisa Allen, the Director of People for the Ethical Treatment of Animals (PETA)