Am I an animal extremist? Well, I certainly believe the treatment of animals in industrialized systems is cruel and inhumane. I believe humans exploit animals for their own benefit and profit. I believe any system utilizing animals – zoos, farms, or otherwise – is an ethical injustice.
I believe these animals are miserable, in pain, and desperate. And I believe it is a moral and ethical obligation to help these animals as much as possible, and to avoid supporting the systems harming them.
Do you agree? If so, you might be an animal extremist.
MINKS Act
Last month, Fur Commission USA circulated a news release titled Animal Extremists Exploit COVID Fears to Propose Ban on U.S. Mink Farming. It refers to a recently introduced bill intended to amend the Lacey Act of 1981.
The Lacey Act previously stated: "Under this law, it is unlawful to import, export, sell, acquire, or purchase fish, wildlife or plants taken, possessed, transported, or sold: 1) in violation of U.S. or Indian law, or 2) in interstate or foreign commerce involving any fish, wildlife, or plants taken possessed or sold in violation of State or foreign law."
The new amendment, known as the MINKS Act, adds mink to the protected species included in the statute. Throughout the short statement by the Fur Commission USA, the bill is denounced for several reasons. The organization claims mink farming is of no risk to public health. It also states that most mink will be vaccinated for COVID-19 within a few weeks of article publication.
'Non-existent' public health threat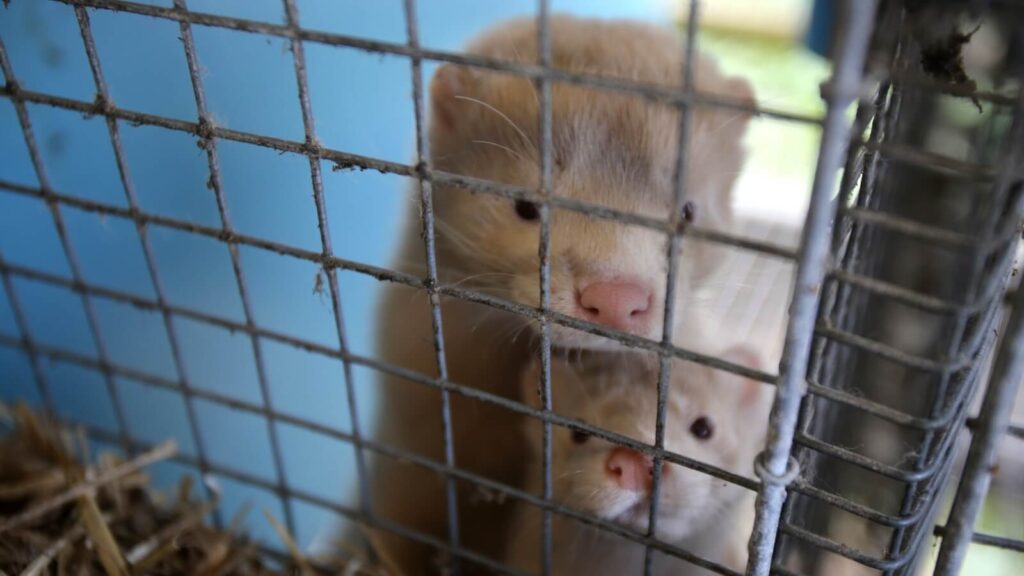 The Fur Commission USA's first point of contention is the fact that mink are spreading the COVID-19 virus to humans. Its article states that this is a 'non-existent public health threat'. Especially since mink in the US are being vaccinated on farms, it says. What the article fails to mention is that mink are not at risk of spreading COVID-19 as we know it, but they are at risk of spreading a virus mutation known as 'Cluster Five'.
This mutation threatens the effectiveness of the COVID-19 vaccine now being given to both humans and animals. The possibility of vaccine inefficacy and the reemergence of COVID-19 infections pose a real public health threat to humans and animals across the globe.
According to the Fur Commission USA, mink do not play any significant role in transmitting the COVID-19 virus to human beings. The article quotes 'CDC officials' to support this claim. However, no citation is provided. Really, there have been massive COVID-19 outbreaks on mink farms in ten different countries. The wildlife trade leads to increased interactions between animals and humans, which increases the transmission of zoonotic diseases. Mink farms are no exception; between the US and Europe, there have been 431 outbreaks of COVID-19.
In addition, the Netherlands government reported cases of COVID-19 spread from mink to humans.
Bias sources
John Easley DVM – which the commission describes as 'one of the world's leading authorities on mink health and disease states' – supported the claims.
"The mink industry has worked in close collaboration with the USDA and CDC over the last 12 months to address mink susceptibility to the SARS-CoV-2 virus," he said. "Now that the Zoetis vaccine is being utilized on the farms, we expect all US mink to be immunized within the next few weeks."
What the article fails to acknowledge is that Easley is employed by the Fur Commission USA as its Director of Research. And another organization notes that Easley is a representative of the Fur Commission USA. A biased source being cited in the commission's response, such as an employee of the commission in question, is certainly problematic. Aside from this, Easley's statement is irrelevant. The danger of mink farming is Cluster Five, not the current COVID-19 virus strain. Even if conditions for mink were improved in order to prevent COVID-19 mutations (an action which the Fur Commission USA has shown no signs of pursuing), the only reliable way to prevent mutation is to eliminate mink farms.
Backlash
The Fur Commission USA utilizes the resignation of Denmark's agricultural minister as evidence that the European mink farm COVID-19 outbreaks are dissimilar to the US outbreaks. It says the resignation is a warning of what may happen in the US should the new amendment to the Lacey Act of 1981 be ratified.
'Public trust' was lost by the agricultural minister after '[destroying] millions of mink without the proper scientific evidence or authority', in the words of the Fur Commission USA. This claim does not epitomize the truth. Backlash against the culling of millions of mink was due to their inhumane slaughter, improper burial, and possible pollution of drinking water, according to the American Bar Association.
Furthermore, most of the backlash was from human beings benefiting from the slaughter of mink for fur, such as farmers and industry officials.
'Fringe animal activists'
Fur Commission USA's executive director Michael Whelan describes supporters of the MINKS Act are described as 'fringe animal activists' touting an agenda of '[banning] all animal products'.
Are these supporters really 'fringe' though? Are their wishes really extreme? Why villainize the supporters of a virtuous bill to protect mink? The statement by the Fur Commission USA is overflowing with unsupported claims, false evidence, and biased quotations.
Why lie so blatantly in an article? Money, that's why.
According to the commission itself, profit from U.S. mink pelts amounts to more than 300 million dollars per year. Of course such a large organization is doing everything possible to prevent the MINKS Act from passing – hundreds of millions of dollars from exploiting mink would be lost.
So, are we animal extremists? Is it extreme to pursue the freedom and humane treatment of living creatures? Is it extreme to prioritize the wellbeing of both human beings and animals? Is it extreme to advocate for laws in order to protect as many lives as possible from COVID-19?
No, these things are not extreme. What is extreme is cramming mink into too small of cages, and slaughtering them via carbon monoxide gas until they asphyxiate.
What is extreme is misleading as many people as possible into believing animals are nothing more than luxurious commodities. What is extreme is the Fur Commission USA.
---
Animal Rebellion's National Animal Rights March will be held on August 28, 2021 in London. It's predicted to be the largest animal rights march in the UK. See here for more information.