Thousands of wild, farmed, or companion animals have reportedly fallen ill or died following the train derailment disaster in Ohio in the US. Meanwhile, the potential health risks for humans in the area are still unclear.
On February 3, around 50 train cars derailed in the small village of East Palestine, including 20 carrying hazardous substances.
A number of materials known to cause health risks – including vinyl chloride, ethylhexyl acrylate, butyl acrylate, and ethylene glycol monobutyl ether – were released into the air, surface soils, and surface waters.
On February 6, a controlled burn of chemicals was carried out to prevent an explosion. This sent a large black plume of smoke into the air above the site. The area was evacuated at this time, but residents were told it would be safe to return on February 8.
There are serious concerns about what effect the incident will have on humans. People have been reporting nausea, headaches, and burning eyes. Vinyl chloride is associated with an increased risk of a number of cancers, including a rare liver cancer called hepatic angiosarcoma.
It is also associated with brain and lung cancers, lymphoma, and leukemia. One of the substances released in the controlled detonation was phosgene, which was used as a chemical weapon in the First World War.
Concerns have been heightened by the effect the incident has had on non-human animals, with thousands of reported illnesses and deaths.
Thousands of fish die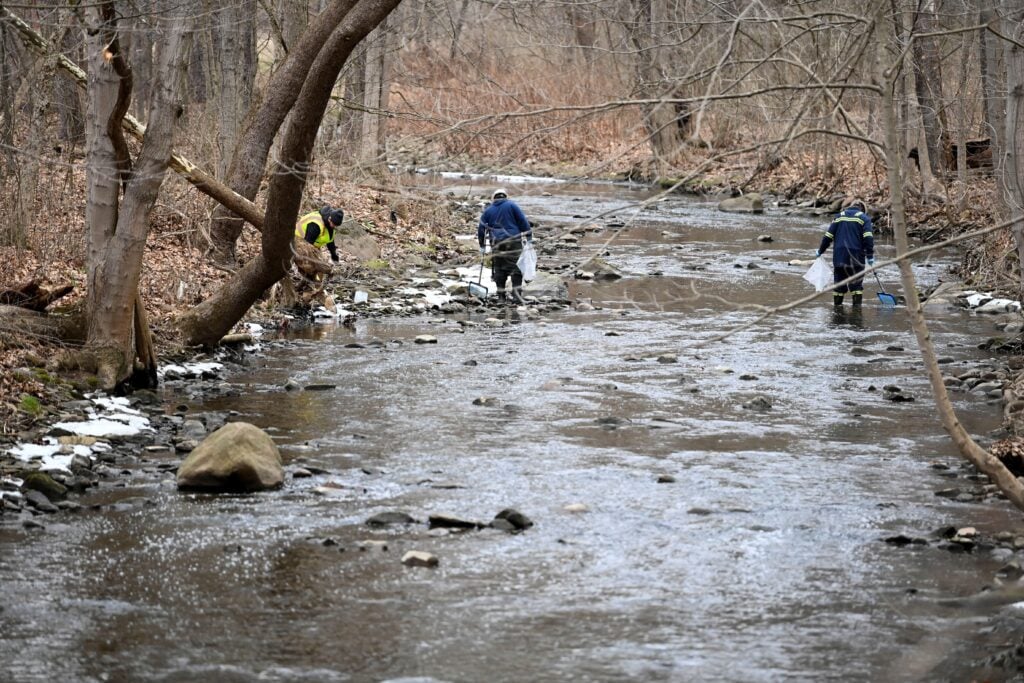 In the days that followed the derailment, around 3,500 fish died in nearby streams and waterways. It is thought that 12 different species were affected very soon after the incident occurred. Among them were creek chubs, mottled sculpins, and stonerollers.
According to Mary Mertz, the director of Ohio's Department of Natural Resources, there was "no evidence" that the derailment had affected land animals in the immediate aftermath.
However, a number of residents maintain that companion and farmed animals have been impacted.
Non-human animals affected by the derailment
Taylor Holzer, who keeps foxes, is one citizen claiming that some animals had fallen ill.
He said that several foxes now have "swollen faces and runny eyes." One fox, who was housed in a property within the evacuation zone, suddenly died after Holzer was unable to evacuate him in time.
"He went downhill very fast," he told Newsweek. He added that the fox developed diarrhea and breathing issues, and "crashed so fast and unexpectedly."
"He wasn't able to blink or function properly as he died in my arms," Holzer said.
A woman named Andrea Belden was staying with her boyfriend and their two cats in East Palestine when the incident occurred. She claimed that one of her cats, who had been fine at a vet appointment two weeks prior, developed a racing heart and had trouble breathing. After she took him to the emergency vets, it was confirmed that he had an an underlying genetic heart disease "that was triggered by the vinyl chloride poisoning."
Another resident in the town of north Lima, which is around 10 miles from the site of the derailment, has said that six of her backyard chickens have died.
You can donate to the relief fund for East Palestine here.