Plant-based tech company Rebellyous Foods has raked in $9.5 million in a recent equity round.
The Seattle-based team, which specializes in chicken alternatives, was once again backed by KBW Ventures, an asset management firm that invests in companies proving pivotal in the "future of food." [A quick note about KBW]
KBW last invested in Rebellyous in 2020, when the startup brought in $6 million in Series A funding. The seed round also saw participation from Clear Current Capital, Fifty Years, Liquid 2 Ventures, CPT Capital, and Agronomics.
Rebellyous and the future of food
Aerospace engineer Christie Lagally founded Rebellyous Foods in 2017, with a view to providing the plant-based meat sector with scalable technology that could increase capacity while lowering costs. And in doing so, make vegan alternatives more accessible to the public.
Specifically, Rebellyous Foods claims to have developed patented technology that can bring price parity to plant-based and animal-derived chicken.
Speaking about the most recent investment round, CEO Lagally said: "During a tough economic slump, we are thrilled by this testament to investor belief in Rebellyous and in price parity as a solution to sustained growth of plant-based meat in the marketplace.
"The world is in desperate need of viable solutions to animal agriculture, and we are delighted we are one step closer to delicious, affordable plant-based meat for all."
Plant-based chicken market
Chickens are the most intensively farmed land animal on Earth, with an estimated 65 billion killed for meat every year.
However, the growing popularity of veganism has brought with it a surge in vegan chicken alternatives.
Brands across the globe – from Heura and VFC to THIS and Lightlife – are producing meat-free versions of chicken nuggets, strips, patties, and more. It's currently the second-fastest growing category in the plant-based meat sector.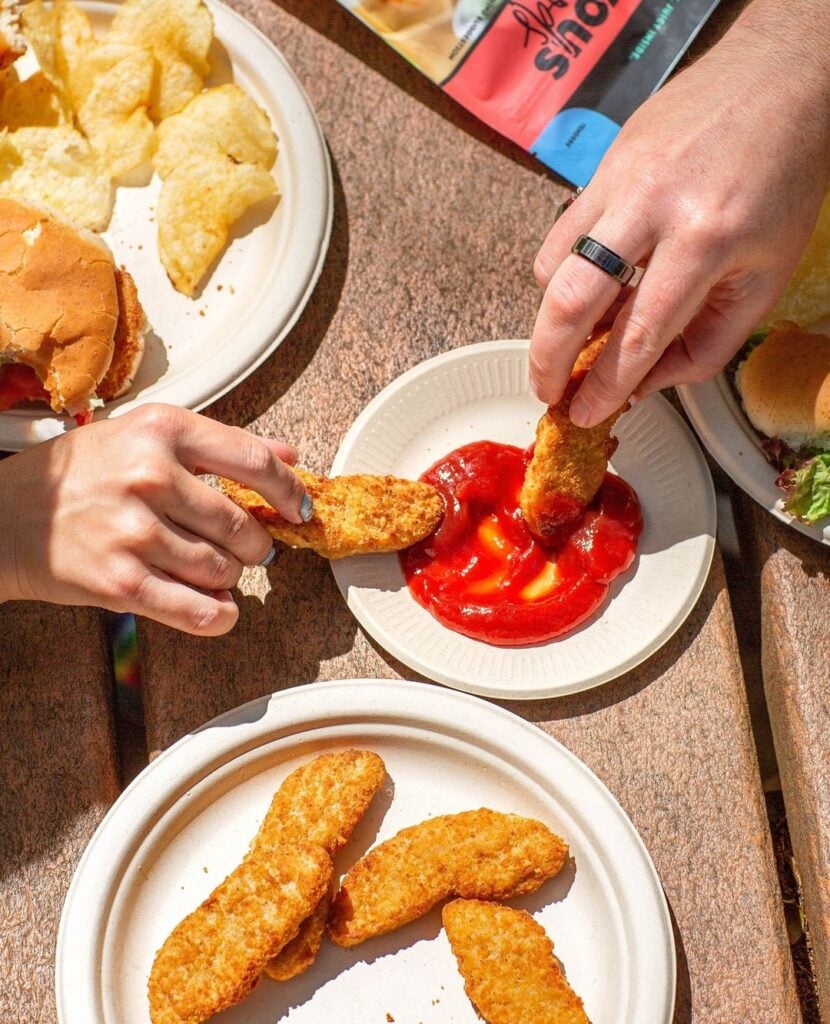 Still, the vegan and animal-based chicken categories are not yet neck and neck.
The global conventional chicken market had a value of $196 billion in 2021. Meanwhile, the entire plant-based meat sector (not just chicken) was worth approximately $5.4 to $7.5 billion the same year.
Price parity via enhanced production
Rebellyous Foods hopes to tip the scales. The company maintains that its engineering and technology can "revolutionize plant-based production, from the factory floor up."
Its current production system has resulted in a 90 percent drop in production workforce costs (achieved through automation), as well as an 80 percent reduction in energy costs (due to not needing a chilled environment to process animal meat).
Rebellyous also says it has achieved a 99 percent reduction in material waste, among others.
"Rebellyous is the only company making meaningful strides towards price parity," commented Mike Miller, board member and partner at Liquid 2 Capital.
"The plant-based meat industry has shown us that the status quo isn't cutting it… and it takes a new style of thinking to look beyond food chemistry to manufacturing."
Rebellyous aims for its manufacturing system to be "cleaner, more efficient, and better for the people who operate it."
"Our passion for animals is matched by our compassion for people," the company states. "We're building a world where food production is not a dirty business. Where factory work is good work. And where respect for the planet goes hand-in-hand with human dignity and cost-effectiveness."
—
Disclosure: KBW Ventures is also an investor of Plant Based News. Those interested can learn more about the company here.