The world's largest animal rights organization has called on Kate Moss to stop wearing fur. People for the Ethical Treatment of Animals (PETA) penned a letter to the British supermodel urging that she think twice about the 'outdated' and 'cruel' fashion items, and donate the furs instead.
Fashion companies ditch fur
The letter follows Kering Group's recent announcement that from fall 2022, none of its brands will be using fur. The luxury fashion company – which is one of the largest in the world – is parent company to brands like Alexander McQueen, Balenciaga, Brioni, Gucci, and Yves Saint Laurent, among others. 
Saint Laurent and Brioni were the last of Kering's brands to ditch fur, which they did just last week.
In response, PETA announced it would stop using its anti-fur Saint Laurent posters, which feature Moss. Earlier this year, activists gathered at Saint Laurent's Paris shop to protest its use of fur.
Protesters held images of Moss wearing a fox fur coat for a Saint Laurent campaign. Beside the image was a photo of an injured fox on a fur farm. The posters read: 'Who Wore It Best?'.
PETA reached out to Moss asking that she follow in the fashion companies' footsteps and stop advertising fur.
PETA's letter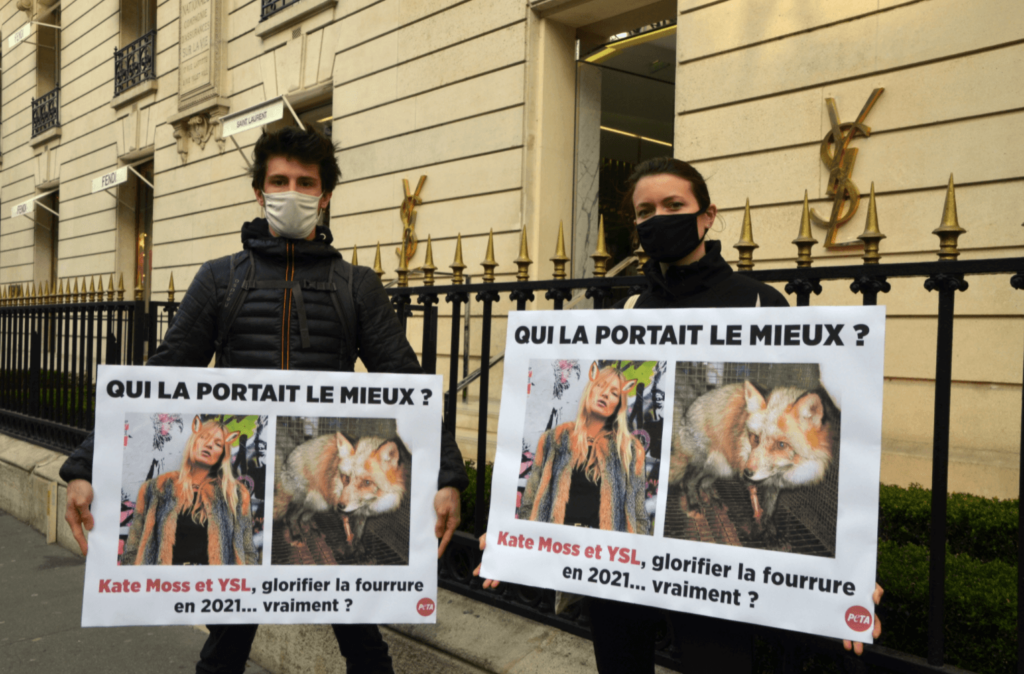 Mimi Bekhechi is Vice President of International Programmes at PETA.
"Following the news that Kering is going fur-free across all of its brands, even you must now see that wearing fur is as outdated as it is cruel," she wrote in the letter. 
"Young people don't want to buy clothing made from the skin of animals who suffered in filthy, cramped cages for their entire miserable lives, before being killed in the most horrific ways for their fur."
Bekhechi continued: "As the entire fashion community is turning its back on fur, we urge you to do the same or risk finding yourself becoming as irrelevant as the furs you've been sporting."
The organization asked the model to instead donate the furs to its fur amnesty program. "We promise to put them to good use," the letter said.
The company uses old fur items in educational displays and donates them to wildlife sanctuaries to be used as bedding for animals. PETA also sends them to refugees from war-torn countries.
Mariah Carey, Anna Dello Russo, Kim Cattrall, and Anjelica Huston have previously donated their old fur items to the program.
"Even 95-year-old Queen Elizabeth II knows fur has no future and has given it up," the letter adds. "What do you say, Kate, will you embrace the move towards compassion in fashion and pledge to stop wearing animal fur?"