Brooklyn Peltz Beckham has seemingly recreated his dad's famous 2006 "Got Milk?" advert in a new campaign for a plant-based dairy brand.
"Silk Next Milk" comes from American vegan company Silk. The campaign uses popular figures from the "new generation" to highlight the growing popularity of plant-based over dairy milk among younger people.
Beckham shared a picture of himself sporting a mustache reminiscent of the iconic ads, writing: "Because Silk Nextmilk™ is a better stache. Who's next?"
The aspiring chef, 23, was one of a number of so-called "nepo babies" to star in the campaign. The term is popularly used to refer to the children of famous people. Actor John Travolta's daughter Ella Bleu, several of basketball player Shaquille O'Neal's children (Myles, Shareef, Me'Arah, Shaqir, and Amira), and model Christie Brinkley's daughter Sailor Brinkley Cook also appeared in the campaign. 
While Beckham isn't vegan, he recently told People that he and his wife, actor Nicola Peltz, are reducing their meat intake and trying to eat more plant-based meals.
Got Milk? campaigns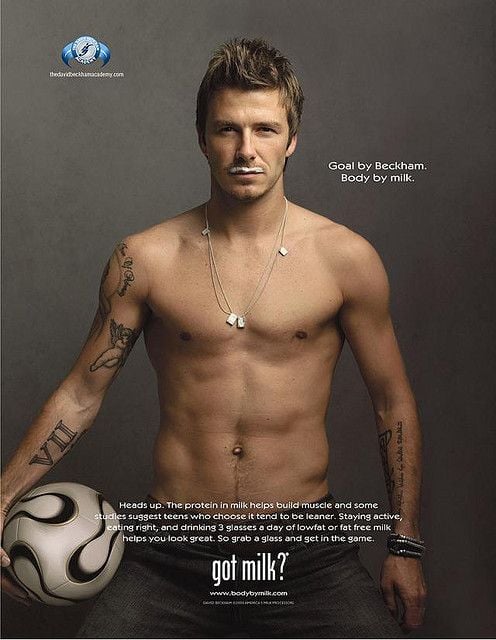 Got Milk? was an American advertising campaign that encouraged the consumption of cow's milk and other dairy products.
It launched in 1993, and the "milk mustache" adverts were first seen two years later. The campaign was shelved in 2014, but the ads are still widely recognizable in popular culture.
A number of celebrities have posed for the campaign. The adverts generally saw them pose with "mustache" of dairy milk, while the words "Got Milk?" appear alongside them.
As well as David Beckham, celebrities including Beyoncé, Rihanna, Britney Spears, and Serena and Venus Williams have starred in the campaigns.
Silk vegan milk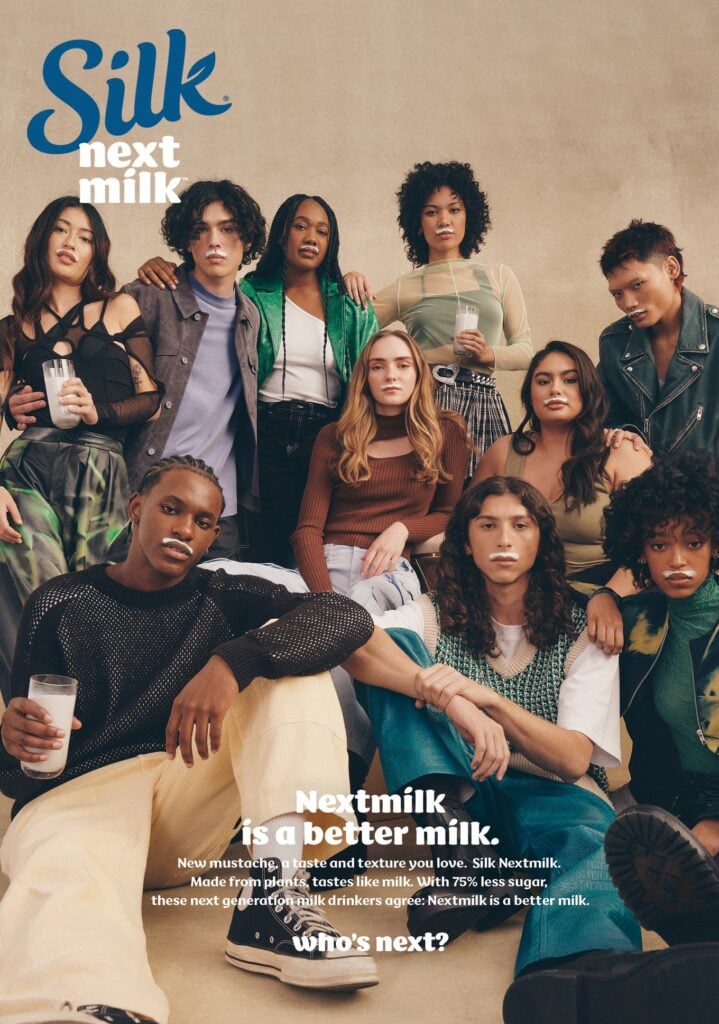 First launched last year in the US, Silk is made from a combination of plant-based ingredients, including oat, coconut, and soy. It's also available in half-fat and 2 percent reduced-fat versions.
The company has said it tried to mimic dairy as much as possible with its formula, including in taste and nutritional factors.
By featuring the "next generation" in its campaign, Silk is targeting an audience for whom plant-based milk is an increasingly popular option.
A study published in May 2022 found that over half of Gen Z (those born between 1997 and 2012) felt "shame" around ordering dairy products. It also reported that around a quarter felt cutting out animal products was the best thing for the environment.