A new advertisement asking people to "make the connection" between their food and animals has been unveiled on the London Underground.
The poster can be seen at Oxford Circus station, which is one of the busiest on the map. It is thought that around 2.5 million people will see it.
The ad, which comes from Vegan Friendly UK, has the number "322,860" in bold letters. It then goes on to explain that that's the number of animals who have died in the time taken to read it (the average is eight seconds).
"We wanted to launch a powerful campaign to open people's eyes to the shocking reality animals face every second, because of our food choices," Noga Bronsky, Vegan Friendly UK CEO told Plant Based News (PBN).
"Within the vegan community, these numbers are quite known, but most people out there are not actually aware of this scary scale of hurt and pain we cause. We chose to use photos of pigs to relate actual faces with the inconceivable number, and help them see these are actual living beings they are hurting."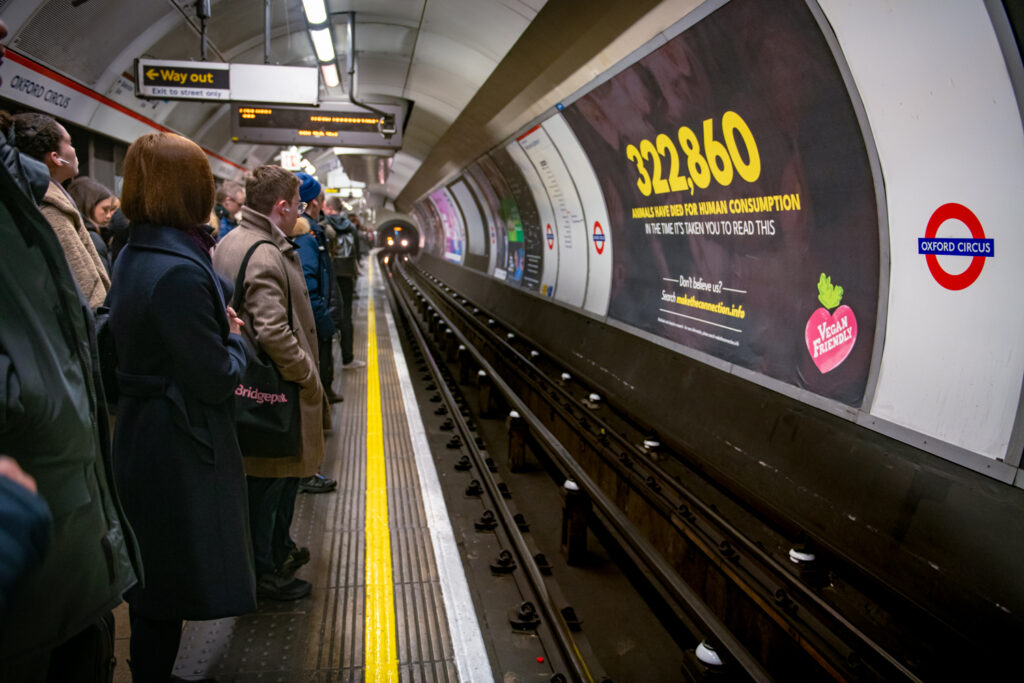 Animal farming in the UK
Despite the fact that most of the UK population eats meat, many people have no idea what happens to animals before they reach our plates.
It is often said that the country has high "animal welfare" standards, but a closer look at the reality of the industry shows extensive animal suffering.
Around 85 percent of land animals are factory farmed. Mutilations like tail docking in pigs and castration in lambs are commonplace, and these are often done without pain relief. Sows (female pigs) are kept in cages called "farrowing crates" – which are not much bigger than her – for six weeks after giving birth.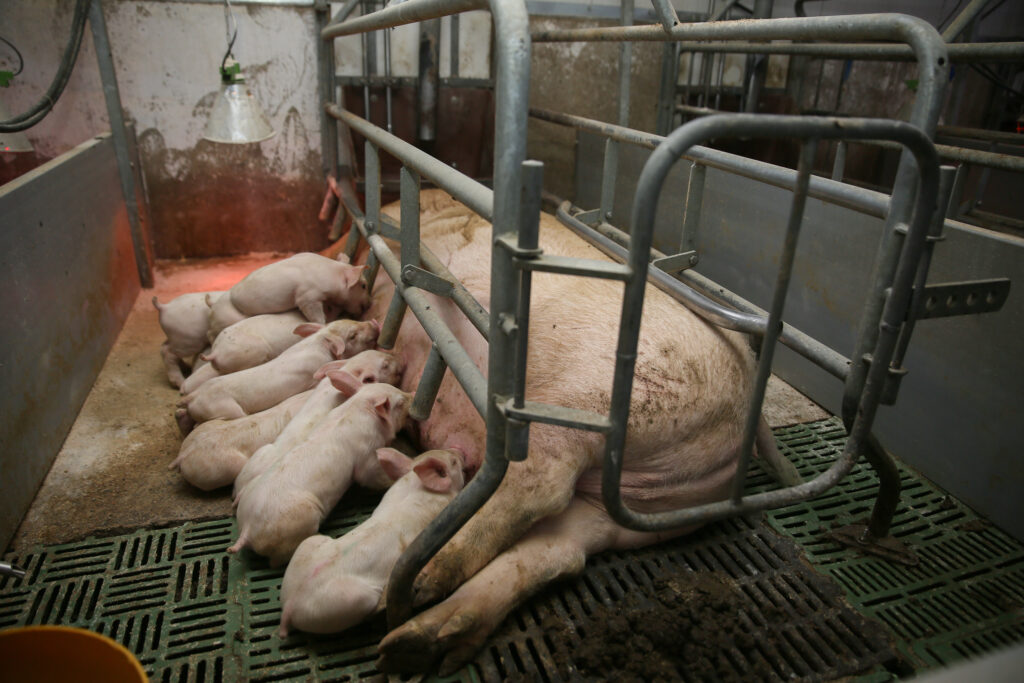 Around 86 percent of pigs are gassed to death with an 80 percent concentration of carbon dioxide. This forms an acid on wet surfaces it touches, including their eyes, lungs, and throats, and they have been documented thrashing around in apparent pain.
Many animals are stunned before having their throats cut, but improper stunning is rife. An investigation by Animal Aid into 11 UK slaughterhouses found that pigs were improperly stunned in almost every one. This meant that they were often alive when they had their throats cut. 
A vegan future?
Organizations like Vegan Friendly UK are hoping that the public will wake up to the cruelty of our farming system and move towards a plant-based diet. According to Bronsky, the response to its new London Underground campaign has been "mind-blowing."
"We have had thousands of people reach out to us through comments, direct messages and even in person from both vegans and non-vegans, either thanking us for being a voice for the animals, or telling us they did not realize this was the reality and will now consider their food choices," she told PBN.