The truck driver who ran over vegan activist Regan Russell outside a Canadian slaughterhouse has pleaded guilty to careless driving causing death.
In a video appearance in court, Andrew Blake was ordered to pay a $2,000 fine. He also received a 12-month probation period, during which time he will only be able to drive for work, or to and from his job. According to reports, the Crown lawyer stated that there would have been a "very reasonable" possibility of acquittal if the case had gone to trial.
The incident took place on June 19, 2020. Russell, 65, an animal rights activist, was hit by a truck and killed during a vigil outside a pig slaughterhouse in the west of Toronto.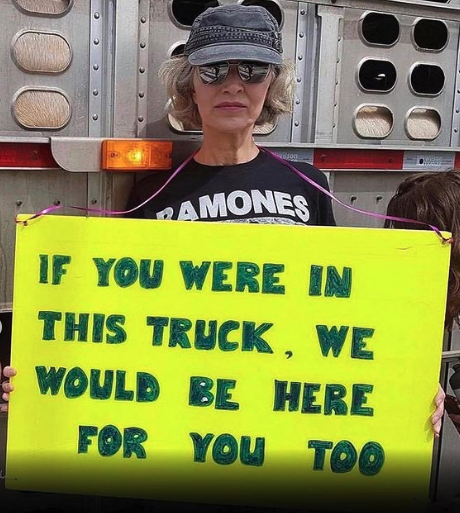 Death of vegan activist Regan Russell
Blake was driving a truck full of pigs into a plant owned by Sofina Foods when he was blocked by activists. He called the police and remained stopped at a traffic light intersection for over four minutes. During this time, the demonstrators were feeding the pigs water.
Once the driveway was clear and the light was green, Blake is said to have turned into the plant through a lane of traffic. Russell reportedly stepped into the driveway, and her body was dragged several feet before the truck stopped. 
According to local news, the Crown and defense lawyer both agreed that Blake should have known Russell was standing near the driveway when he turned into the slaughterhouse. There was no evidence, however, to suggest that the driver intentionally hit the activist.
Speaking in court, Russell's elderly father Bill Russell spoke about feeling a "sharp stab" when dusting old photographs of his daughter, or hearing her voice on an answering machine. Her husband stated that he was "quite lost without her."
Blake's lawyer told the court that they were prepared to defend the case, but that Blake had chosen to enter a guilty plea to "bring closure to this matter for all those involved."
"There's not a day that goes by that he does not wish he had not gone to work that day and that Ms. Russell was still with us," the lawyer said.
Regan Russell's impact
Russell was a hugely popular member of the animal rights community. Following her death, there were vigils held all over the world. She is also said to have inspired a protest movement against a new law (passed just before her death) that hiked fines for protesting at animal processing facilities. 
Actor and fellow animal rights activist Joaquin Phoenix also paid tribute to her after her death.
Speaking outside court, Bill said that many people inspired by her activism are "carrying her torch." A number of demonstrators from Toronto Pig Save stood outside the courthouse. Many held banners and posters with Russell's name.