A new investigation uncovered a "string of abuses" and cruelty on salmon and trout slaughter boats in Scotland. Some companies involved are accredited by the RSPCA, and promote themselves as having high animal welfare standards for fish.
Animal Equality filmed covert footage on a number of boats across the coast last year. It exposed workers throwing fish, who are sentient, and leaving them to suffocate. Others were still conscious when exiting the stun-kill machinery.
"The machinery is so poorly set up that many fish have died before they even reach the stun-kill machine," said fish expert Mark Borthwick after he saw the footage. "Those who do make it are met with a seriously overcrowded environment, where some fish – both living and dead – appear to be forced through the machine backwards and upside down.
"Stunning machines usually require fish to enter head- first, I can't emphasize enough how painful it would be for a salmon to have a club or electric shock applied to their body and not their head. It's a chaotic scene."
Workers were also seen throwing dead and dying fish overboard, which Animal Equality says poses a biosecurity risk. Fish were also observed wounded and bleeding after being transported to the boats via pipes.
The footage was described by Borthwick as "among the very worst instances of fish abuse" he's seen in his career.
'Fish welfare is at the heart of everything we do'
A salmon farm that the fish were raised on is operated by Loch Duart Ltd, which supplies fish to a number of fine-dining restaurants and Michelin-starred chefs. It was also a supplier to the Birmingham Commonwealth Games and COP26.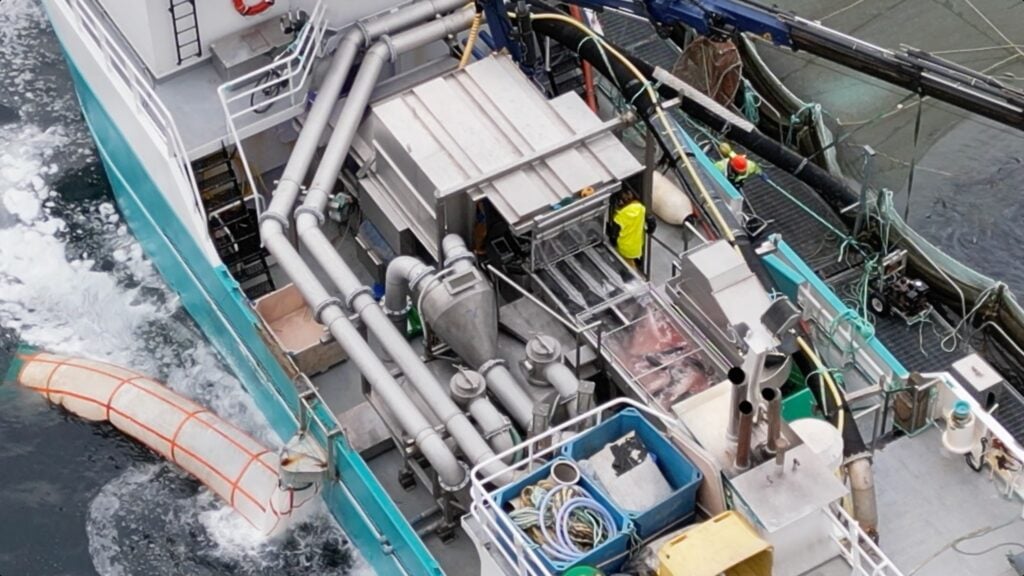 Loch Duart is accredited by RSPCA Assured and Friends of the Sea. It claims that "fish welfare is at the heart of everything we do."
Animal Equality has reported its footage to the authorities via law firm Advocates for Animals.
"This is not the first time that we have uncovered welfare abuses taking place in a fish slaughterhouse, the body of evidence just keeps on building," said Abigail Penny, Executive Director of Animal Equality UK. "There seems to be a culture of non-compliance within this industry and, clearly, it cannot be trusted."
Sign Animal Equality's petition demanding stronger protections for farmed and slaughtered salmon here.