Esther the Wonder Pig has died aged 11, her guardians have announced.
Taking to her Instagram page, Steve Jenkins and Derek Walter wrote that "the day we all wished would never come has arrived."
"She was calm and peaceful, and fell asleep with her dad Steve by her side. While we understand many of you will have questions, and we will have the answers for you, but we are going to take a little break to process the situation.
"Even though Esther is no longer physically with us, her memory and legacy will live forever. Esther is immortal, and we will continue to show the world that all animals deserve to be loved just like she was."
Esther's story
Esther moved into Jenkins' and Walter's home in Toronto, Canada, in the summer of 2012. It was during the micropig "trend," where small-sized pigs became all the rage on social media. The couple were told that that's what Esther was, and that she would never weight more than 70 pounds.
But Esther kept growing. And when she was a full-sized pig they gave her the nickname Esther the Wonder Pig. While she was 600 pounds and had outgrown their home, they decided to keep Esther, describing her as "family."
Jenkins and Walter were meat-eaters before Esther, and their "lightbulb" moment came when they were cooking bacon at home with Esther and their companion dogs at their feet.
"That bacon on the stove could've been Esther," they wrote in 2018.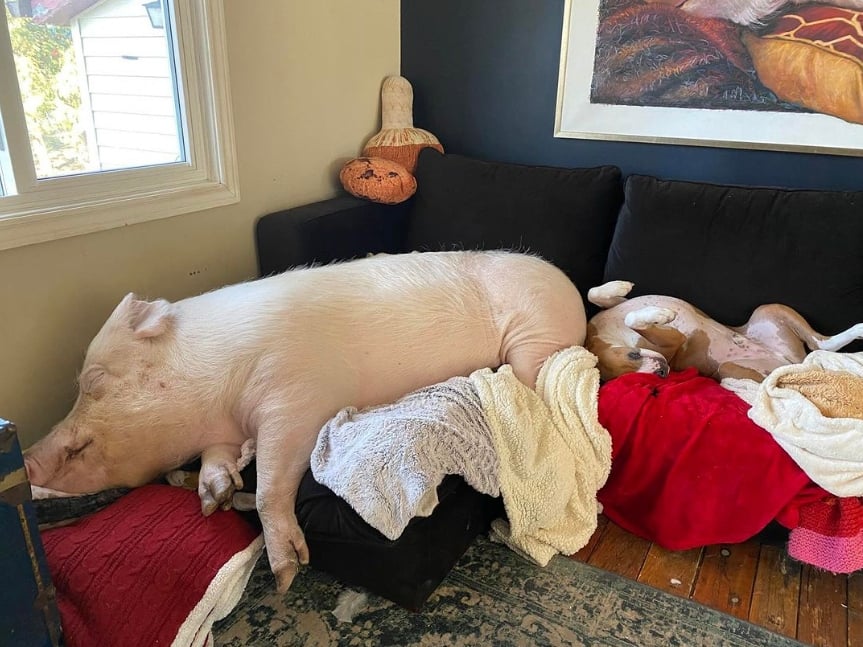 "Until then, we had been so distracted by her larger than life personality, and incredible curiosity for the world around her, that we almost forgot what the vet said the first time he met her. Esther was a commercial pig. We had fallen in love with an animal that was born to be our dinner, and we would never look at pigs the same way again."
After that moment, they decided to stop eating pork. Soon after, they ditched all meat. And a few months after that, they removed all animal products from their lives. "Never in a million years did we think we'd be taking this path in life, but Esther helped us realize there was a better way. She made us want to know more, and the more we learned, the more we knew it was time to change."
Esther's legacy
Esther has 578,000 followers on Instagram, where Jenkins and Walter post photos of her going about her daily life: snoozing, playing, exploring.
In what's been dubbed "the Esther effect," she's been credited with helping people around the world make the connection between animals and the food on their plate.
Jenkins and Walter have written books on life with Esther, including a children's book called The True Adventures of Esther The Wonder Pig, which is based on their story. They also set up Happily Ever Esther Farm Sanctuary, which provides rescued animals – including pigs – with a forever home.
"I take comfort in knowing that she will live forever albeit in people's hearts," Jenkins told Plant Based News in 2022. "We plan on continuing to advocate for farmed animals and educating that we can all make a difference in this world simply by choosing to put peace on our plates."