Activists are set to protest outside Costa Coffee branches up and down the UK after a damning investigation into its dairy supplier.
Viva!'s exposé, named The True Costa Dairy, uncovered "despicable" conditions at Home Farm in Kent. The Red Tractor-approved dairy farm supplies milk to Freshways, which counts Costa as one of its customers.
The nationwide "Days of Action" will take place on January 28 and March 11, 2023. Activists from 40 towns and cities are set to take part, including Belfast, Birmingham, Bristol, Cardiff, Glasgow, and Manchester.
The protests will see activists educate the public about the dairy industry, urging them to opt for plant-based milk alternatives.
"In light of the findings of our recent Home Farm investigation, we encourage Costa in the strongest possible terms to ditch dairy," Rory Cockshaw, campaigner at Viva!," told Plant Based News. "However, time and time again we see that the power is in the pockets of the consumers – that's why we are focusing on changing the hearts and minds of the British public."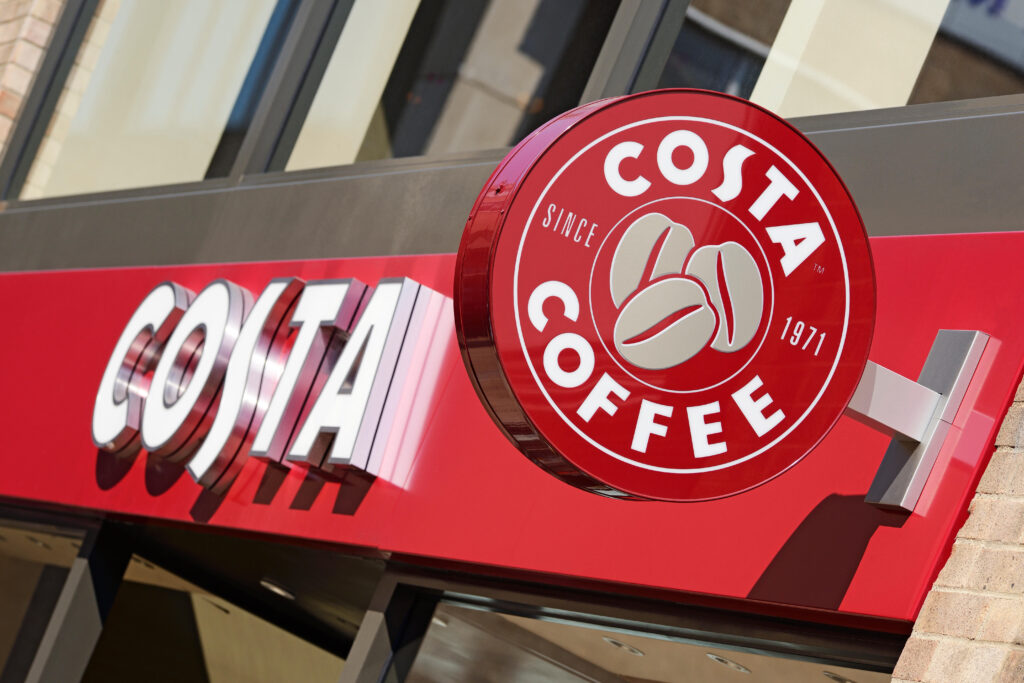 The Home Farm investigation
A team of investigators found that cows living at Home Farm were emaciated, lame, and struggling to walk. There were also instances of apparent abuse from workers, with some animals being slapped and shoved.
Viva! saw cows with visible injuries, and some were in shackles. Use of shackles is fairly common in the dairy industry. Cows are artificially inseminated once a year, which takes a huge toll on their bodies. They often suffer from nerve damage, which affects their ability to control their back legs. Shackles, therefore, prevent them from doing the splits.
Many cows had oversized udders due to the weight of the milk inside them (dairy cows have been selectively bred to produce around 2.5x the milk they naturally would). One of the animals had a burst and bloodied teat. This, Viva! said, is a medical situation that should have been dealt with immediately.
Investigators also filmed one sick calf being force fed by tube whilst lying down, which goes against guidelines. Home Farm has denied any wrongdoing, and Red Tractor claims that it abides by its standards.
Viva! founder and director Juliet Gellatley called conditions on the farm "despicable." She added: "We're taking to the streets to educate people about the dairy industry: one that profits from exploitation and suffering. We'll be having judgement-free, positive conversations with Costa Coffee customers, helping them see that dairy alternatives are delicious, and don't involve suffering."
Warning: the below gallery contains graphic photos of animal suffering
The problem with Red Tractor
Red Tractor is a supposed "assurance label" in the UK, and many people think that certified farms operate with high standards of animal welfare. 
In fact, however, its welfare standards aren't much higher than the legal minimum. Pigs can still have their tails cut off with no pain relief, for example, and be kept in farrowing crates for six weeks after giving birth. What's more, numerous investigations into its farms have found breaches of its own guidelines.
A 2018/19 Animal Aid investigation found that each of the six Red Tractor pig farms it visited at were not only breaking Red Tractor guidelines, but also animal welfare laws. Among the breaches documented was workers beating animals with pitchforks.