Thanks to evolving technology, it's never been easier to create high-quality food at home at the touch of a button – and it's all thanks to revolutionary multicookers, such as Instant Pots.
The multi pressure cookers have a host of functions fit for busy families – which means healthy meals can be prepared ahead of time.
They've transformed home cooking since their inception. Whilst Instant Pots, a Canadian brand, have been around for just over a decade, the original multicookers date back to the 17th century.
Since then they've developed and grown into a handy gadget for the keen cook, long replacing the humble microwave in food lovers' households as a result. Blogs, books, and brands surrunding the devices have boomed. This has led to a transformation of cooking to fit modern life, without removing the magic and joy of the process.
Here's everything you need to know about Instant Pots, plus our favorite recipes.
You can order your own multi-pressure cooker here. Alternatively, you can order the Instant Pot here.
What is an Instant Pot?
Unlike slow-cookers, Instant Pots have a range of options including deep-frying, grilling, roasting, stewing, and steaming. They were created to combine pressure cooking and slow cooking, via an automated timer.
Multicookers range in programs and sizes, depending on how many people you intend to cook for. The idea behind it is you 'set it and forget it', allowing you to carry out other tasks whilst you wait.
They were created to provide healthy meals for busy people. Whilst slow-cookers are widely praised for the ability to create flavorsome curries and stews, multicookers have the added function of making cakes and yogurts as well.
They were designed to remove the guesswork from cooking, thus removing the fears of overcooking or burning meals as the timer does the work for you.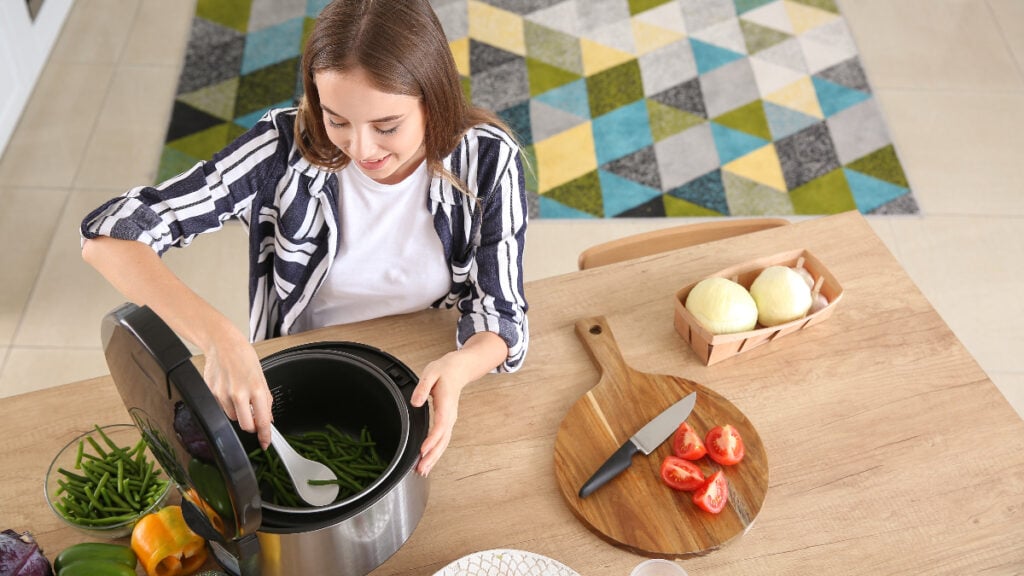 Instant Pot says it is 'committed to helping people worldwide get healthy and delicious meals on the table, quicker and easier than ever before'.
Moreover, the process can be similar to regular cooking, with some allowing you to saute on the hob before finishing off concoctions in the pot.
Cooking times are generally must quicker than ovens too – and mean there's less to wash up afterward. An example is the Canadian brand, Instant Pot, which claims its products have a 70 percent quicker cooking time than 'traditional cooking methods'.
Whilst it offers an extensive list of different cooking times for different dishes, it encourages users to experiment. For cooking beans and pulses, for example, the Instant Pot removes the pre-soaking time as well.
With plenty of uses, to find out exactly how to use yours, follow the manufacturer's directions.
Vegan Instant Pot recipes
It may be overwhelming knowing your pot is capable of so many possibilities: from curries to stews, to desserts too. The knowledge your pot has so many capabilities may be a bit overwhelming to start with.
Thankfully, a range of wholesome plant-based recipes utilizing it online, including entire cookbooks. Here are our favorites.
19 Vegan recipes for your Instant Pot
Here are our top nineteen recipes, from fresh breakfasts to warming dinners, sides and sweets.
1. Vegan Mac And Cheese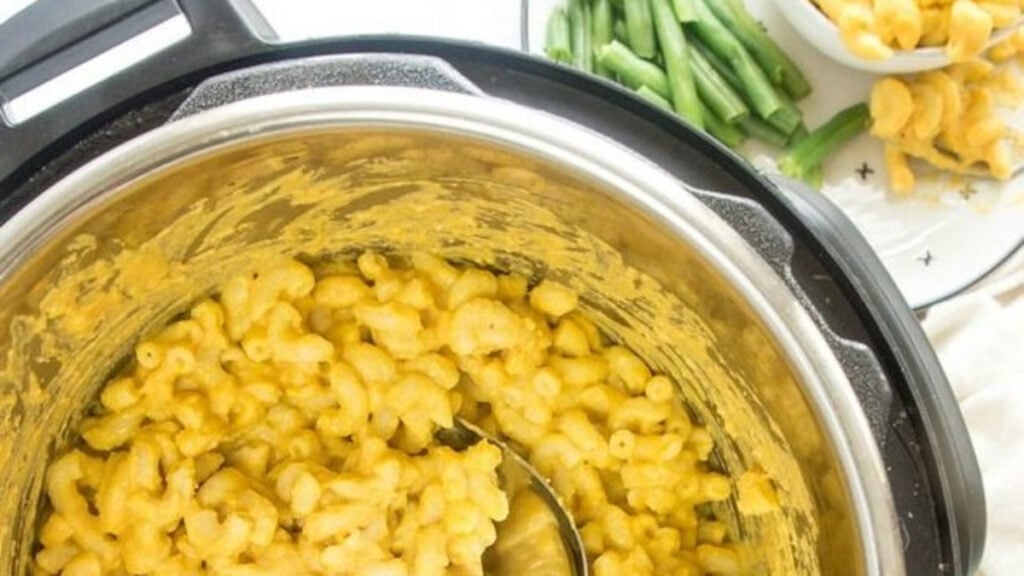 From the blog, Happy Food And Healthy Life, this Vegan Mac And Cheese recipe is a real staple, serving an ideal way to 'sneak' in vegetables without kids noticing. Plus, it is cooked on high pressure in just four minutes.
2. Brown Rice Mung Bean Kitchari
A kitchari or khichdi is a one-pot stew consisting of rice and lentils, according to blogger Richa Hingle. Their Brown Rice Mung Bean Kitchari is an easy Indian dinner made in an Instant Pot, best served with hot crackers or bread.
3. Date Sweetened Carrot Cake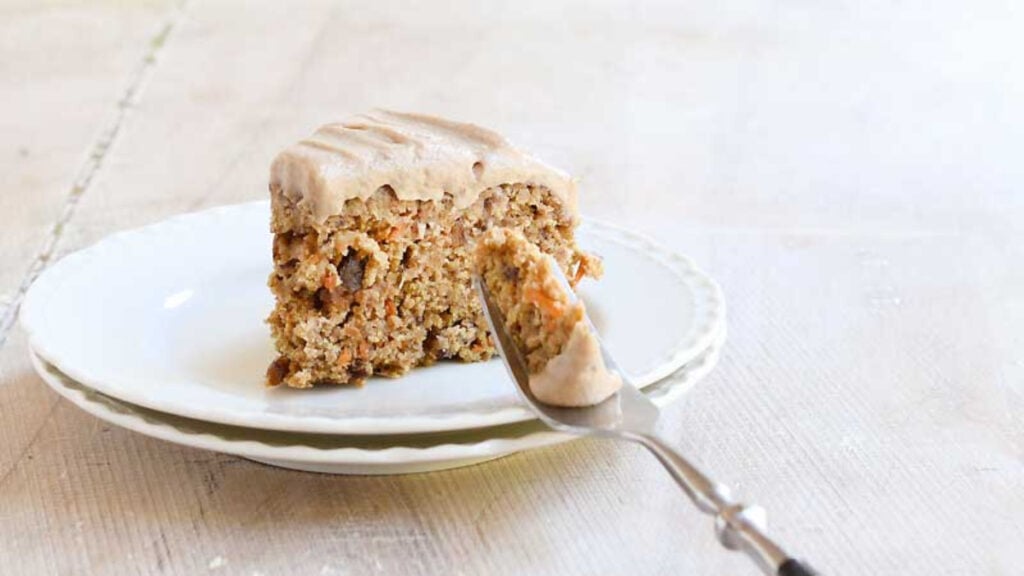 This Date Sweetened Carrot Cake recipe is by blogger Kathy Hester from her website, Plant-Based Instant Pot. She says making cakes in an Instant Pots makes them extra moist.
4. Flourless Brownies
Via Go Dairy Free, Megan Gilmore shares her Flourless Brownies recipe which are free from both gluten and refined sugar.
The original calls for an egg, which can be swapped for a flaxseed or chia seed 'egg' listed at the bottom of the recipe.
5. Breakfast Stuffed Sweet Potatoes
Lindsay Moe's Breakfast Stuffed Sweet Potatoes are bursting with almond butter, blueberries, and maple syrup. 'I did not expect my kids to get their hands on every last one of these and devour them before I could', she says.
6. Butter 'Chicken' With Soy Curls And Chickpeas
This Vegan Butter Chicken With Soy Curls And Chickpeas can be altered to fit your diet. You can switch to another meat alternative or use coconut cream instead of cashew cream.
It's from Vegan Richa's blog and is gluten-free.
7. Saffron Quinoa With Cashews and Raisins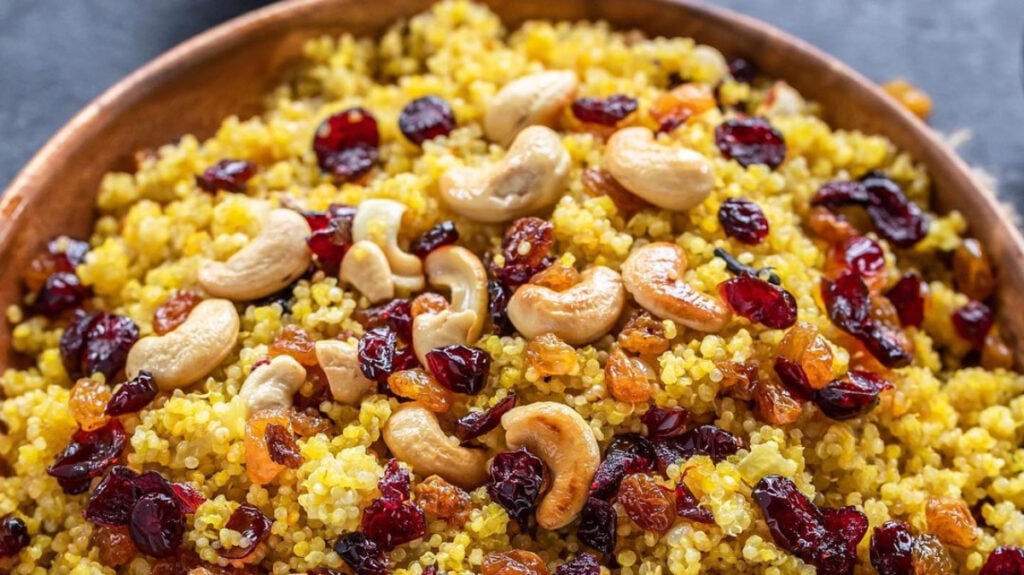 For quite the centerpiece, this Saffron Quinoa With Cashews and Raisins  is the perfect aromatic showstopper. From Cook With Manali, it's a great Indian side dish alongside a curry.
8. White Bean, Tomato, and Kale Soup
Cook With Manali has another great Instant Pot recipe, a White Bean, Tomato and Kale Soup. It is packed full of vegetables and takes just ten minutes.
9. Vanilla Peach Chia Jam
Whilst Instant Pots are best known for serving up time-saving savory dishes, you can also create stunning additions to sweets too. This Vanilla Peach Chia Jam by Plant-Based Instant Pot is no exception. You can add it to your granola or yogurt for a summery breakfast.
10. Cajun-Inspired Jambalaya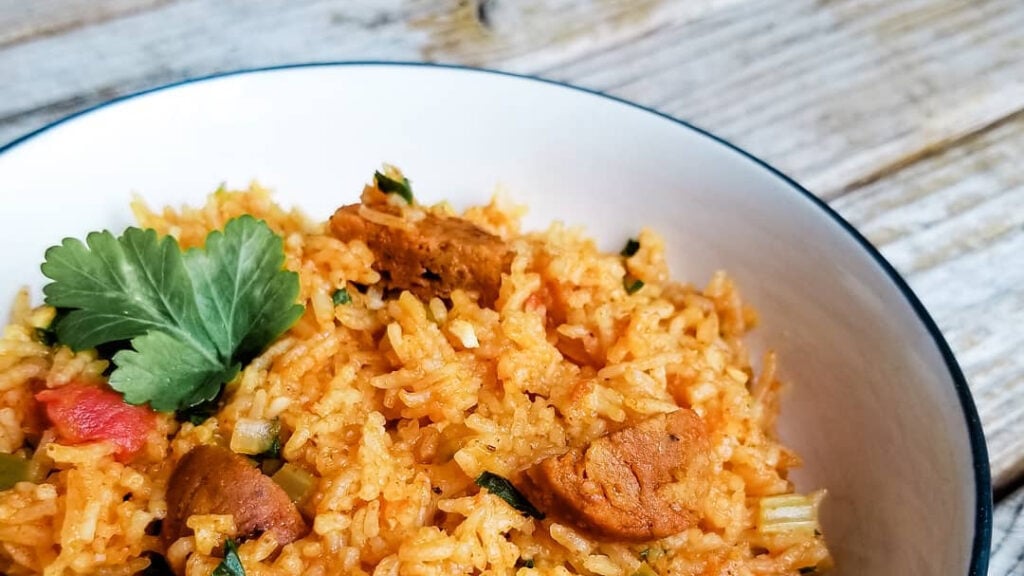 This Vegan Jambalaya recipe is packed with protein and vegetables, and is oil-free too. It is, according to the blog Vegan Runner Eats, ready to serve in under half an hour.
11. No-Knead Whole Wheat Bread
Who knew you could make bread without the faff of kneading? Kara Lydon's No-Knead Whole Wheat Bread promises to do just that – with a crispy crust and fluffy center. As the proving process takes place in the Instant Pot it saves you 'hours', she says. She recommends cooking the loaf in the oven for the best results, however.
12. Burrito Bowls
Lisa Kitahara of Okonomi Kitchen makes these Vegan Instant Pot Burrito Bowls with just eight ingredients, and says it's 'fuss-free'.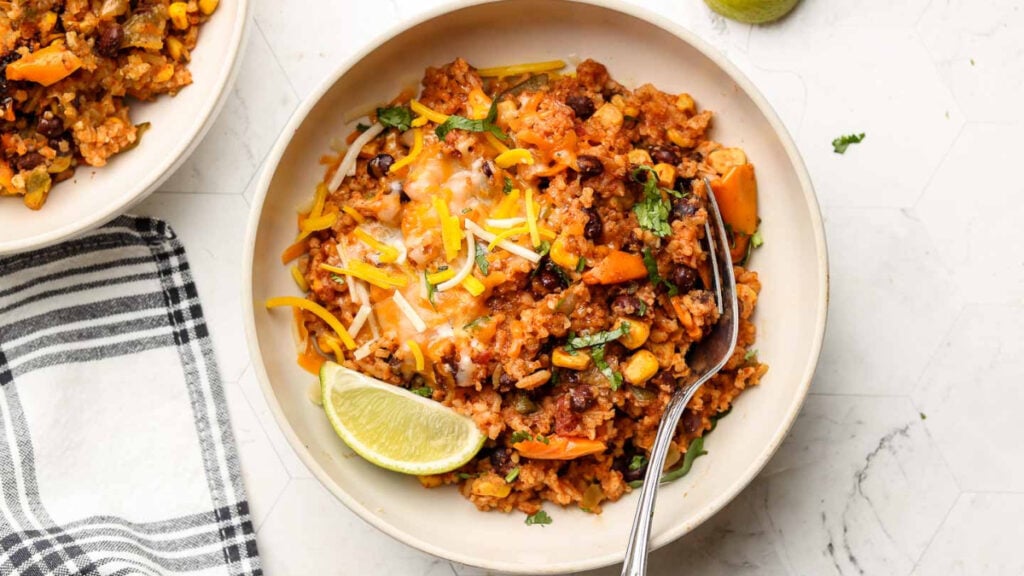 13. Easy Baked Vegan Cheesecake
Made with oats and cashews, this Easy Baked Vegan Cheesecake  is 'light and refreshing', according to creator The Banana Diaries. Just make sure you let it rest for a few hours before serving.
14. Steamed Vegan Dumplings
Using a rack add-on and bamboo steamer inside your Instant Pot, you can create these Asian-inspired Steamed Vegan Dumplings courtesy of the Plant-Based Instant Pot.
15. Panera Black Bean Soup
Loaded with black beans, this Panera Black Bean Soup recipe from Okonomi Kitchen is comforting and promises to rival Panera Bread's iconic original dish.
16. Rolled Oats With Cinnamon And Banana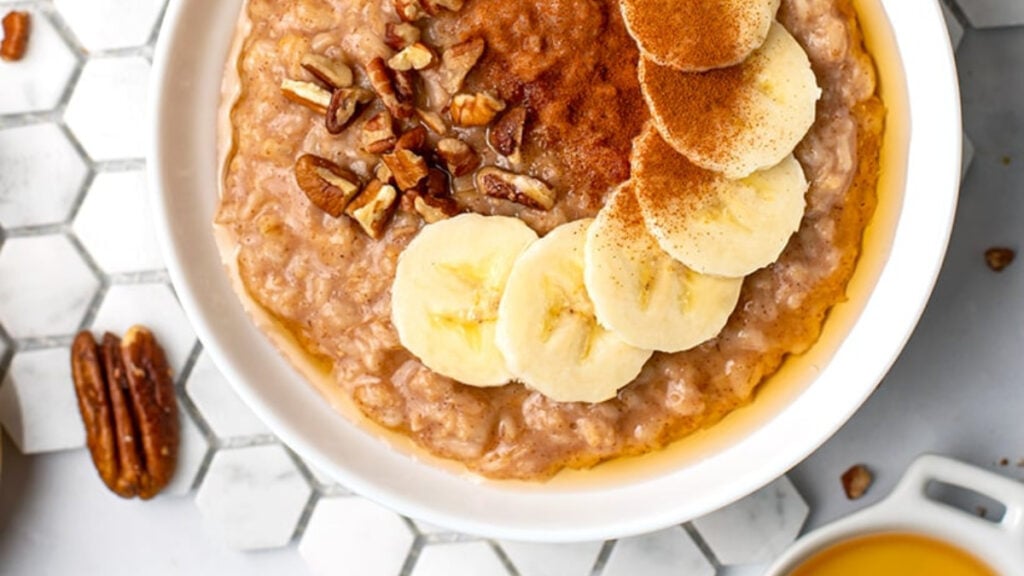 Blog Instant Pot Eats says this Rolled Oats With Cinnamon And Banana Recipe is perfect for beginners. It's a speedy method made directly in the Instant Pot and you can easily switch out topping flavorings to suit your favorites.
17. Mashed Potatoes In 15 Minutes
Often, side dishes can be forgotten, or simply take too long. However, these fluffy 15 Minute Mashed Potatoes by Okonomi Kitchen make sure those days are long gone.
18. Apple Chutney
Great with crackers or to add some sweetness to a spicy curry, this Apple Chutney from Cooking With Manali is ideal if you've got lots of apples that need eating up.
19. Broccoli Risotto
This Broccoli Risotto by Bad To The Bowl is a great light dinner, whilst being creamy and comforting at the same time. Moreover, it is far quicker to make than risotto made on the stove.
7 Vegan Instant Pot cookbooks
To get the most out of your Instant Pot and it's myriad of functions, you can check out the following recipe books containing healthy plant-based staples.
1. Modern Vegetarian Instant Pot Cookbook
Nutrition expert and author Jenny Tschiesche lists 101 vegetarian and vegan recipes to make in an Instant Hot Pot. Recipes include Pulled BBQ jackfruit with pinto beans and aubergine curry.
2. Vegan Under Pressure: Perfect Vegan Meals Made Quick and Easy in Your Pressure Cooker
Instant hot pots are 'a blessing' for people new to being vegan but keen to eat a wider variety of foods, says author Jill Nussinow. A selection of recipes are available in her book, from a White Bean Dip to Harissa-Glazed Carrots and homemade seitan.
You can order yours by following this link
3. The Vegan Instant Pot Cookbook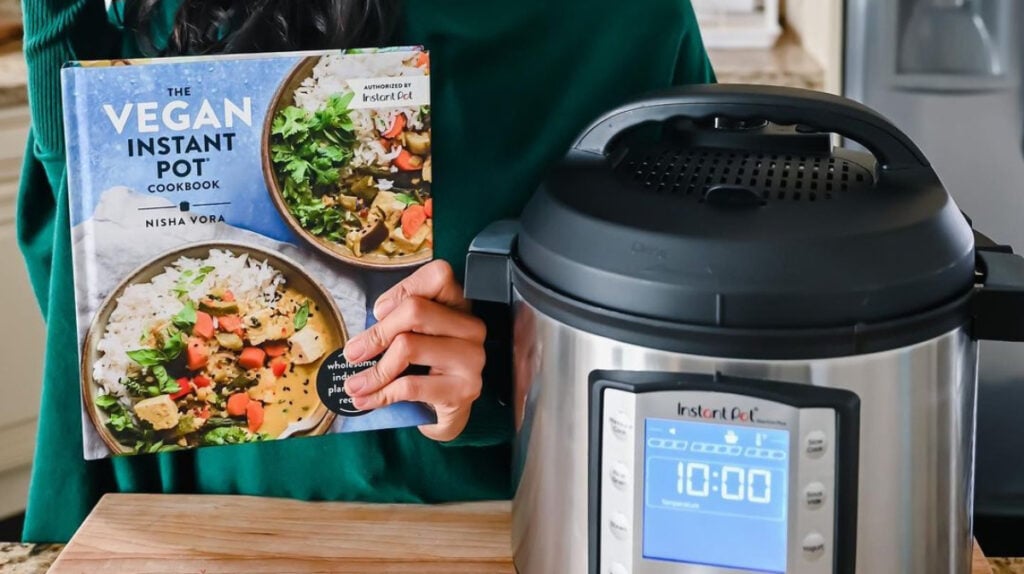 Vegan chef Nisha Vora regularly shares recipes with her 520,000 Instagram followers. In her debut cookbook, she includes 90 as well as a 'comprehensive' guide to getting the most out of all the Instant Hot Pot's functions.
4. The Complete Vegan Instant Pot Cookbook
This book is complete with 550 plant-based recipes, as well as a 21-day meal plan. Additionally, it covers making meals and snacks, including vegan 'staples' in your multicooker.
5. Ultime Vegan Cookbook for Your Instant Pot: 80 Easy and Delicious Plant-Based Recipes That You Can Make In Half The Time
Recipes in this cookbook include an American Tempeh Chilli, Mushroom Stroganoff and Vegan Cheesecake. It promises to guide readers through all the Hot Pot's features whilst using affordable ingredients.
You can buy a copy online here
6. Vegan Instant Pot Cookbook: The Very Best Pressure Cooker Recipes For Vegans
Author Kerry Quinta includes an introduction to maintaining a healthy vegan lifestyle in her book – and includes nutritional information for all the recipes inside it.
7. The High-Protein Plant-Based Instant Pot Cookbook: Wholesome, Oil-Free One-Pot Meals
This Instant Pot recipe book focuses on fewer ingredients, and as its name suggests: higher protein. It promises great flavor and minimal hassle and includes soups, risottos, and oatmeals.