This is a sponsored post * [what is this?]
Research shows 50 percent of small businesses fail within the first five years. Yet one vegan startup, The Very Good Food Company, has experienced tremendous growth since its inception five years ago – and it shows no signs of slowing down.
So what sets The Very Good Food Company apart? A quick scan through the company's history makes it clear that from the get-go, the team has mastered the art of responding to consumer demand.
Time and time again, the plant-based startup has proved that it is listening to its customers. But more importantly, the company is reacting, adapting, and evolving, too. In an exclusive giveaway with Plant Based News, The Very Good Food Company is giving away a bundle of its most popular products. Win a 6 month supply of plant-based meats from The Very Good Food Company by signing up here.
Humble beginnings
The Very Good Food Company came from humble beginnings. Co-Founder James Davison, who is a classically French-trained chef, had noticed a gap in the market for plant-based meat made from organic, clean ingredients. So he and his partner Tania set out to create their own. They tested and created new meat alternatives in their kitchen, and began taking their creations to the local farmer's market on Denman Island in Canada. Sure enough, the products sold out every weekend.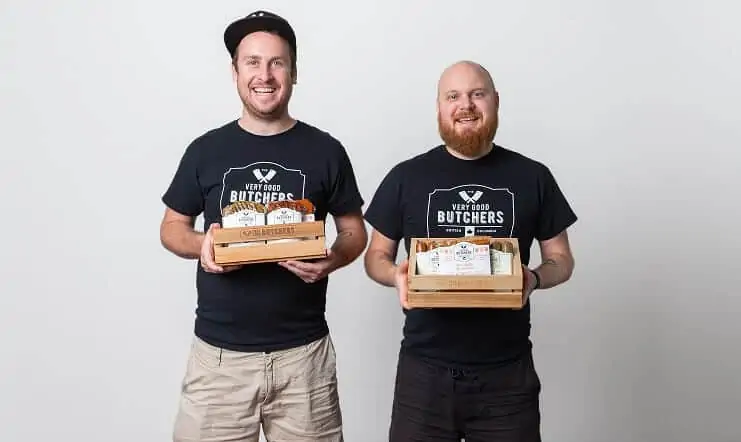 At a family barbeque, Davison got talking with lifetime vegetarian and distant relative Mitchell Scott, who tried the plant-based meat and was 'blown away'. Scott and Davison teamed up, and with a shoestring budget opened the first vegan butcher shop on the west coast of Canada.
It's safe to say the launch was a success. One thousand people showed up on the opening day, and the store had to close for a week to restock. It was quickly apparent that there was an appetite for these products – burgers, sausages, ground Taco Stuff'er, steak, ribs, and pepperoni (to name a few), all made from organic beans, grains, veggies, herbs, and spices. Carefully crafted, minimally processed, and made with no preservatives.
World's second plant-based meat IPO
In 2018, The Very Good Food Company launched an equity crowdfunding campaign on FrontFundr. The team raised $600,000 from 240 investors in Canada (their goal was $100,000). Their sights were set on higher, so in the summer of 2020, The Very Good Food Company launched the world's second plant-based meat IPO after Beyond Meat. Within the first week of trading, the company's shares surged by 790 percent. In the same year, its sales increased 364 percent.
Taking production to new heights
In late 2020 the Company seized a unique opportunity to address near-term demand by leasing an already built-out food production facility in Vancouver, BC. The facility, which has been named the Rupert facility for the street on which it is located, comprises approximately 45,000-square feet of production, refrigeration, warehousing, R&D, and office space. Strategically, the plant is closely situated to the company's executive team
The Very Good Food Company estimates that the facility will be able to produce up to 37,000,000 lbs of annualized product, which will be phased in over the next year.
This is a 2690 percent increase from the production potential of the brand's Victoria facility in British Columbia, which has an estimated annual capacity of 1,375,000 lbs. This year the Victoria facility saw capacity increase 10 fold – meaning 10 times more product is available to customers – due to new equipment and added production labor.
The first production line at the Rupert facility is now fully operational and producing SKUs from the brand's original plant-based range: The Very Good Burger, Smokin' Burgers, The Very British Bangers, Smokin' Bangers, Very Good Dog, and Very Good Pepperoni. The Company plans to commission its second production line at the Rupert facility later this year which will be dedicated to the production of its new highly anticipated gluten and soy-free Butcher's Select Line.
The Rupert facility features the highest food safety standards and a premium HVAC system (heating, ventilation, and air conditioning). It will also be 80 percent automated, resulting in safer working conditions, higher product quality, and quicker production. The plant is also modularization-centric, meaning more functions can be performed across a smaller production footprint. This allows for greater flexibility and the ability to adapt to shifting industry and consumer demands.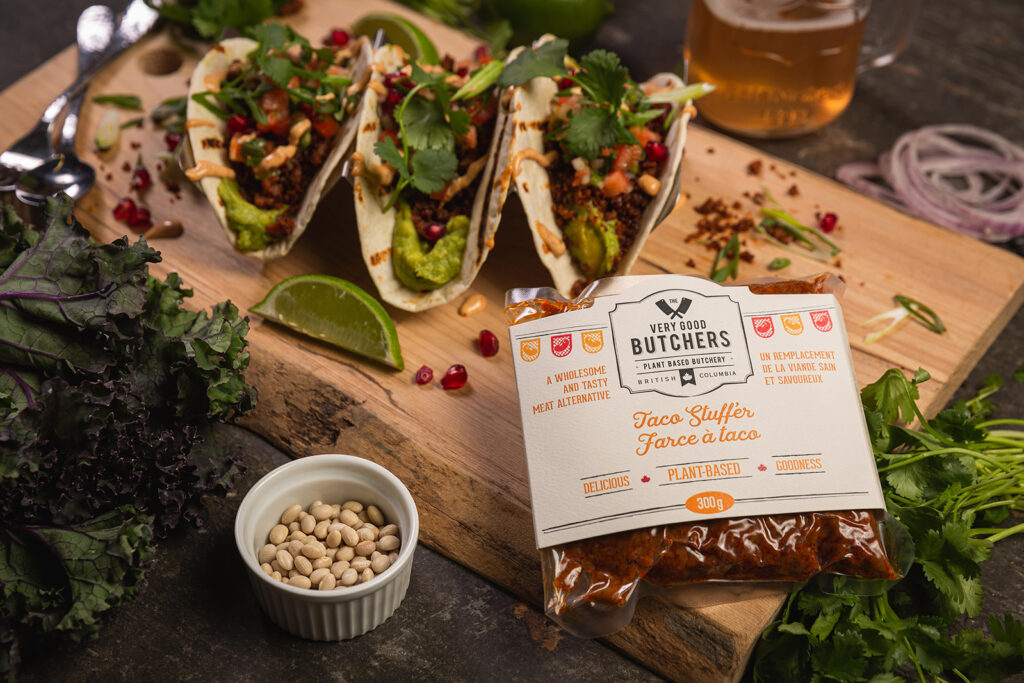 'Rethink the way we eat'
"The production of saleable products from our first line at our Rupert facility is another exciting milestone in The Very Good Food Company's strategic growth," says Scott, CEO of the company. "It demonstrates our ability to exceed expectations as we expand our operational footprint, enter into wholesale partnerships and engage new customers eager to rethink the way they eat."
Of the renovations, Scott said: "We had been planning and looking for a bigger space knowing we would grow out of the old facility. By repurposing an existing facility, we are getting up and running in a shorter time frame optimizing capital investment."
Its commissioning of a third facility in Patterson, California, is another direct response to growing demand. The plant – where initial food production will start in September — is strategically located near raw materials and distribution centres in the US. The move ensures sustainability and supports expansion to the US market.
Operating out of multiple facilities allows The Very Good Food Company product flexibility, risk mitigation, control of new products based on shifting trends, and the potential for rapid expansion. It's all part of the brand's mission to 'get millions to rethink their food choices while helping them do the world a world of good'. In other words, the team wants to see plant-based products accessible to a diverse set of consumers.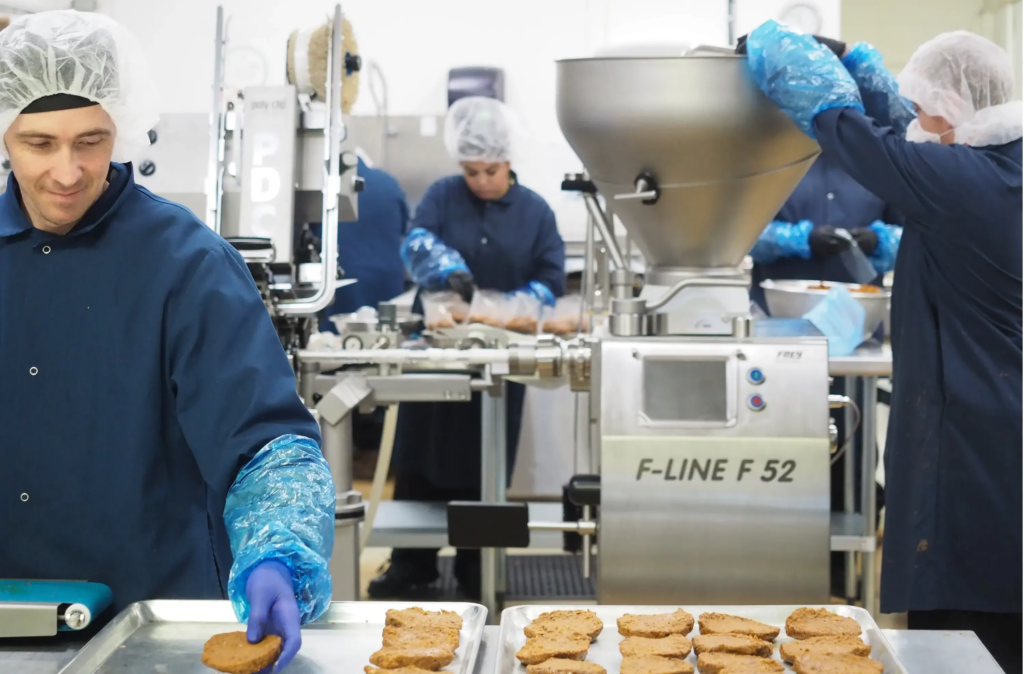 Continued growth and expansion
Eager to maintain momentum, the leading plant-based food company will soon open new venues housing meat-free butcher shops and restaurants. The goal, says Scott, is to show people that plant-based eating is 'approachable and delicious'.
This month, the company's Victoria butcher shop will move to a new, larger location. The venue will have dinner service, a liquor licence, and a Very Good Patio.
A second flagship store is also in the works for the Mount Pleasant area of Vancouver. The 10,000-square feet of space will feature a restaurant and test kitchen. Diners will be able to see the 'bean butchers' creating their plant-based products through a large glass wall while enjoying their meals.
Most recently the company has launched its online sales platform for UK-based consumers. After that? Other parts of Europe and the Asia-Pacific. In an exclusive giveaway with Plant Based News, The Very Good Food Company is giving away a bundle of its most popular products. Win a 6 month supply of plant-based meats from The Very Good Food Company by signing up here.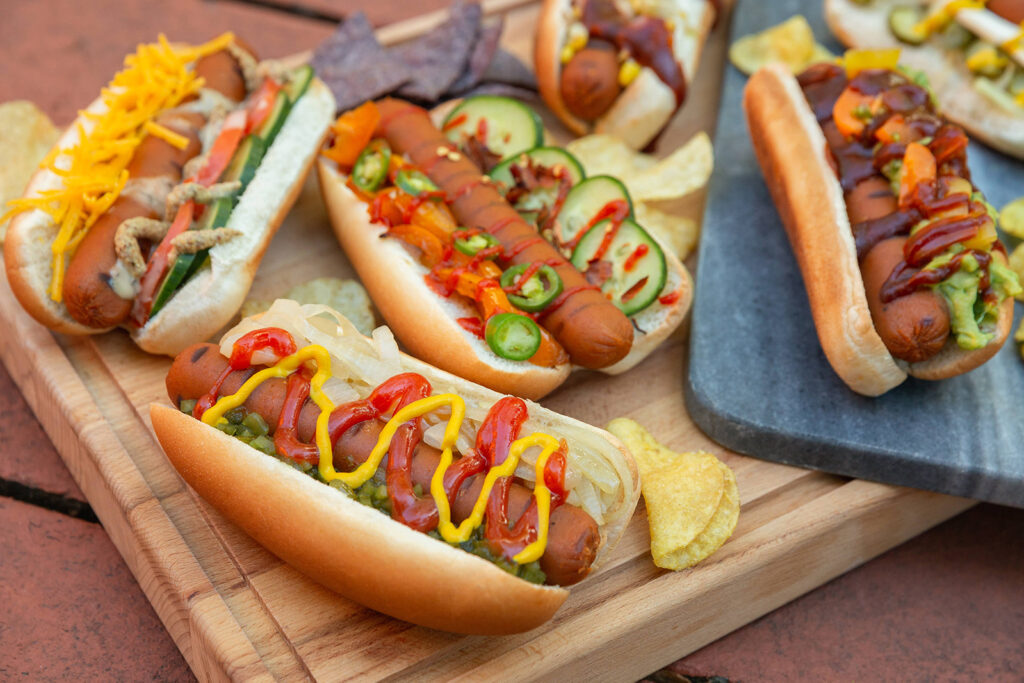 To build on its existing product range (which, as well as vegan meat includes dairy- and MSG-free cheeses), the team is consistently working on R&D to craft new products. Currently in the pipeline is a new gluten-free range called Butcher's Select, set to be available to e-Commerce clients by the end of the summer.
Customers in Canada can find The Very Good Food Company's products at stores like Whole Foods Market, IGA, Thrifty Foods, Save-on Foods, Red Barn Market, and Safeway, among others. Find the full list of stockists here. 

Canada- and US-based shoppers can also purchase its plant-based meats and cheeses online – here (Canada) and here (US). And UK-based consumers are able to buy The Very Good Food Company's products online here.
Disclosures
The Very Good Food Company Inc. ("Very Good") has engaged Plant Based News Limited (Plant Based News) to provide Very Good with media services, including the creation and distribution of an advertorial on behalf of Very Good. Plant Based News will receive payments from Very Good in connection with this post. Plant Based News holds no shares in Very Good.
The information contained in this post does not purport to be all-inclusive or contain all information that viewers may require. Prospective investors are encouraged to conduct their own analysis and review of Very Good and of the information contained in this post. Any investment in the securities of Very Good is speculative and involves a high degree of risk that should be considered by potential investors. An investment in Very Good's securities is suitable only for those potential investors who are willing to risk a loss of some or all of their investment and who can afford to lose some or all of their investment.
This post is for informational purposes only, as of the date hereof, and does not purport to be all-inclusive or contain all information that readers may require. This post does not constitute or form part of any offer or invitation to sell or issue, or any solicitation of any offer to purchase or subscribe for any securities of Very Good.
The content in this post contains forward-looking information under applicable securities laws for the purpose of providing information about Very Good's management's current expectations and plans relating to the future. Readers are cautioned that reliance on such information may not be appropriate for other purposes. Forward-looking information is based on a number of factors and assumptions which have been used to develop such information, but which may prove to be incorrect. There are many risks and uncertainties that could cause actual results to differ materially from the forward-looking information, including the risks described in Very Good's filings with Canadian securities regulatory authorities available on Very Good's SEDAR profile at www.sedar.com. Any forward-looking information speaks only as of the date on which it is made and, except as may be required by applicable securities laws, Very Good disclaims any intent or obligation to update any forward-looking information, whether as a result of new information, future events or results or otherwise.