New research has uncovered widespread consumer acceptance of plant-based and cultured meat in South Africa.
South Africa-based Credence Institute and US-based North Mountain Consulting Group collaborated for the research. The findings were published in the peer-reviewed journal Frontiers in Sustainable Food Systems.
The study includes 1,087 participants aged 18-61. It's 'nationally representative' of age, gender, income, and race, Credence Institute said.
Respondents were asked about their opinions on meat alternatives – including cultured meat, a form of cellular agriculture.
Most (67 percent) said they are 'highly likely' to try plant-based meat. Fifty-nine percent said they are highly likely to purchase it. And nearly a third (31 percent) are highly likely to pay more for it. 
Participants' attitudes to cultured meat, sometimes called slaughter-free meat, are also largely positive. 
Sixty percent are highly likely to try and just over half (53 percent) are highly likely to purchase cultured meat. Again, around a third (30 percent) are highly likely to pay more for the meat alternative. 
Generally, consumers said they would divide their spending equally between plant-based, cultured, and animal-based meat once they are all available.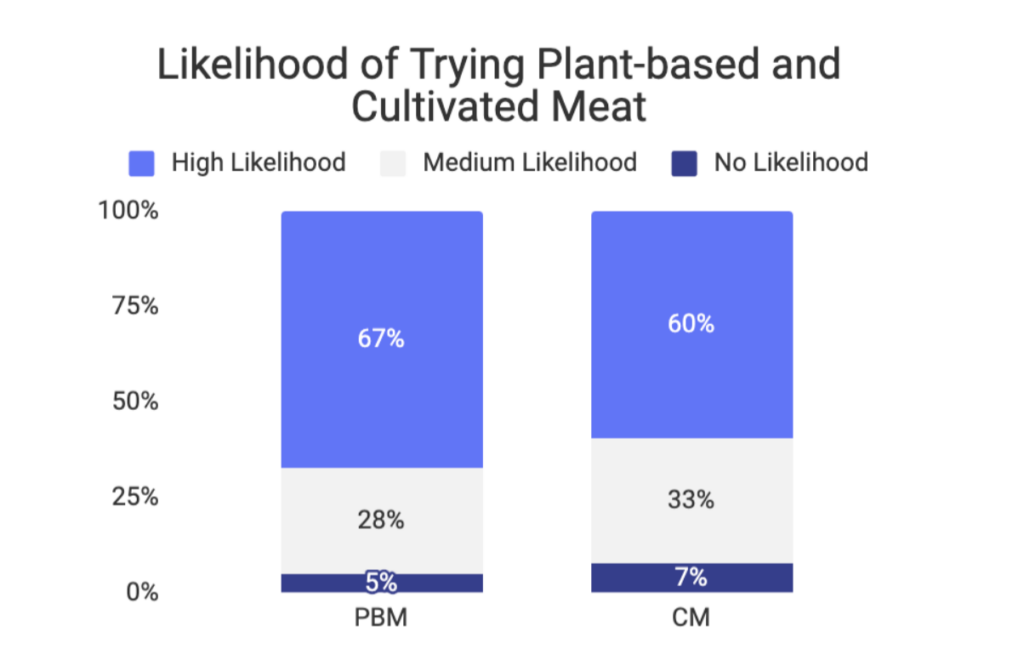 Who's interested in meat alternatives?
In the study, young people were most interested in a move away from animal products.
Millennials and born-frees (people who were born or grew up after the Apartheid era in South Africa) are most likely to try and buy meat alternatives. 
But the best indicator of purchase intention, researchers said, is whether a respondent is familiar with the technology.
Further, researchers found that the individuals most concerned about local food security, health, and the environment are more likely to purchase meat alternatives. 
"Switching to alternative proteins like plant-based and cultivated meat may be one of our best available strategies for improving the environment, public health, and the lives of animals," Credence Institute Co-Founder Ludwig Raal said in a statement.
"The fact that the majority of South Africans appear ready to embrace these products fills me with hope."
Dr. Keri Szejda, lead author of the study, said these products offer new opportunities to meet protein demand.
"Our findings suggest that both plant-based and cultivated meat products could offer viable market-based pathways toward a more healthy, sustainable, and equitable protein supply in South Africa and other emerging and developing nations," Szejda said.
"On average, consumers envision alternative proteins to make up about two thirds of their meat consumption once products are widely accessible, and younger generations are especially open to these new technologies."