Vegans in Singapore will soon be able to try a new ice cream made without any dairy or conventional plant-based alternatives. 
The product is made using a new protein powder called Solein, which comes from a Finnish startup named Solar Foods.
Solein, a microbial protein created from air and water, was made in conjunction with the European Space Agency. Scientists produced Solein by cultivating bacteria in a lab. They then added hydrogen, carbon dioxide, and nutrients, which results in proteins being released. Creators then capture and dehydrate these proteins, forming a powder in the process. The production technique has been compared to winemaking.
The world's 'most sustainable' protein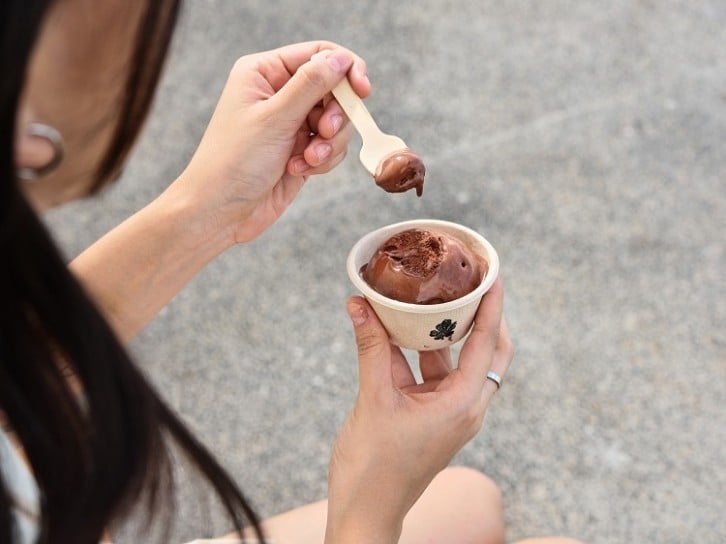 According to its creators, Solein is the world's most sustainable protein. This is because it doesn't use animals or photosynethetic plants in its production process. It is said to contain 65-70 percent protein, and 10-15 percent dietary fibers. Additionally, five to eight percent fat, and three to five percent mineral nutrients. 
Currently, Singapore is the only country to have granted approval for this ingredient. The region has now given the green light to a chocolate ice cream containing it, which is being served in a seaside Italian restaurant named Fico. 
"It is a remarkable opportunity to be the first chef team to introduce a one-of-a-kind ice cream to the world," said Fico's Chef Mirko Febbrile in a statement.
The future of food
It's not just chocolate ice cream that Solein can be used for – it's likely we'll see it in a number of new products hitting the market across the world in the coming years. It can also be used as a meat alternative, be poured into drinks, and create a host of other sweet and savory foods.
"This offers a glimpse of a future where tastes and textures are familiar, but where food arrives on our plates in an entirely new way," commented a Solar Foods spokesperson.
The company is planning to collaborate with Japanese biotech company Ajinomoto, which has a significant international presence, to create more products.
Looking for more content like this? You might like:
What Is Precision Fermentation, And Could It Replace Animal Farming?
Vegan 'Potato Ice Cream' Could Soon Hit The Market