Gone are the days where those eating plant-based had few options available. Consumer preference is changing, and companies are eager to cater to demand.
To keep you updated, Plant Based News will release a weekly roundup of vegan food launches from around the world. Here are this week's new products.
North America
Danone
One of the world's largest food corporations, Danone, has announced a collaboration with Brightseed, a biotech that uses AI technology to explore the health benefits of plant-based compounds.
The three-year partnership will see Danone using Brightseed's findings to develop new vegan products. In 2018, Danone announced plans to triple its global plant-based sales by 2025 – from $1.9 billion to around $5.7 billion.
Danone also revealed it will launch new dairy-free milks later this year. The company said the primary barrier to plant-based milk is taste and texture, which it is aiming to overcome.
"We will launch against this opportunity new dairy-like technology under Silk NextMilk, under So Delicious Wondermilk and under Alpro Not Milk," Danone said.
Modern Meat
Modern Plant-Based Foods has launched its first line of products in the US, including Crab-less Cakes and Remoulade.
It's not yet clear where the products are available. However, Chris Parkinson – the Brand and Relationship Manager of Modern Meat – said: "We expect Modern Meat to be hitting shelves of retailers throughout the west coast of the United States imminently.
"Our company is working diligently with an array of distributors to ensure visibility on store shelves. We expect to see significant growth in the coming months through this expansion plan."
Planterra Foods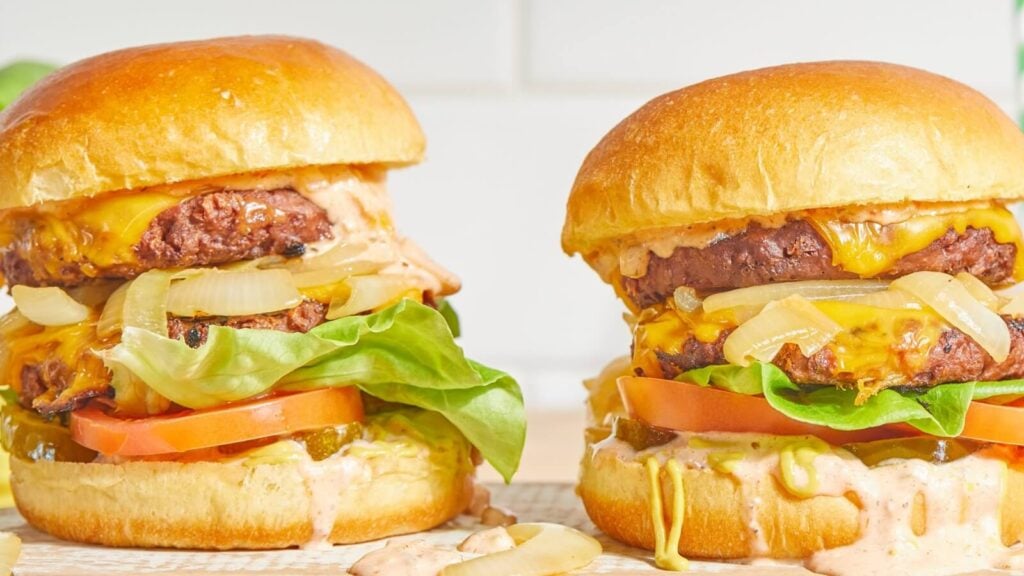 The world's largest meat supplier, JBS, is working to adapt to shifting consumer habits. It has its own plant-based division – Planterra Foods – which launched in the refrigerated aisle last year as OZO. OZO produces vegan meat alternatives in a bid to offer more sustainable food choices.
OZO products are now available in the frozen aisle, too. It offers meat-free Mexican-seasoned ground beef, ground turkey, breakfast sausage patties, meatballs, and beef patties, among others.
The brand's patties are made with pea protein. They contain more protein and less saturated fat than major plant-based competitors.
Planterra Foods plans to expand OZO in Canada, Mexico, and the UK, too.
Zoglo's Incredible Food Corp
Toronto-based plant-based food company is bringing 12 new vegan products to the Canadian retail market. Shawarma, burgers, meatballs, chicken tenders and strips are available in stores like Walmart and Metro.
UK and wider Europe
Lidl
Major supermarket chain Lidl just introduced a massive new vegan range in its UK stores – and prices start at 99p.
The chain's plant-based Vemondo range includes 17 products. Vegan pizza, burgers, fish fingers, ice cream, chicken, nuggets, and medaglioni, to name a few.
Green Boy
Green Boy will soon launch its Plant-Dairy Protein, an animal-free protein developed for the vegan dairy industry.
The non-GMO proteins come in four different varieties: Pea, Mung Bean, Fava Bean, and Chickpea. They offer 'superior' texture, flavor, mouthfeel, and protein enhancement, the company says. They can be used to make vegan cheese, yogurt, butter, mayonnaise, and eggs.
The proteins are available in the EU, the US, and Australia – so if you're based in these locations, you can expect more dairy-free launches coming your way.
Violife
Popular vegan dairy brand Violife just launched its first-ever butter: VioBlock. The buttery spread contains folic acid as well as vitamins B1, B2, B6, and B12. It's available now at Asda with an RRP of £2.
Violife aims to expand to other major retailers soon.
Holland & Barrett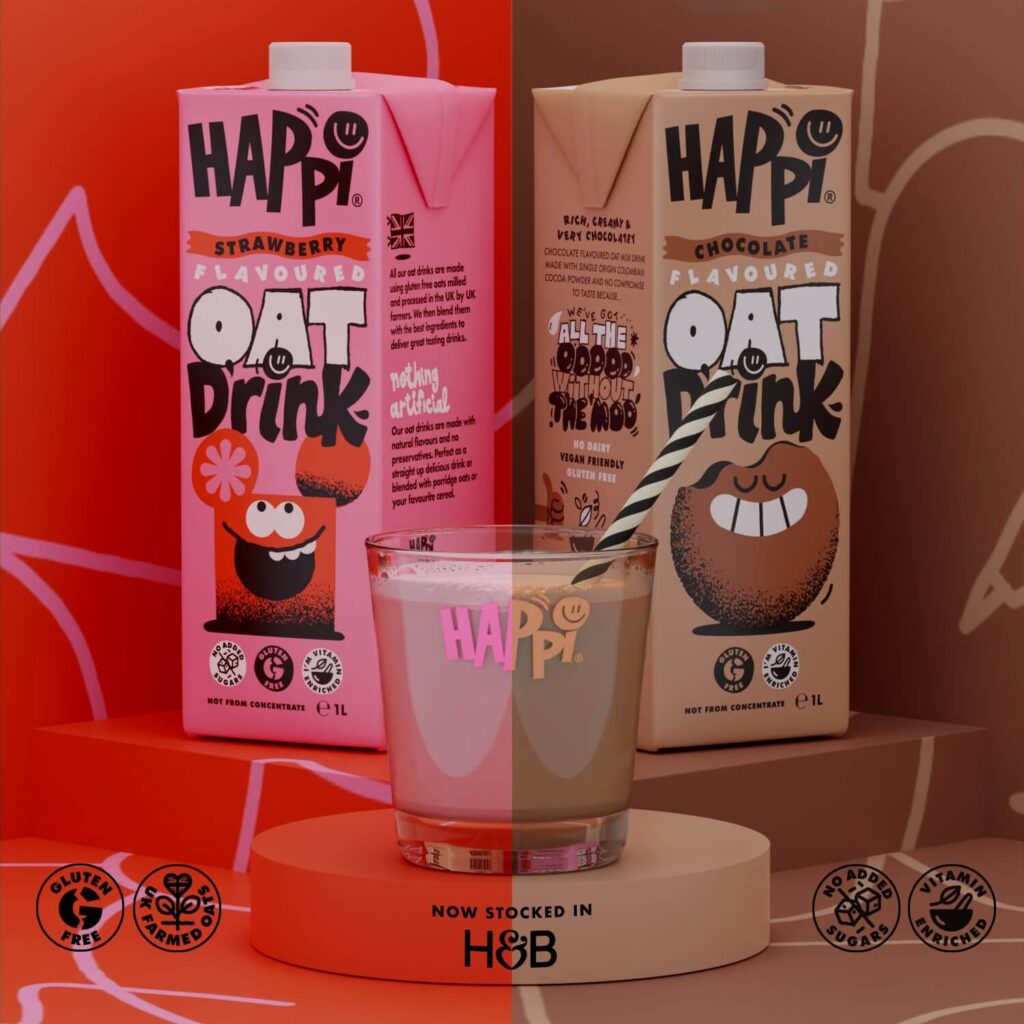 A new vegan oat drink is being rolled out to 459 Holland & Barrett stores in the UK, Ireland, and the Netherlands. The Happi Oat Drinks are available in chocolate and strawberry flavors. They're enriched with vitamins A, B6, B9, B12, C, and D.
NOMO
British free-from chocolate brand just launched its first-ever children's product. The confectionary company now offers monster-themed chocolate lollies.
It also recently launched its vegan Choc Orange Crunch as well as Sharing Bags – giant drop-shaped buttons in NOMO's most popular flavors.
You can find NOMO's new products at select Holland & Barrett, Sainsbury's, and Waitrose stores. More retailers will be announced later this year.
Australia
Uncle Tobys
Uncle Tobys – an Australian food company founded in 1861 – is also eager to keep up with demand.
The company is launching three oat milk products made from 100 percent Australian oats. The range includes creamy Oat Milk, Barista-Style Oat Milk, and Oat and Almond milk. They feature one third of the recommended daily calcium and vitamins D, B12, and B2.
Grill'd
Popular burger restaurant Grill'd was already ahead of the curve when it introduced Beyond Meat patties and dairy-free cheese to its menu. Now the company is teaming up with Michelin star chef Heston Blumenthal to launch a range of vegan mushroom-based meat patties.
The range includes the Heston Fable Burger, which comes with hoisin sauce, Japanese slaw, and lightly grilled tofu. The Fable Spicy Cheeseburger. The Fable Spicy Cheeseburger, Fable Truffle, and Fable Southern BBQ burgers are also available, but be sure to request them with vegan cheese and without mayonnaise if you're looking for a vegan option.
India
Across the pond, plant-based meat brand BlueTribe is preparing to launch multiple new products across India. It's part of the company's goal to offer environmentally friendly food.
BlueTribe's vegan Chicken Keema and Chicken Nuggets will be available in Chandigarh, Mohali, and Panchkula. Later, the company will introduce pea-based chicken and pork sausages.
BlueTribe's products are already available in Ahmedabad, Bengaluru, Chennai, Delhi, Hyderabad, Kochi, Kolkata, Mumbai, and Pune. It aims to expand in Indore and other cities in the country.