🍔 This is a sponsored article * [what is this?]
McDonald's UK is celebrating National Vegetarian Week in style this year, lowering the cost of its vegan McPlant burger by more than 70 percent – dropping the usual £3.49 price tag to just 99p.
Sound familiar? The 99p vegan burger may be a first for McDonald's, but plant-based food pioneer Ready Burger has been plating up the same deal for months.
McDonald's 99p burger
Those keen to take advantage of McDonald's latest promo must act quick. Fast-food-lovers can only get their hands on its 99p burger on May 18 and May 20, 2022.
On May 19, customers can get a discounted Veggie Deluxe instead (those wishing to eat plant-based must request it without the sauce, which contains egg). And on May 23, McDonald's vegan-friendly Veggie Dippers will be just 99p too.
All three deals are only available via the free-to-download McDonald's app.
The titan fast-food chain trialed its first vegan burger at a handful of locations in October 2021. A "remarkable" response from the public motivated McDonald's to bring the product back – this time, to all of its 1,300 restaurants across the UK/Ireland.
The McPlant is the result of a collaboration between McDonald's and Beyond Meat. It features a vegan Beyond beef patty, dairy-free cheese, onion, pickles, lettuce, tomato, ketchup, mustard, and a vegan secret sauce.
McDonald's promises that the burger offers the "same iconic taste" as its meat-based options. And, unlike many other eateries which charge more for their vegan meals, the McPlant costs the same as a Big Mac (except for, of course, this week's 99p offer).
Affordable vegan fast food
Notably, in January, up-and-coming vegan fast-food chain Ready Burger lowered the price of its eponymous burger from £1.99 to 99p. (Now we're not saying McDonald's outright copied the start-up, but we're not NOT saying it…)
Ready Burger's promotion was originally to celebrate Veganuary. But after selling more than 2,000 burgers a week during that month, founders Max Miller and Adam Clark decided to make the 99p Ready Burger a permanent fixture on the menu.
The 99p burger is joined by a wide range of other vegan bites, including chicken nuggets, bacon burgers, fries, ice cream, and the iconic Big Ready.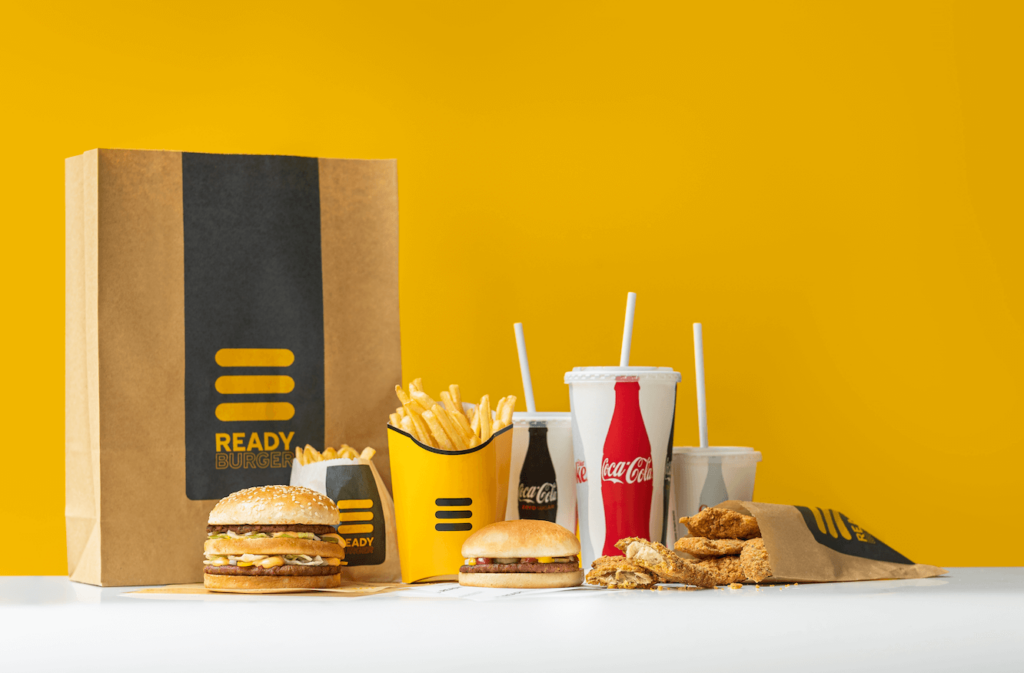 "We wanted to double down on our core mission of serving delicious, speedy, plant-based fast food at unrivaled prices accessible to anyone in the market," they told Plant Based News earlier this year.
And it appears the public was hungry for the change. Since Ready Burger opened its doors in London last year, customers have purchased more than 260,000 of its vegan options. Now, the company plans on opening two more locations in the UK this year. After that? Global expansion.
"We'll be bringing more world firsts with exciting new menu items in 2022, all at the same prices people have come to know us for, and we have advanced expansion plans with new stores," Miller said, adding that Ready Burger will "never compromise on flavor, convenience, or price."
"We won't be stopping here!"
For more information about Ready Burger, check out the website and follow them on Instagram. 
—
* This is paid-for content; funds from this article help Plant Based News continue to provide millions of people around the world with free content they know and love. We only work with brands we support and use ourselves.