Going vegan or plant-based for the first time can be a learning experience, as there are a huge variety of foods that contain hidden animal products. Non-vegan ingredients can be found in a range of breakfast foods and spreads, which leads many people to question: are Marmite and Vegemite suitable for vegans?
Marmite is a savory spread based on yeast extract. It was invented in the late 19th century by German scientist Justus von Liebig, and is now produced by British company Unilever. It carries the popular slogan "love it or hate it," as its unusual taste has historically been divisive. Marmite is traditionally spread on toast, but it can also be used in an ingredient for a range of dishes – including pasta and pizza. Vegemite is a similar product, but it hails from Australia. It has a slightly thicker consistency than Marmite, and was developed by chemist and food technologist Cyril Callister in Melbourne in 1922.
Here's everything you need to know about eating the products as a vegan.
Is Marmite vegan?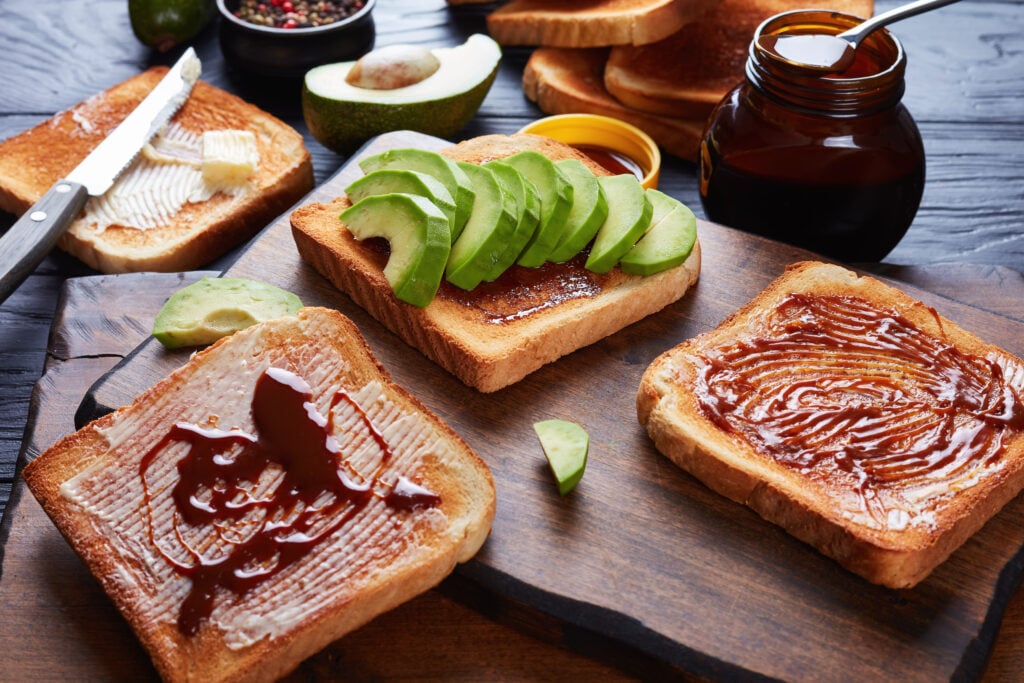 Good news for Marmite lovers – its products are indeed free from animal products and suitable for vegans. The confusion about whether Marmite is plant-based may stem from the fact that Bovril, a UK product similar in appearance and taste to Marmite, is made from beef.
Marmite, however, contains only plant-based ingredients. These include yeast extract (containing barley, wheat, oats, and rye), salt, vegetable juice concentrate, vitamins (thiamin, riboflavin, niacin, B12, and folic acid), natural flavoring (containing celery). 
The Marmite website does highlight, however, that its 70g jar is only certified as vegetarian, and not vegan. It adds, though, that it is working toward vegan certification for this product – so it appears that it doesn't contain animal ingredients. You can therefore be confident that whatever Marmite product you buy is animal-free. It's thought that the entire range of Marmite products are vegan-friendly – including jarred and squeezy Marmite, as well as Marmite Truffle.
Non-vegan Marmite products
It's worth noting, however, that Marmite has partnered up with a range of other companies to create new food products containing Marmite. While many of these are vegan-friendly, you should always check the ingredients list to be sure. Ocado, for example, stocks Marmite biscuits that contain milk. Marks and Spencer also offers Marmite cream cheese. Vegan-friendly Marmite products include Marmite houmous and Marmite Walkers crisps.
Marmite B12 benefits
Marmite has been highlighted as a good source of vitamin B12 for vegans. B12 is the one vitamin that is tricky to get on a vegan diet (it occurs naturally in soils, but we don't come by it this way as we no longer eat directly from the soil). A teaspoon of Marmite holds a quarter of your RDA of B12, meaning it can be a valuable addition to other supplementation or fortified foods. 
Is Vegemite vegan?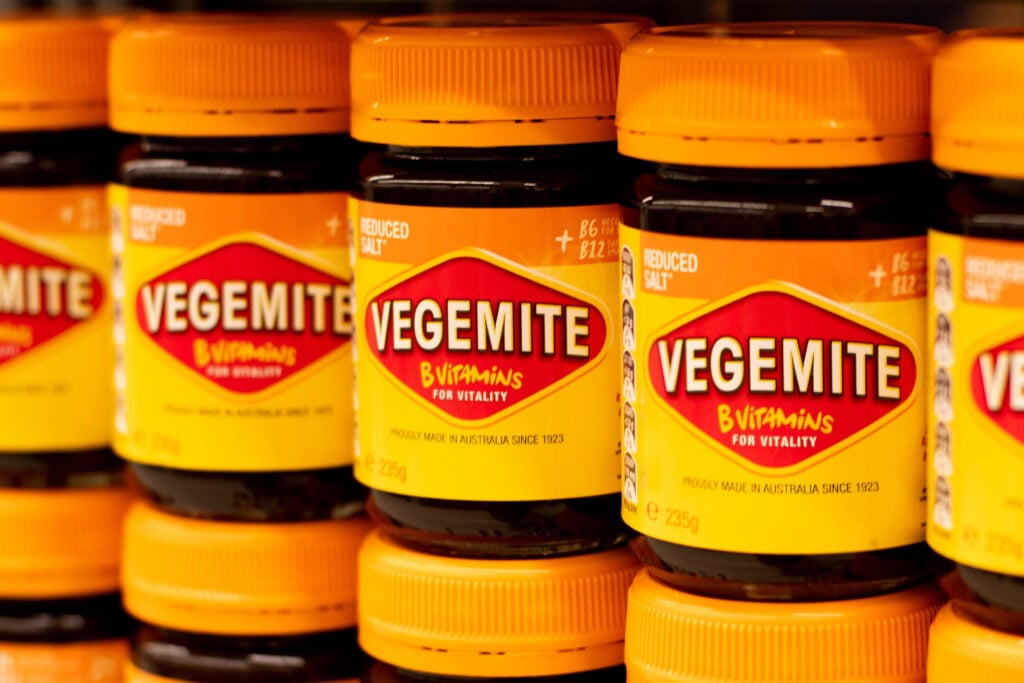 Like Marmite, Vegemite is also vegan-friendly. It's received vegan-friendly certification from Vegan Australia, and has similar plant-based ingredients to Marmite. Both traditional Vegemite, and the gluten-free version, are free from animal products.
Vegemite's listed ingredients include yeast extract (from barley and wheat), salt, malt extract (from barley), flavor enhancer (potassium chloride), color ammonia caramel, and spice extract (containing celery). Vegemite is also rich in B vitamins, and can be used in a variety of savory recipes. 
More like this:
Are Jelly Babies Vegan? What You Need To Know About The Sweets
Are Starbursts Vegan, And Do They Contain Gelatin?