Companies around the world are keen to keep up with the changing eating habits of the population.
From one of the world's largest chocolate companies taking a bite of the vegan market, to universities in the US plating up meat-free burgers, here's the latest in vegan food launches.
United States
Hershey's
One of the world's largest chocolate manufacturers has just debuted its first vegan chocolate bar.
Hershey's new Oat Made line offers two dairy-free flavors: Classic Dark and Extra Creamy Almond & Sea Salt. They're non-GMO and made with Rainforest Alliance certified cocoa.
"We started our work on the Hershey's Oat Made products by evaluating the current plant-based offerings on the candy market," Dan Mohnshine – Team Lead of Strategic Growth Platforms (SGP) at Hershey's – told Totally Vegan Buzz. "After finding that the ingredient formulas of existing products could be improved upon, our masterful R&D team at Hershey developed formulas using oats that we believe deliver better on consumers' expectations than what is in the marketplace today."
The vegan bars are part of a limited edition trial which will last until June 2022.
Trader Joe's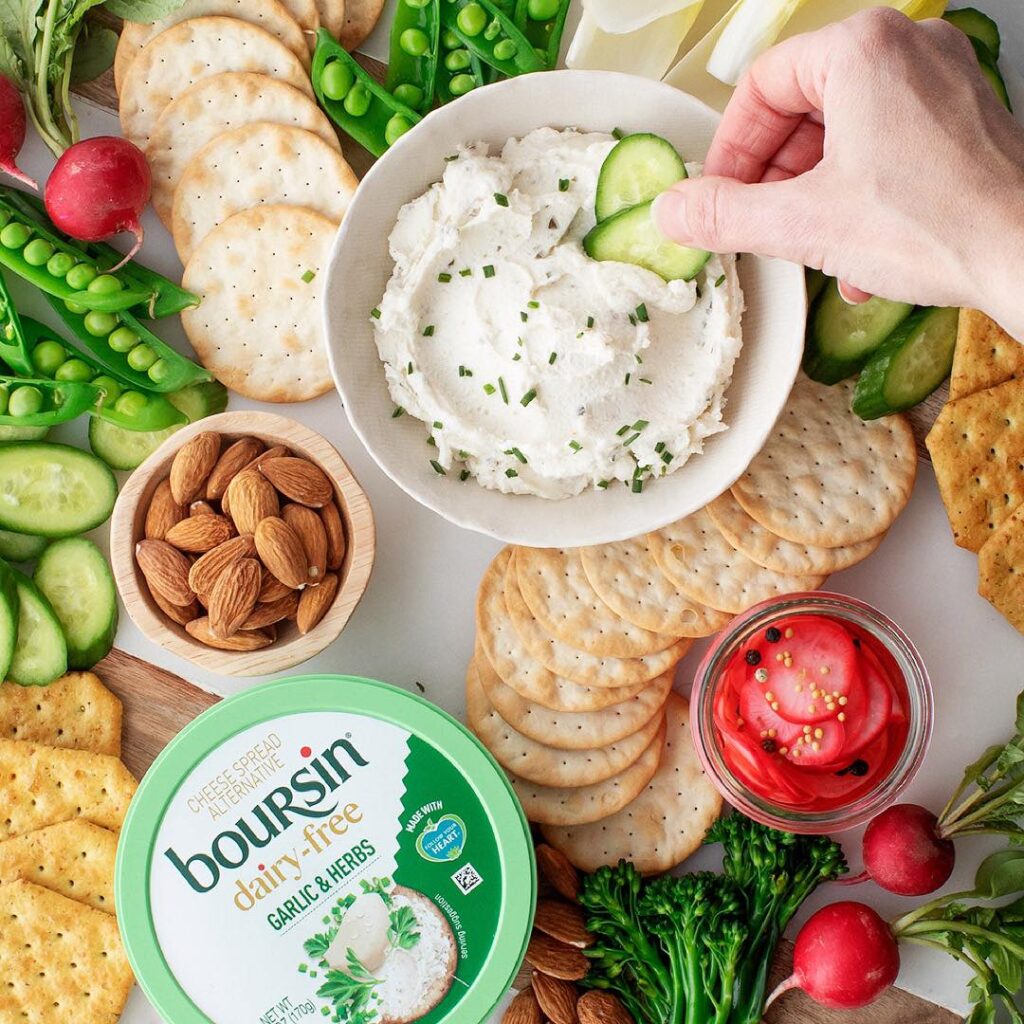 Major grocery store chain Trader Joe's is set to add 10 new vegan products to supermarket shelves.
The chain – which has more than 530 locations – will introduce fall-inspired products like vegan pumpkin hummus, pumpkin cashew yogurt, pumpkin oat milk, and pumpkin overnight oats.
Vegan sour gummy cats and bats will also be available in time for Halloween.
Additionally, Trader Joe's will launch Boursin's dairy-free cheese spread. The dairy brand created the item alongside plant-based food brand Follow Your Heart. It's a vegan take on Boursin's popular dairy-based Garlic and Herbs cheese spread.
Trader Joe's will also welcome two new vegan flavors of Barebells protein bars: Hazelnut Nougat and Salty Peanut.
SavorEat
SavorEat and Sodexo have announced a new partnership, which will see innovative new vegan burgers being served at higher education institutions across the US.
SavorEat, based in Israel, produces its burgers using proprietary 3D printing technology and a chef robot.
"SavorEat is constantly working on growing with big players and companies in the foodservice arena with a special focus on the US market," SavorEat CEO Racheli Vizman told NoCamels.
"It is ongoing and intensive work that takes shape. We are very happy that Sodexo sees the potential in our innovative technology."
On its website, SavorEat says it is working on plant-based steaks, kebabs, and seafood too.
The SavorEat X Sodexo pilot run is set to kick off next year. The company is aiming for a commercial launch in 2023.
United Kingdom
Oumph!
Plant-based meat brand Oumph! just debuted vegan Kebab Döner Style at Iceland stores across the UK.
Oumph! uses pea protein to create the gluten-free product, which is shaved like traditional kebab meat. It offers 9.8g of protein per 100g, as well as 4.5g of fiber.
The company also offers vegan mince, pulled pork, and sticky ribs, among other things.
The Oumph! Kebab Döner Style is also available at The Food Warehouse, and will be rolled out to other retailers shortly.
Asia
Next Meats
Japanese plant-based food brand Next Meats has announced the launch of three new products.
Next Meats will introduce meat-free pork, called Next Pork, which will be sold fried and sliced in a soy and ginger sauce. The product was inspired by the traditional Japanese dish Shoga-yaki.
The company will also launch vegan tuna (marking the brand's first seafood product) and dairy-free milk.
The new items, slated for an October launch, follow Next Meat's recent announcement of its new vegan egg.
Next Meats launches strategically target food trends in Japan. For instance, Japan is the second largest consumer of eggs worldwide. And according to The Japan Times, Japan consumes more pork than any other meat – nearly as much as chicken and beef combined.