This week, the world's first bag made from Mylo, a vegan mushroom leather, made its debut on the runway.
Luxury fashion brand Stella McCartney developed the bag, called the Stella McCartney Frayme.
It debuted during Paris Fashion Week as part of the brand's Summer 2022 collection presentation. The show's central message was that 'mushrooms are the future of fashion', a Stella McCartney press release says.
What is Mylo?
Mylo is a verified vegan animal-free leather made from mycelium. Mycelium, a network of fungal threads, is considered essential to the ecosystem. It's also infinitely renewable.
Material solutions company Bolt Threads engineered mycelium into a material, later dubbed Mylo.
Mylo is certified bio-based, meaning it's made from mostly renewable ingredients found in nature. It's soft, supple, and has the appearance of animal-derived leather.
Researchers developed Mylo by reproducing mycelium in a lab using mulch, water, air, and 100 percent renewable energy. The process takes days, rather than the years it takes to produce animal leather.
Further, conventional leather production is resource-intensive.
A Stella McCartney press release notes that it takes 17,000 liters of water to produce a kilogram of leather. Additionally, 70 to 80 percent of the Amazon's deforested areas is currently used for cattle pastures, the company said.
'A landmark moment'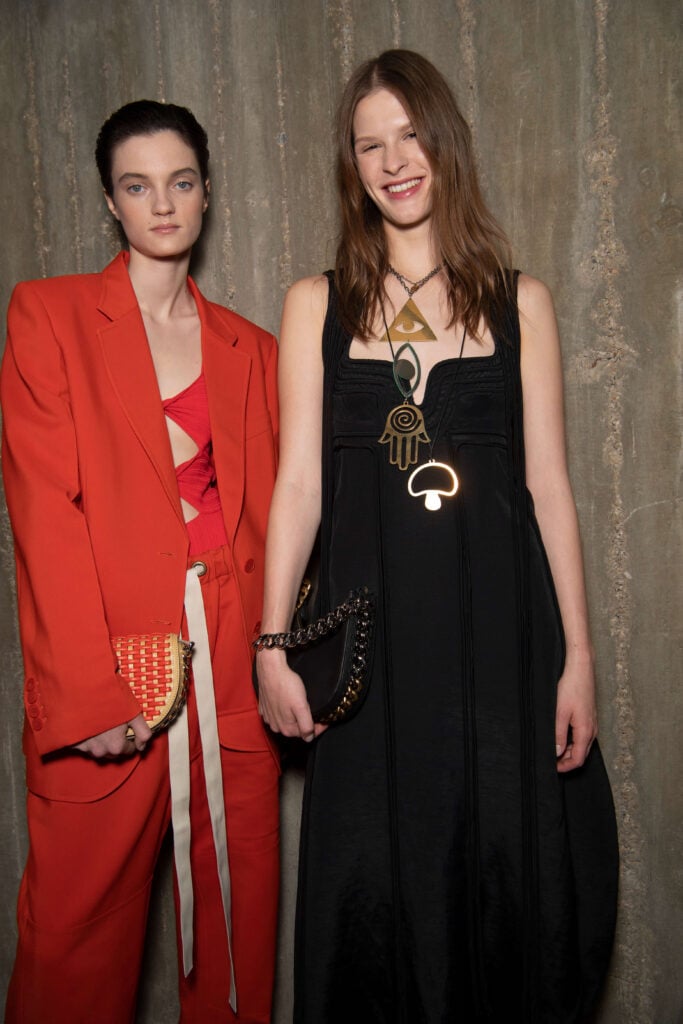 Stella mcCartney's new Frayme bag features the vegan Mylo, an oversized recyclable aluminium chain strap, and a zamac medallion.
"For my Summer 2022 collection, I was so inspired by fungi and their incredible potential for saving our planet – and the Frayme Mylo embodies that hope for the future," fashion designer Stella McCartney, who founded the brand of the same name, said in a statement.
"Our long-time partners at Bolt Threads and I have a shared passion for material innovation and launching a luxury handbag made from Mylo mycelium leather is a landmark moment not only for us, but the world. What you see on the runway today is the conscious fashion industry of tomorrow," she added.
Dan Widmaier, Founder and CEO of Bolt Threads, said Mylo was a response to the growing demand for environmentally friendly materials.
"With good reason, consumers are demanding sustainable material alternatives that also look and feel great. Working closely with Stella and her team of innovative designers has enabled us to make Mylo a no-compromise, animal-free alternative to leather," Widmaier said.
He added that the Frayme Mylo bag is a 'huge milestone' in fashion.
Such designs can have a far-reaching impact. Stella McCartney debuted its first vegan luxury bag in 2009 – the Falabella tote. The company has sold more than 1 million of the totes since then, preventing the deaths of approximately 400,000 cows.
'The future of fashion'
Director and Co-founder of Plant Based News, Robbie Lockie, attended a press conference for the Spring 2022 collection. They asked McCartney about the future of plant-based materials.
"It's the future of all of us, otherwise we have no future," McCartney replied. "I'm hoping it's the future of fashion, I'm desperately trying to open everyone's minds to a different way of working. And I'm trying to show that there's no less luxury in what I present in my shows and there's no less durability and desirability."
Endless possibilities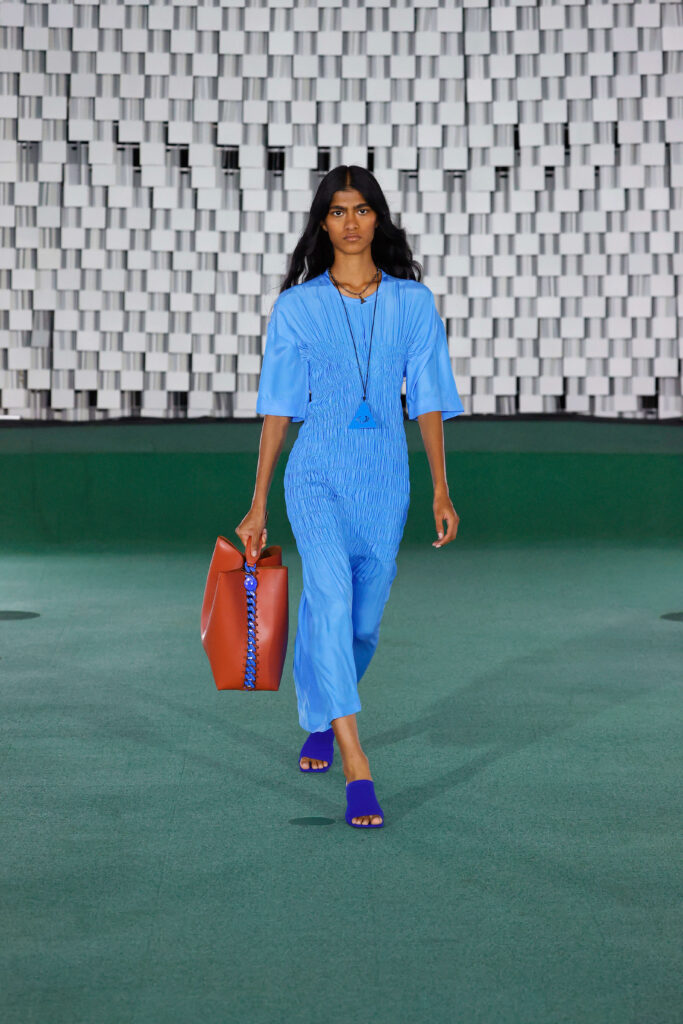 She added that there is much more to explore within sustainable fashion.
"The future is all there, and it's all there also to be discovered. There are so many materials that in the 20 years that our brand's been going, we've developed with our suppliers. They didn't exist. And that's purely because I'm creating a demand," the designer said.
"So if the whole of my industry gave that same demand, things would speed up, more people would join, there'd be so much more for me to work with creatively."
And potential exists in even the most discreet details. For instance, the glues used in fashion can contain egg whites. A conventional glue, in fact, is boiled down animal bones. "That doesn't sound particularly fashionable or sexy to me," McCartney said.
Speaking specifically about mycelium, she explained how scientists can steer the final product into various directions. For example, mycelium materials can be created to be thicker or thinner, or it can be sprayed onto other fabrics.
"You can play around, there's so much you can do," she said. "It's at the forefront really of the new tomorrow of fashion I hope"