Vegan chef Omari McQueen has announced that he will star alongside his family in a new BBC show.
Meet the McQueens will launch on Monday, February 20, on the broadcaster's children's channel CBBC.
It will follow the lives of nine members of the McQueen family, who live in London, and feature Omari's vegan cooking.
In a trailer posted to Instagram, he promised "excitement, adventure, and danger," and said he will be the "king of the kitchen" in the show. 
Speaking to Plant Based News about the series, McQueen said he was "super excited" about the launch.
"There are twenty episodes packed full of laugh-out-loud moments, and in every episode, I get to cook some fantastic plant-based dishes," he added. "The best thing about making this was being able to share the screen with my whole family, and we had such fun making it together… probably too much fun if you ask the producers! I hope the viewers enjoy watching it as much as we enjoyed making it, and are inspired to get into the kitchen with my vegan recipes."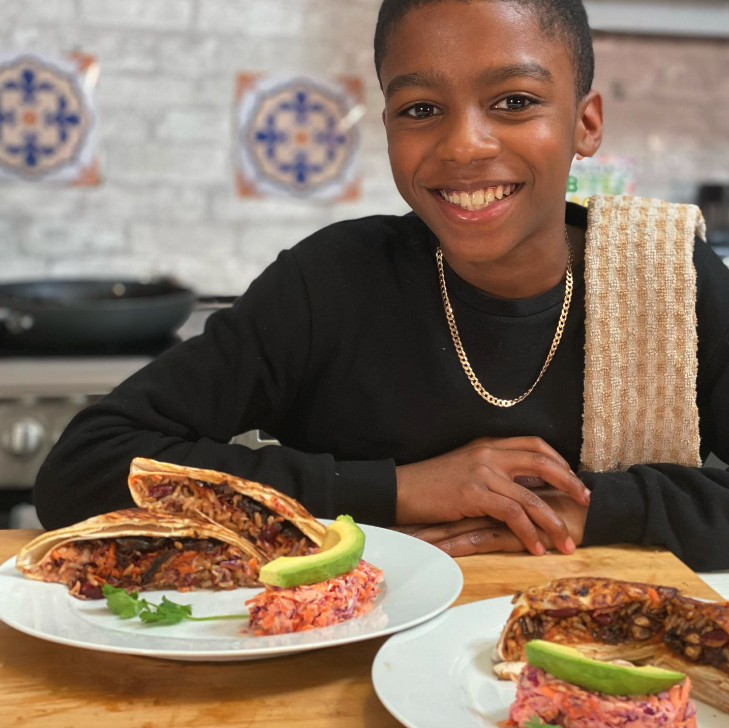 Omari McQueen's cooking career
McQueen, who has 30,000 followers on Instagram, is known for his wide variety of plant-based recipes. According to his Instagram bio, he is the youngest vegan chef and restaurateur in the world. He is also said to be Britain's youngest award-winning chef and author.
At only 14 years old, McQueen has already built an impressive career. He previously starred in a CBBC show called What's Cooking Omari?, which launched in November 2020.
He has also published his own cookbook, called Omari McQueen's Best Bites.
McQueen first discovered his prowess in the kitchen when his mother was sadly taken ill with an "extreme" form of migraine called hemiplegic migraine.
During an appearance on ITV daytime show This Morning in 2020, McQueen said: "When my mom was sick and my dad was going to work, my dad taught me and my older brother how to cook.
"He taught me how to cook because there wasn't anyone to cook at home, because my mom was sick."
McQueen has since launched a number of vegan brands, including a line of dips and snacks called Dipalicious when he was just eight years old.
Meet the McQueens will air on CBBC on Monday, February 20, at 5:35pm.
—
If you purchase something through a link on our site, Plant Based News may earn a commission, which helps us to provide our free services to millions of people each week.