A horse has died on the set of The Rings Of Power, prompting condemnation from animal rights groups.
According to reports, the animal was one of 30 on the set of the second series of the Lord of the Rings spin-off that day. Show producers confirmed in a statement yesterday (March 26) that the horse died of a cardiac arrest before filming. 
"We are deeply saddened to confirm that a production horse died," the statement said. "The incident took place in the morning whilst the horse was being exercised prior to rehearsals.
"The trainer was not in costume, and filming had yet to commence. Both a veterinarian and a representative of the American Humane Association were present at the time. The independent necropsy has confirmed that the horse died of cardiac failure."
The horse was reportedly supplied by a company called The Devil's Horsemen, which has also worked with Game of Thrones and The Crown. This is said to be the first known death of one of its horses on set.
According to Deadline, the horse was standing near 20 others when their heart stopped. They were said to have been preparing for a battle scene.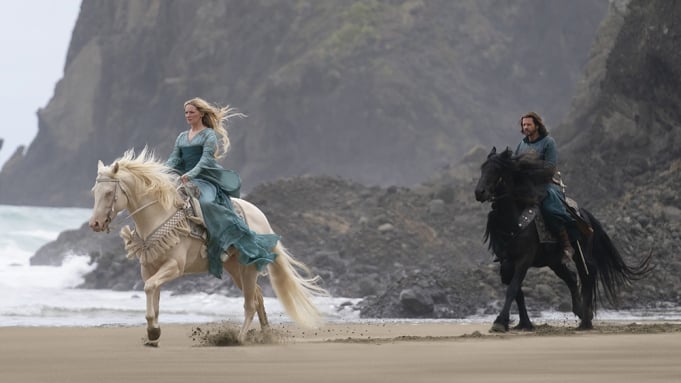 PETA condemns producers
Using real animals in TV and film has long been controversial, and animal rights groups are calling on producers to replace them with CGI.
"It seems that living underground with the orcs is par for the course for the producers of The Rings of Power, because they have the option to use CGI, mechanical rigs, and other humane methods that wouldn't run vulnerable horses to death on set," PETA Senior Vice President Lisa Lange told Plant Based News (PBN).
"PETA is calling on the show's creators—and all other producers—to take on a new quest without using any real horses. If they can't avoid exploiting animals for their art, they should find a new medium, because no one wants to see a spinoff for TV with torment as the theme."
Horses and other animals suffering on set
This isn't the first time producers have sparked controversy for real animal use. Back in 2012, whistleblowers working on the set of The Hobbit: An Unexpected Journey reported multiple instances of animal abuse and neglect. 
According to reports, a horse was tied up and left for three hours on the ground, goats and sheep died from worm infestations, and animals were trampled. There were said to be a total of 27 animal deaths during filming for the movie.