Coming into 2023, many of us are looking to boost our fruit and vegetable intake, as part of a New Year's resolution, Veganuary, or just a desire to cultivate a healthier lifestyle.
Here's how I increase my nutrient intake easily and deliciously: juices.
Fresh juices are a great way to hydrate and support your nutrition intake. A growing bank of research links high produce consumption with significant health benefits, such as a reduced risk of stroke and heart disease.
In a 2021 study, those who ate at least five servings of fruits and vegetables per day were found to have a 10 percent lower risk of death from cancer and a 35 percent lower risk of death from respiratory diseases, such as chronic obstructive pulmonary disease.
But buying juice – especially green juice – can be expensive. And home juicers are often clunky, hard to clean, and take up extra time in the kitchen. That's exactly why I recommend NAMA's J2 Cold Press Juicer.
Healthy juices with a philosophy
When Plant Based News launched as a social media platform back in 2015, its sole purpose was to raise awareness about the beneficial effects of a plant-based diet. Fast forward eight years, and health is still integral to our story and mission. That's why health content is part of our regular news coverage, and why I'm regularly out on the streets debating people on why you don't need to consume animal protein.
When I first encountered NAMA, it become immediately clear that its team, like us, were passionate about personal and public health. NAMA's founder Dan, for example, is someone who walks the talk – you can read his transformative health story here.
Robbie – my partner-in-crime at PBN – has been recommending NAMA for years. And once I caved and tried out its J2 model, I couldn't believe I waited so long.
We're proud to offer our readers $55 off NAMA's Cold Press Juicer over the next month. Just use the code: PBNReview.
How to use a NAMA juicer
This juicer is designed to make juicing at home as easy and hassle-free as possible. It's truly a game-changer that allows you to make delicious, vibrant juice in just minutes.
The large "hopper" canister allows you to load a whole apple, celery sticks, a big bunch of kale leaves, or whatever your recipe calls for. That's because the juicer cuts and loads produce for you, so you don't have to stand around feeding one ingredient in at a time. It's almost a hands-free experience. 
The Nama J2 is also extremely easy to clean and takes no more than three minutes. You don't have to dig fruit and vegetable pulp out of every nook of the machine. It has specific features for fast and effortless cleaning, all of which are completely food-safe and BPA-free.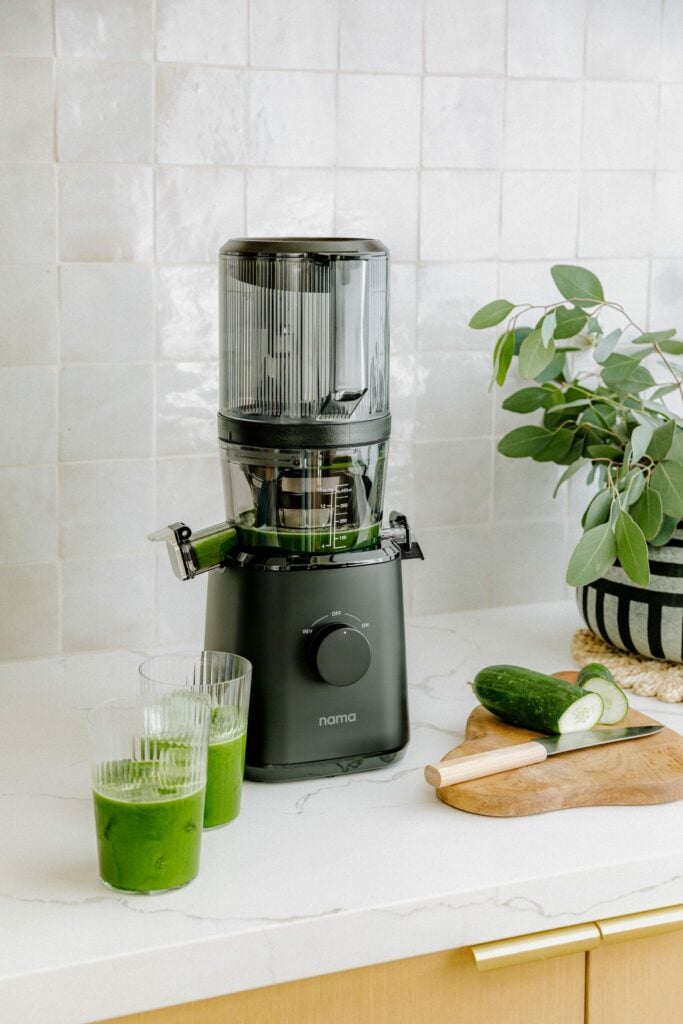 Juice, smoothies, milk, and more
You can also use this juicer to make smoothies, soups, sauces, and plant-based milks. (If you're like me and hate having a messy, crowded kitchen, it's a great way to reduce the number of appliances you use).
If you have little ones in your house, the J2 is equipped with safety features so children can enjoy juicing too. We know how healthy habits can begin when you are young, so this machine is a perfect way to introduce children to juicing. In fact, many of the plant-based doctors we collaborate with rave about it!
This model is already available in the US and Canada (click here to get $55 off using discount code PBNReview), and NAMA will soon be serving over 200 countries (sign up to get notified).
NAMA has an array of products, but the J2 happens to be my favourite (as well as my business partner Robbie's). Our second-favourite is the Vitality 5800. Whether you've been juicing for years or want to get started, we are super confident it will do the job for you! Plus, the team at NAMA offer a 15-year guarantee with every product, so it will last for years to come.
Money well spent: get $55 off with code: PBNReview
—
If you purchase something through a link on our site, Plant Based News may earn a commission, which helps us to provide our free services to millions of people each week.