Most of us know that fruit and vegetables are the foundation of a healthy and balanced diet. They provide essential nutrients and antioxidants that can help prevent chronic diseases and support overall health. Despite this, most people don't consume enough of them (more on that – and how to increase your intake – in a moment).
How important are fruits and vegetables?
Fruits and veggies are a rich source of fiber, vitamins, and minerals, including potassium, magnesium, and vitamin C. These nutrients play crucial roles in maintaining healthy body functions, such as regulating blood pressure, promoting bone health, and supporting a strong immune system.
Fruits and vegetables are also high in antioxidants, which help protect cells from damage caused by free radicals and reduce the risk of chronic diseases such as cancer and diabetes. In addition, the fiber in fruits and vegetables helps promote healthy digestion.
Multiple studies have found links between high fruit and vegetable consumption and significant health benefits, such as a reduced risk of stroke and heart disease.
Similarly, in a 2021 study, those who ate at least five servings of fruits and vegetables per day were found to have a 10 percent lower risk of death from cancer than those who did not. In addition, they had a 35 percent lower risk of death from respiratory diseases, such as chronic obstructive pulmonary disease.
Most people should be eating more produce
Despite the many benefits of fruits and vegetables, many people still don't consume enough of them. The UK's major health body, the NHS, states that "everyone should have at least five portions of a variety of fruits and vegetables every day." (One adult portion is an apple, banana, or orange; one large slice of pineapple; two heaped tablespoons of cooked spinach; or seven strawberries, for example).
According to data published by the UK government in 2020, only about 28 percent of adults eat the recommended five portions, meaning the majority of Brits aren't meeting their optimal intake. Things are even more dire in the US, where roughly one in 10 people are eating enough fruits and vegetables.
One reason for this is that many people find produce less convenient or less tasty than other foods. But there are many ways to make them more appealing.
How to eat more fruits and vegetables
One simple yet effective way is to incorporate some extra plant-based ingredients into dishes you know and love (think: spinach in your pasta sauce or mushrooms in your mac 'n' cheese). Fruit pairs great with cereal, yogurt, and smoothies (and dessert!).
Dips and sauces – like hummus, guacamole, and salsa – are also great options. They're not only made from plant ingredients but are perfect for dipping vegetables into. Similarly, adding peanut, almond, or another nut butter to fruit takes snacking to a whole new level.
Admittedly contradicting our previous point, but for good reason, experimenting with new recipes and cooking methods is a great way to find new fruits and vegetables you like. And, tastes and textures you may not have encountered – or paid much attention to – in the past.
But one of our favorite ways to up fruit and vegetable intake is via juices and smoothies.
The power of juices
Fresh juices are a great way to hydrate and support nutrition intake. They are nutrient-dense, and allow you to consume a large amount of fruits and vegetables – and consequently, their vitamins and minerals – in one serving. Juices can also be a quick and convenient way to consume plant foods, especially if you're on-the-go or have a busy schedule. You can easily prep your produce and juice it in a matter of minutes.
As above, juicing allows you to experiment with different flavor combinations, opening up your palate to a more varied and enjoyable diet.
But buying juices from supermarkets or health food stores can be expensive. Going DIY usually isn't much better; home juicers are often clunky, hard to clean, and take up extra time in the kitchen.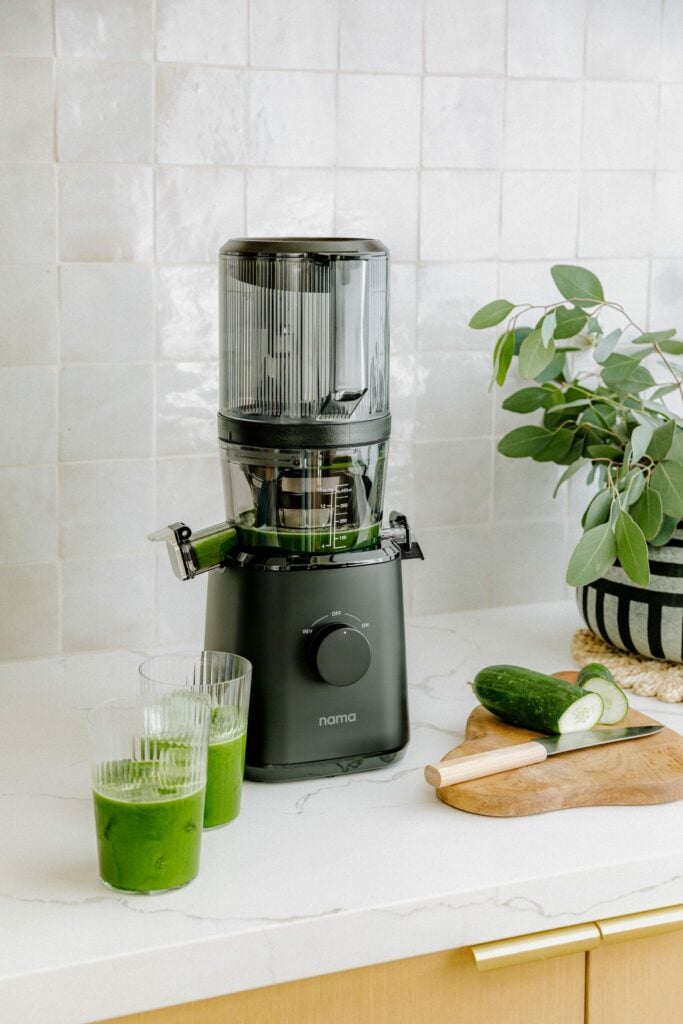 But for us, one juicer has stood out among the rest. NAMA's J2 Cold Press Juicer has come out on top every time – in terms of simple and powerful juicing and blending, as well as reliability and value for money.
Why the Nama J2 Juicer?
When we first encountered NAMA, it became immediately clear that, like us, the team were passionate about personal and public health. In fact, central to their mission is making it "easier and more enjoyable to consume more fruits and vegetables so we can support a community who wants to live and feel healthier."
It's this desire that drove the team to develop a first-of-its-kind juicing technology that allows you to load an entire recipe into the juicer at one time and walk away. You can add whole apples, celery sticks, large bunches of kale, or whatever your recipe calls for. Then just turn it on, and walk away.
It's also more efficient than other appliances. The J2 yields up to 60 percent more juice from leafy greens and 30 percent more from other produce when comparing the same amount of ingredients with traditional high- speed juicers. Basically, getting more bang for your buck.
We felt it was easier to clean than other models, too (no digging fruit and vegetable pulp out of every nook of the machine).
Juice, smoothies, milk, and more
You can use the J2 to make smoothies, soups, sauces, and plant-based milks (almond, cashew, macadamia, and more). If you can't stand a crowded kitchen, it's a helpful way to reduce the number of appliances you use.
If you have little ones in your house, the J2 is equipped with safety features so children can help with juicing too. As well as getting them to consume more nutrients, introducing kids to healthy habits at a young age is crucial. And in a perfect world, may prevent some picky-eaters!
This J2 Juicer ships to most countries, including those across Europe, North America, and Oceania.
Those interested can get $55 off a J2 Juicer using discount code PBNReview. If that model isn't for you, the Vitality 5800 is also a great bet. NAMA offers a 15-year guarantee with every product.
For more information, check out the NAMA website.
—
If you purchase something through a link on our site, Plant Based News may earn a commission, which helps us to provide our free services to millions of people each week.