A new initiative called Vegan Fridays is rolling out across New York City's public school system, which is the largest in the country. The program will see K-12 students eating plant-based meals one day a week.
Newly elected NYC mayor, Eric Adams, stresses that the policy will improve the health and "quality of life" of students in the city. There's an estimated more than 1.1 million students in over 1,700 public schools across NYC.
"In one voice, we talk about fighting childhood obesity, diabetes yet you go into a school building every day and you see the food that feeds our healthcare crisis," Adams said in January.
"The children have been calling me and saying they want better food in schools, and I'm going to do the best I can to give them the options of a more healthier diet so we can stop feeding the crisis," he added.
Adams won the mayoral vote in November, and became the city's second Black and first vegan mayor in doing so. The politician first picked up a plant-based diet in 2016, and credits it for reversing his diabetes diagnosis.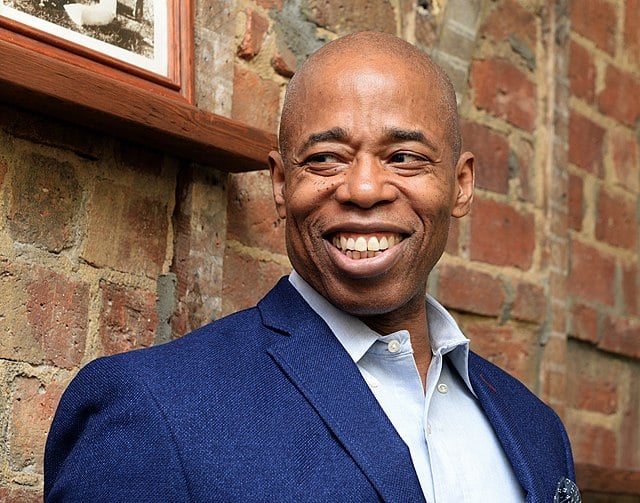 Adams spoke about the school meal plan on Fox 5's Good Day New York last week. He explained: "I love healthy food, and I love life, and our children should not continually be fed food that's causing their healthcare crises: childhood obesity, childhood diabetes, asthma … We should not be feeding the crises."
A growing number of studies have highlighted the link between plant-based diets and a lowered risk of heart disease, type 2 diabetes, and cancer.
In contrast, researchers are finding that meat – especially processed and red meat – could increase the risk of such diseases. For instance, in 2015, the World Health Organization classed processed meat – such as bacon, pepperoni, and hot dogs – as a Group 1 carcinogen. Asbestos, tobacco smoking, and plutonium, among others, are also in this category.
Meat-free days at public schools
Health concerns spurred on a similar plant-forward approach in 2019, when the NYC's Department of Education introduced Meatless Mondays at all public schools in the city. And in April 2021, Meatless Fridays joined the rotation too.
"Our children are weighing in — they're doing food testing, they're determining the type of food they want that's healthy," Adams continued. "And you know what? They asked for this. They are tired of the food they are being fed in their schools, and they want healthy options."
The school meal guidelines impact more than children's health, the mayor noted. "We have to do a better job in the food that we serve and we have to move away from our fixation on the products that are also destroying our environment," Adams explained. "That is often not talked about. We talk about fossil fuel, we talk about 'we need electric vehicles.' No one is talking about the plate.
"The plate is not only destroying mother nature, it is destroying our mothers and our children as well."
Putting kids' health first
Non-vegan options (peanut butter and jelly sandwiches) will be available on request under the new policy. Additionally, schools will still offer animal milk with every meal as per the current guidelines.
Last week, the US Department of Agriculture (USDA) updated the country's school nutrition standards – specifically, its milk, sodium, and whole grain recommendations.
The federal agency stated that schools and childcare providers can only offer low-fat or non-fat cow's milk.
It's part of the government's aim to "put children's health at the forefront," the organization says. 
This is doubly important given that students consume their healthiest meals at school, according to agriculture secretary Tom Vilsack.
"Nutritious school meals give America's children the foundation for successful, healthy lives," Vilsack said in a statement. "We applaud schools' heroic efforts throughout the challenges of this pandemic to continue serving kids the most nutritious meals possible."