A new award-winning feature-length documentary has shone a light on the dairy industry in India.
Maa Ka Doodh, which means "mother's milk" in Hindi, was written, produced, and directed by doctor-turned-animal rights activist Harsha Atmakuri.
After quitting his job, Dr Atmakuri traveled 20,000 kilometers across India to embark on an investigative journey into the industry. The film takes place over two years, in which time he met a number of people with direct and indirect links to the dairy industry. Dr Atmakuri looked at the untold stories behind the success of India's "White Revolution," the world's largest dairy production and development campaign. Launched in 1970, the campaign saw India become the largest dairy producer in the world, surpassing the US in 1998.
Dr Atmakuri looks at the ethical, cultural, environmental, religious, economic, social, and political consequences of increased dairy consumption in India. The film also explores the link between the nation's huge dairy consumption and its beef exports. 
The film has won a number of awards, including recently Best Documentary Film and Best Eye Opening Film at the Bangkok International Film Festival.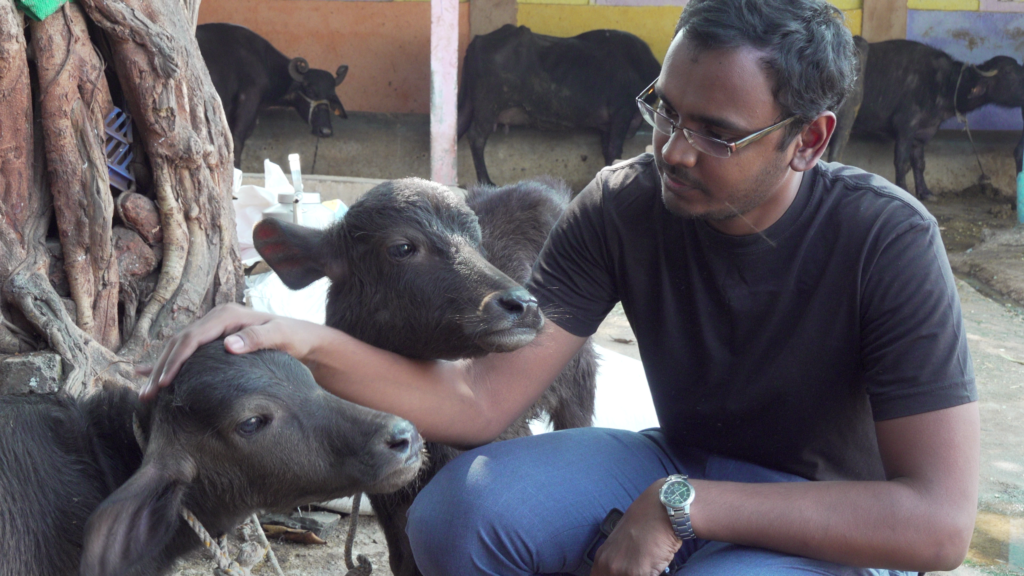 Cow farming in India
Many people may be unaware that India is one of the world's largest exporters of beef. According to Dr Atmakuri, he was "stunned" when he found out. 
"The perception I – and many Indians like me – always had growing up was that the vast majority of Indians were against beef, but this perception, as I realized, was contradicting the truth," he said.
According to Dr Atmakuri, there is a link between India's dairy production and beef exportation, as they are "two sides of the same coin."
"One cannot exist without the other," he said. "To be more precise, beef in India cannot exist without the dairy industry."
Watch the trailer for Maa Ka Doodh below:
About the director
This is the first film from director Dr Harsha Atmakuri. He started off working as a general physician before becoming an activist and filmmaker.
He discovered veganism while working as a medical writer, and subsequently went on to participate in various animal rights awareness campaigns, including public outreaches and lectures.
Dr Atmakuri then went on to create a number of short films, which he uploaded to Facebook and YouTube. He eventually decided to quit his job and set off to create Maa Ka Doodh.
How to watch Maa Ka Doodh
The film is available to watch in both Hindi and English on the Maa Ka Doodh YouTube channel.