The cruelty of horse racing was plunged into the spotlight with the return of the Grand National to Aintree Racecourse in Liverpool, UK, in April, 2023. Three horses died at the three-day event, and animal activists hit headlines after attempting to disrupt it.
Racing is gravely dangerous for the animals, and the Grand National particularly so. Injuries and deaths are commonplace, and the animal rights community has long been vocal in its disdain for it.
One of those campaigning against racing is Dene Stansall. A former fan of the "sport," Stansall turned against it after witnessing a horse die on the tracks. "There was very little concern about this horse," he tells Plant Based News. "And I realized how callous the industry actually was. It was using horses for the purposes of entertainment and gambling, and when they died or finished the racing days, no more was heard of them."
Stansall now works at Animal Aid as its horse racing consultant. He has been key in ensuring the industry makes a number of welfare improvements, including restrictions on the use of the whip. He speaks to Plant Based News about the Grand National, the lives of the animals, and the inherent dangers of the horse racing industry.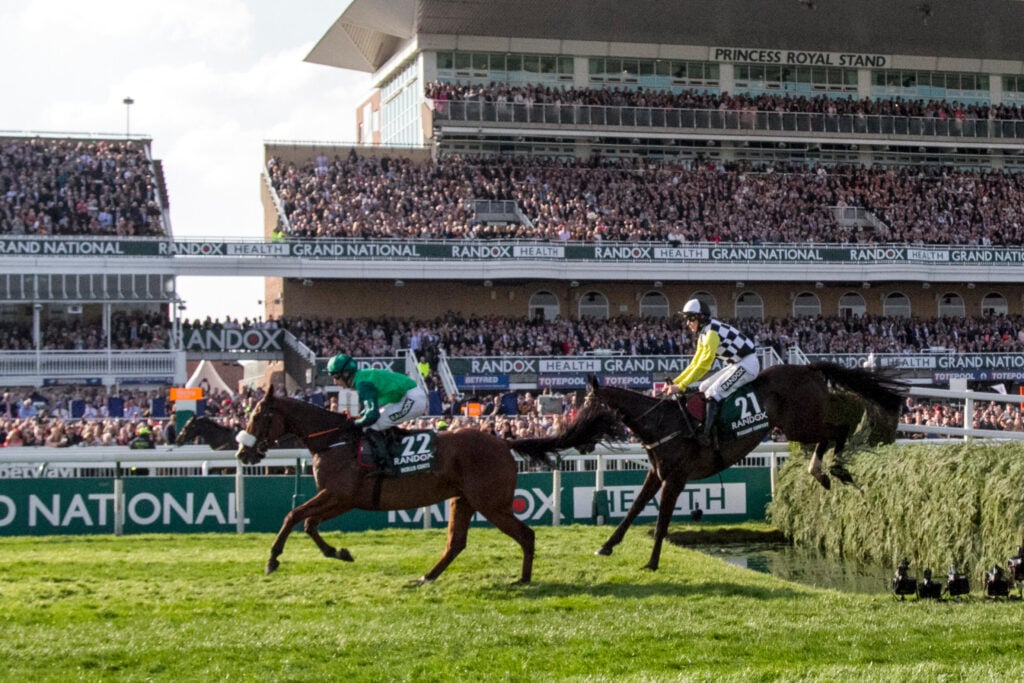 What is the Grand National?
The Grand National first took place in 1839, and is now one of the UK's most well-known sporting events. It takes place in April from Thursday – Saturday, with the main race being on Saturday. Around 150,000 people attend the event, while around 600 million watch it on TV around the globe. In total, 61 horses have been killed at the event since the year 2000.
Why is the Grand National so lethal?
Stansall describes the Grand National as "the ultimate test of a race horse." It sees 40 horses run a 6.9km race track. The track has 16 jump fences, 14 of which the horses go over twice. The fences are all different sizes, meaning it's considered more challenging than other races.
Because of this, injuries are commonplace. "Some hit the fences, do a rotational fall, and will break their necks and die within an instant, in seconds," says Stansall. "Some can fall, break their backs and they lay there quadriplegic or paraplegic, and wait for a bullet or a needle to destroy them. Others can break a leg, and a horse with a broken leg cannot be repaired in general. If that bone comes through the flesh, that's it. It's not like a human leg where we can get over it."
Due to the huge physical challenge of the race, some horses can have heart attacks. They carry heavy weights on their backs, which is the weight of the jockey and saddle. Depending on the temperature and ground conditions, horses have been known to drop dead mid-race.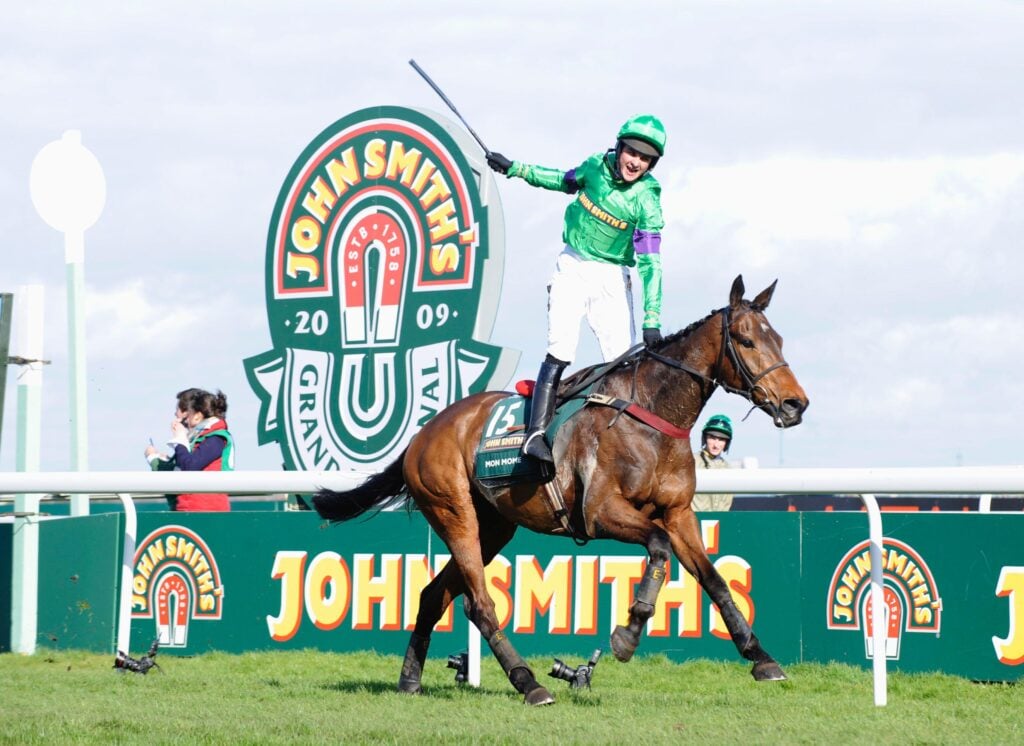 Horse racing is a dangerous industry
It's not just the Grand National that's the problem. Around 200 horses die on British race courses a year. Horses can be injured on any course, but jump race courses are particularly dangerous. "It can be the way the fences are laid out, the distance between fences, the state of the ground, so other racecourses can be almost as deadly as the Grand National," says Stansall.
As well as Aintree, Stansall highlights Southwell Racecourse, Sedgefield, and Worcester as examples of dangerous race courses "you don't hear about."
"These are the bread and butter racecourses," he says. "Where horses run Tuesday, Wednesday, Thursday afternoons when there's not many people watching. So people don't tend to hear about those."
The welfare of race horses is regulated by the industry itself, rather than an external and independent body. "By self regulation it decides what the parameters are of welfare, and that's highly subjective," Stansall says. "In other words, they make those welfare rules up themselves based on their own vested interests."
The industry has occasionally bowed to pressure from animal rights campaigners. Following a campaign from Stansall and Animal Aid, it now limits the number of times a horse can be whipped. This limit is currently set at six times each race (seven for jump races). "They've decided, through their own decision-making, that five or six times is acceptable to hit a horse who races," Stansall says. "That's subjective, not based on any science or based on the welfare of the horse particularly. It's just what they've decided."
Stansall and Animal Aid are now campaigning for the horse racing industry to ban jump racing. "Horses running over jumps are 200 percent more likely to die than a horse running in a flat race," says Stansall. "It's those dangers of putting those fences in front of horses, the further the distance, the greater the weight they're carrying."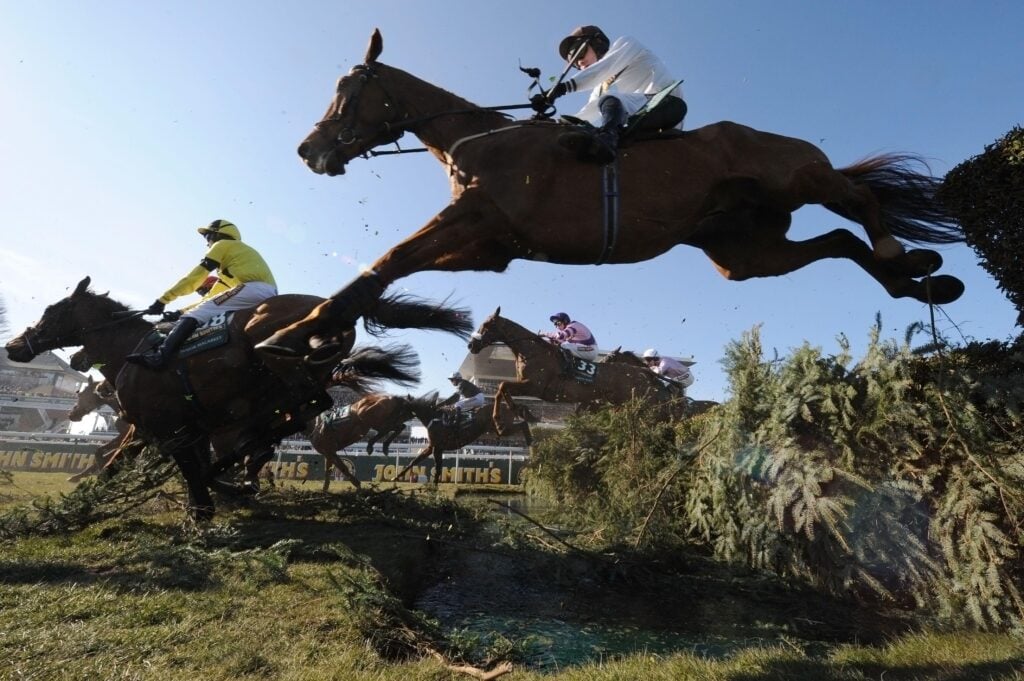 How are race horses bred?
While we see what happens to race horses on the track, many people have no idea what goes on behind the scenes. Most of us have little idea of how race horses come to exist, and what happens to them before they reach the course. The unregulated breeding of race horses, Stansall says, is one of the major problems of the industry.
"There are more horses bred than will ever race," he says. "There are far too many horses bred that there are owners for. Horses today are bred predominantly for the sales market rather than for racing… Prior to that horses were bred just to race.
"Now people are breeding horses to sell them, and people buy them at the sales and then race them, but there's a high failure rate, and they're turning out more horses than what there is room to run for."
What happens to race horses when they retire?
Horses can't race forever, and those who survive the racing tracks are left with an uncertain future when it's time to retire. According to Stansall, fillies (female horses) have about two years in racing, while geldings (males) are active for three.
Some horses are rehomed, while others go for breeding or to race overseas. A few will be retrained for other disciplines, like dressage, showjumping, or eventing, and some will be euthanized.
There is, according to Stansall, a lack of regulation by the racing industry on the fate of the horses after it's finished with them.
"The industry is not taking on that responsibility to care for horses after they've used them in racing," he says. "They more or less let them go to a free market."
Stansall describes this as a "major welfare issue," adding: "a lot of former racehorses go to slaughter."
Horse slaughterhouses in the UK
In 2021, Stansall and Animal Aid worked with BBC Panorama to expose horse slaughterhouses. The investigation found that around 4,000 thoroughbred race horses had been killed in abattoirs in the UK and Ireland since 2019.
"These horses were going for human consumption, for meat, to eat on the continent," Stansall says. "Some horses were going in there just to be killed, not for human consumption, but just killed in the slaughterhouse."
After the footage was released, the racing industry released a statement confirming that horses trained and entered to race in Britain will be permitted to enter the food chain. This, Stansall says, was a "huge victory," but it still doesn't mean that horses won't be killed. "They'll just maybe be killed by a knackerman and used to feed hunting hounds," he says. "So the issue is far from resolved."
What's more, a Freedom of Information Request submitted by Animal Aid last year found that race horses were indeed still being sent to British abattoirs.
Do horses enjoy racing? Myths and lies of the industry
Many of us are told as children that whips don't hurt horses, or that the animals enjoy racing each other. These are dubious claims, however, and often orchestrated by the industry itself.
"The whipping of horses, it's been around for so long it's been taken for granted," Stansall says. "There's some sort of cushioning on a race whip now, but the way jockeys use them, that doesn't make any difference. It still makes them jump when they're hit. I've got ex race horses, and if you show them a whip, they immediately know what that tool is for, and they shy away.
"Race horses don't want to be hit with a whip just as much as we wouldn't. It's brutal, it's disrespectful, it's ethically wrong to start hitting an animal."
Stansall says he often hears claims that horses enjoy the sport of racing. He believes, however, that the animals don't realize they are racing at all, and run together because they have a natural instinct to stay in a herd.
"I see racing people say 'he really wanted to win, he had the will to win this horse.' Some jockeys say 'oh this horse is gutless, it's useless, it's gutless, it's got no guts.' This is totally misunderstood and disrespectful, using anthropomorphic terms with regards to an animal's ability and instinctive nature, and totally misunderstanding the horse altogether."
A broken relationship with animals
To many, horse racing is yet another example of our broken relationship with animals, where they are seen as nothing more than commodities for human use, rather than sentient beings with a right to autonomous life.
While some in the industry may tell you otherwise, there is no denying that race horses are bred, used, and disposed of in ways the industry seems fit, and in a way that will make them money.
"Whether it's intensive farming of animals, whether it's scientific procedures, whether it's relating to wildlife, the racing industry just falls into that category of the way that we treat animals in society in general," Stansall says. "We control their lives, we control their welfare, we decide, mostly subjectively rather than scientifically, that we can do what we want with them, and it'll be on our terms rather than the animal's terms."