A draft bill that could see horse meat banned and horses given the same rights as companion animals like cats and dogs is gaining support in France.
MP Nicolas Dupont-Aignan, from the small right wing Party Debout la France (France, Stand Up), introduced the draft bill, which calls to "put an end, finally, to hippophagie (horse meat consumption)" in the country. "No one would think of eating a cat or a dog," the politician said in a statement. "And therefore I find that in our country we would be honored to change the status of the horse."
Dupont-Aignan is the only member of his party in the National Assembly, so the draft bill will need cross-party support before it's put forward for a vote. It's has already received endorsement from a number of celebrities, who signed an open letter urging other parties to support it. Singers Fabienne Thibeault and Chantal Goya are among the famous faces to have signed it.
Many people may be surprised to hear that horse meat is still sold in France, given that it's hugely controversial and not readily available in many countries in the world.
But how widespread is horse meat, how are the animals farmed, and is eating horses really worse than eating any other animal? Here's what you need to know about the global horse meat industry.
Horse meat consumption in France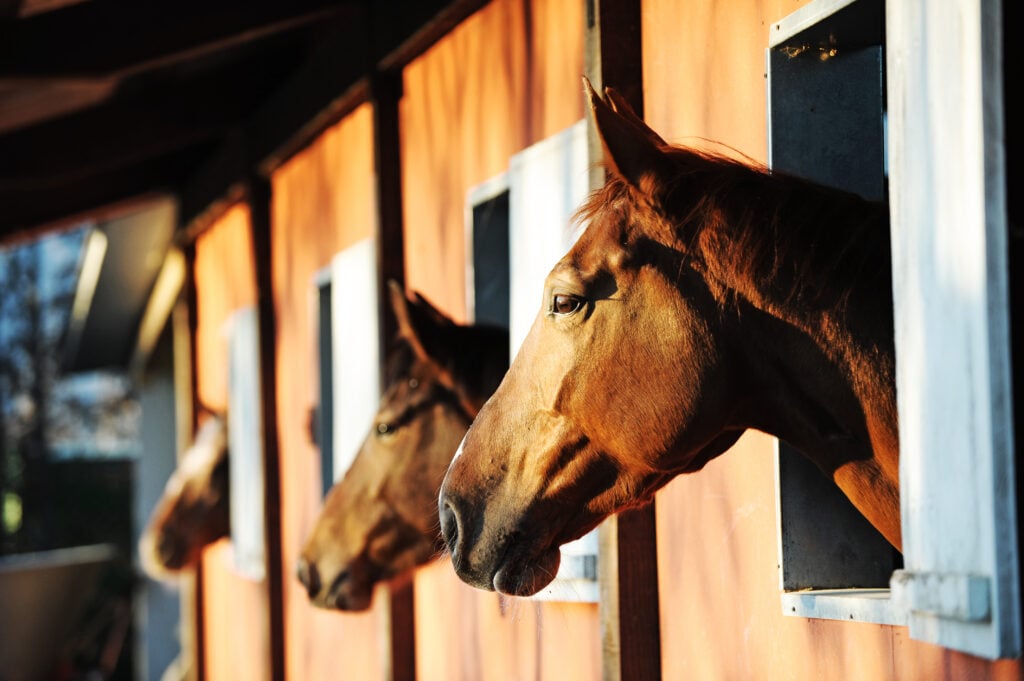 The new horse meat draft bill comes amid rapidly declining interest in horse meat consumption in France. It's thought that people eat 80 percent less horse than they did in the 1970s, consuming around 290g a year per head. The vast majority of French people do not eat any horse meat at all, and it's increasingly controversial among the general public. According to figures from 2019, horse makes up less than one percent of meat sold by butchers. By comparison, beef was 22 percent and pork 23 percent.
That isn't to say that horse meat isn't still prevalent in certain areas. It's considered to have historical and cultural significance in the country, used as an ingredient in dishes like "steak tartare" (raw minced meat) and "boudin noir" (blood sausage). There were thought to be a around 300 "boucherie chevalines" (specialized horse butcher shops) still operating in France in 2018, but this figure had dropped from 1,000 in 2005. In 2022, around 5,088 horses were sent to the slaughterhouse, down from 20,000 in 2013.
What other countries eat horses?
France isn't the only country in Europe where horse meat is available. It's also eaten in Belgium, Switzerland, Luxembourg, and some parts of Italy. It's consumed in a number of other continents, and can be found in Kazakhstan, Mexico, Mongolia, China, Japan, and Argentina. According to stats from 2021, horse meat was the world's 1076th most traded product, with a total trade of USD $383M.
How many horses are killed for meat each year?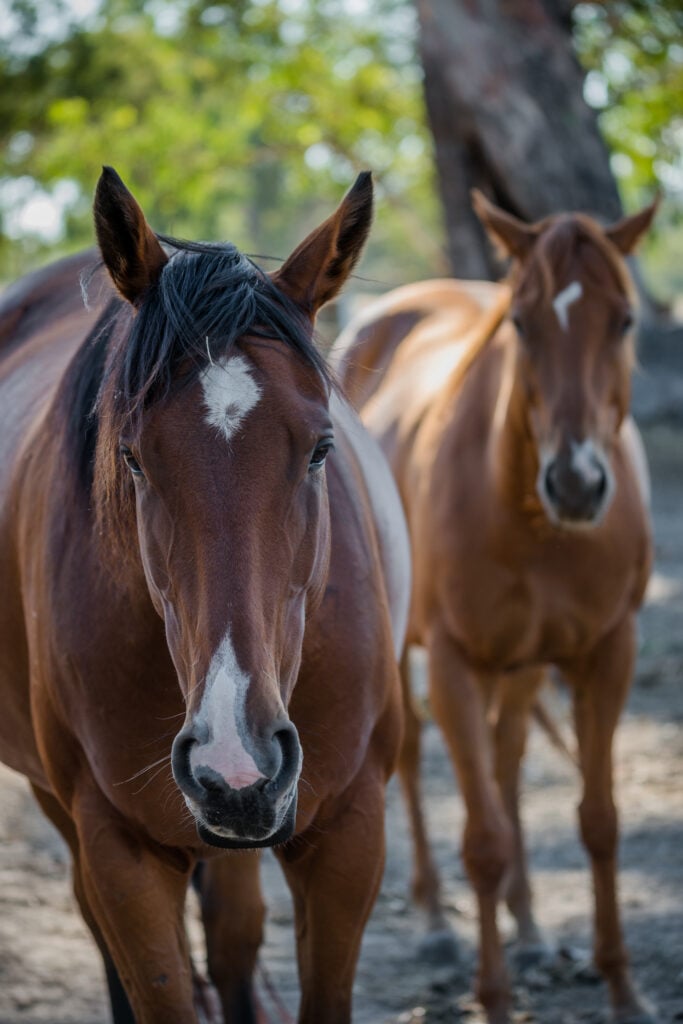 According to UK animal rights charity Viva!, around 4.7 million horses are consumed around the world each year.
Horses are one of many animals who fall victim to the live transport industry. Tens of thousands in Europe alone are transported long distances (sometimes journeys can take several days) to other countries to be slaughtered. Horses will often suffer from injuries and diseases on these journeys and are given minimal rest periods. The animals will often lose their balance and fall on these trips. Many will be unable to stand up again, and may then be trampled on by other animals. It's not uncommon for horses to die during transport.
According to Viva!, horses will often be "dragged off the truck with chains" or subjected to "violent treatment" to force them to stand. They may be kicked, beaten with heavy sticks, or have electric cattle prods inserted into their rectums. 
Poland is one of the biggest producers of horses, with more than 10,000 being exported out of the country in 2019. The majority are sent to Italy, but some are bought by France and Belgium.
Outside of Europe, Canada is one of the world's biggest horse meat suppliers. While Canadians eat very little of the meat itself (bar in a few areas in Quebec), the country exports live horses and horse meat to the EU and Asia.
How are horses farmed?
Like all animals raised for food, horses farmed for meat generally live in unpleasant and unnatural conditions. Horses are either raised specifically for meat, or alternatively sent to slaughter after being retired from racing or pulling carriages. According to a report from Sentient Media on the Canadian horse meat industry, horses are often on feedlots with thousands of others before being killed, and suffer from injuries and illnesses like hoof conditions and eye infections.
"Because they are going for meat, they don't generally get veterinary care, no hoof care," Sinikka Crosland, the executive director of Canadian Horse Defence Coalition (CHDC), told the publication.
Animal advocacy groups Tierschutzbund Zuerich and Animals' Angels investigated a feedlot in Alberta, Western Canada, in 2019. The feedlot had a capacity to hold 10,000 horses. They found animals dying while giving birth without medical attention, as well as a lack of shelter from the cold winter conditions.
How are horses killed?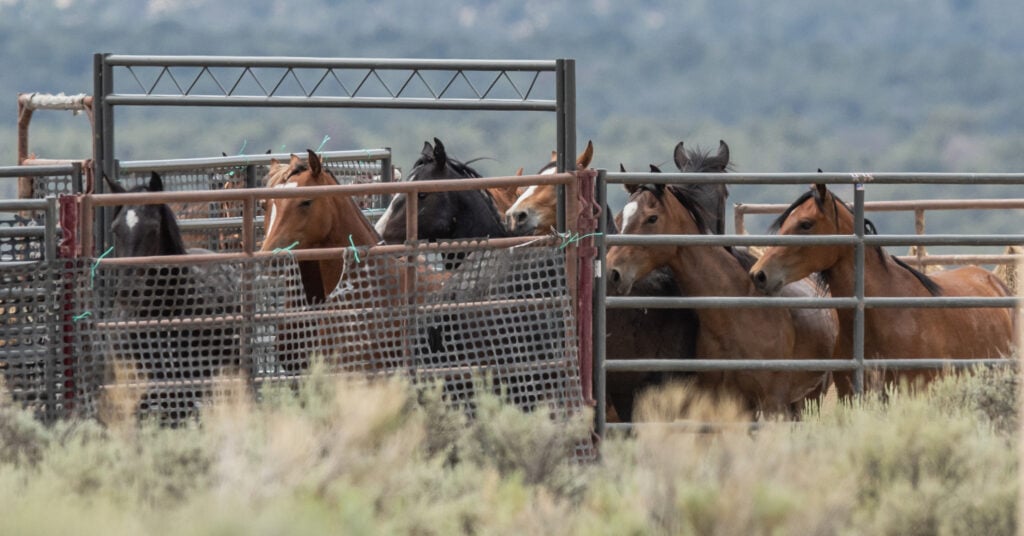 Horses will often be slaughtered in specialized slaughterhouses. In the UK, for example, there is thought to be just one slaughterhouse that is equipped to kill horses. Horse meat isn't illegal in the UK but it's very rarely eaten – horse meat produced there is almost always sent to other countries.
The standard practice for killing horses in Britain, as well as some other countries, is by free bullet. They are generally shot with a rifle at point blank range into the brain. The horse will then be strung up and have their throat cut before being "processed" into meat.
In other countries, they may be stunned with a captive bolt pistol (similar to the slaughter process for cows). Stunning is often done improperly, however, meaning many animals will still be alive when they are strung up by their hind legs and have their throats cut. While it's supposedly against the law to slaughter horses in front of their companions in many countries, this is often ignored.
The horse meat scandal
In 2013, the subject of horse meat made national headlines in the UK and many other countries as a "horse meat scandal" swept Europe.
The scandal referred to a food industry scandal where many products labeled as containing spicy beef actually contained undeclared horse meat. In some cases, 100 percent of the meat was from horses, rather than cows. It came to light in January 2013, after DNA tests found traces of horse in frozen beef burgers and lasagne sold in British and Irish supermarkets. The scandal later spread to 13 European countries, leading to major concern over a breakdown in the food supply chain traceability.
Why is eating horses so controversial?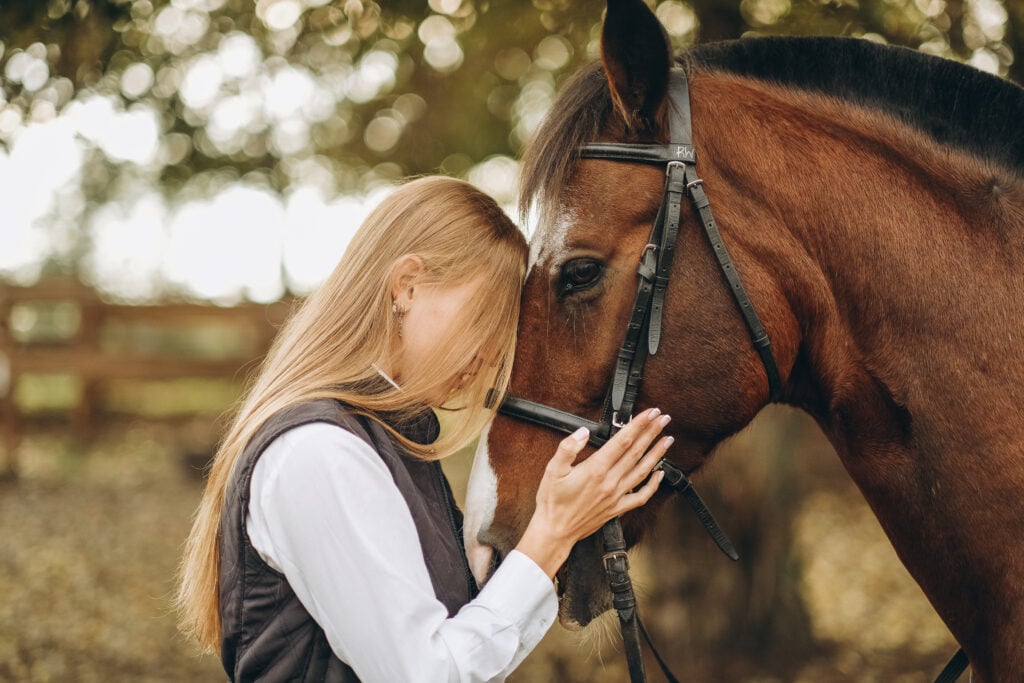 Many people would argue that an aversion to horse meat, as opposed to an acceptance of eating animals like pigs, cows, chickens, and sheep, highlights speciesism among the general public. Speciesism refers to the idea that some animals are inferior to others, leading humans to deem it acceptable to kill some species, and not others. In countries like the US and UK, horses are often seen as companion animals, rather than food, for no other reason than their country-specific culture.
This line of thought is increasingly being seen in France, too, as a result of the new draft Bill. "I am very attached to French farming, including the production of chicken, pork or beef, and I defend it," said Fabienne Thibeault, one of the French singers supporting the Bill. "But the horse has accompanied us since the dawn of time and we have other meats available."
Many vegans and animal rights activists would agree with the sentiment that farming and killing horses for food is wrong. They would argue, however, that this belief should be extended towards all other animals in our agricultural system.
More like this: