A football coach – and former college footballer – has revealed how he lost 80lb (36kg) and ditched his blood pressure and cholesterol medications after switching to a plant-based diet.
Tony Confer, 47, from Pennsylvania, played sports throughout his life. Straight after playing college football, he started coaching at high school level.
Confer found that he would typically gain weight during the football season, as a result of lots of traveling, fast-food stops, and coaches meetings where beer, pizza, and wings were usually served.
Over 300lb
"So, in season was always hard for me," he told Plant Based News. "I always…probably gained anywhere from 10 to 15 pounds during football season, just with the travel and the unhealthy eating and having to stop and go pick up fast-food and those types of things.
"But in 2017, after the season was over, I had gotten myself up over 300lb. I was about 305lb. For health insurance reasons, I had to change doctors. And I had had a doctor's appointment really at the tail end of November.
"I went into that appointment with the new doctor, and I told her I wanted to lose weight. I wanted to get off the blood pressure and cholesterol medicine that I had been on for a dozen years at that point."
Motivation
Confer had multiple reasons for wanting to change his health: he had been taking medication for his blood pressure and cholesterol for more than a decade. In addition, his biological father had died young from a heart attack. He wanted to be healthy for his wife and son.
"[The doctor] told me she had an idea for me, and I probably wouldn't do it, but she told me it was about plant-based eating. And when I asked her what that was outside of the obvious, she said it's basically a lot of whole foods, plants, vegetables, fruit, that type of stuff.
"I went and researched it, and talked to my wife about it, and she jumped on board with me and said if I was going to do it, she was going to do it with me. And it's all kind of been history from there, so to speak. It's been a positive thing from the get-go."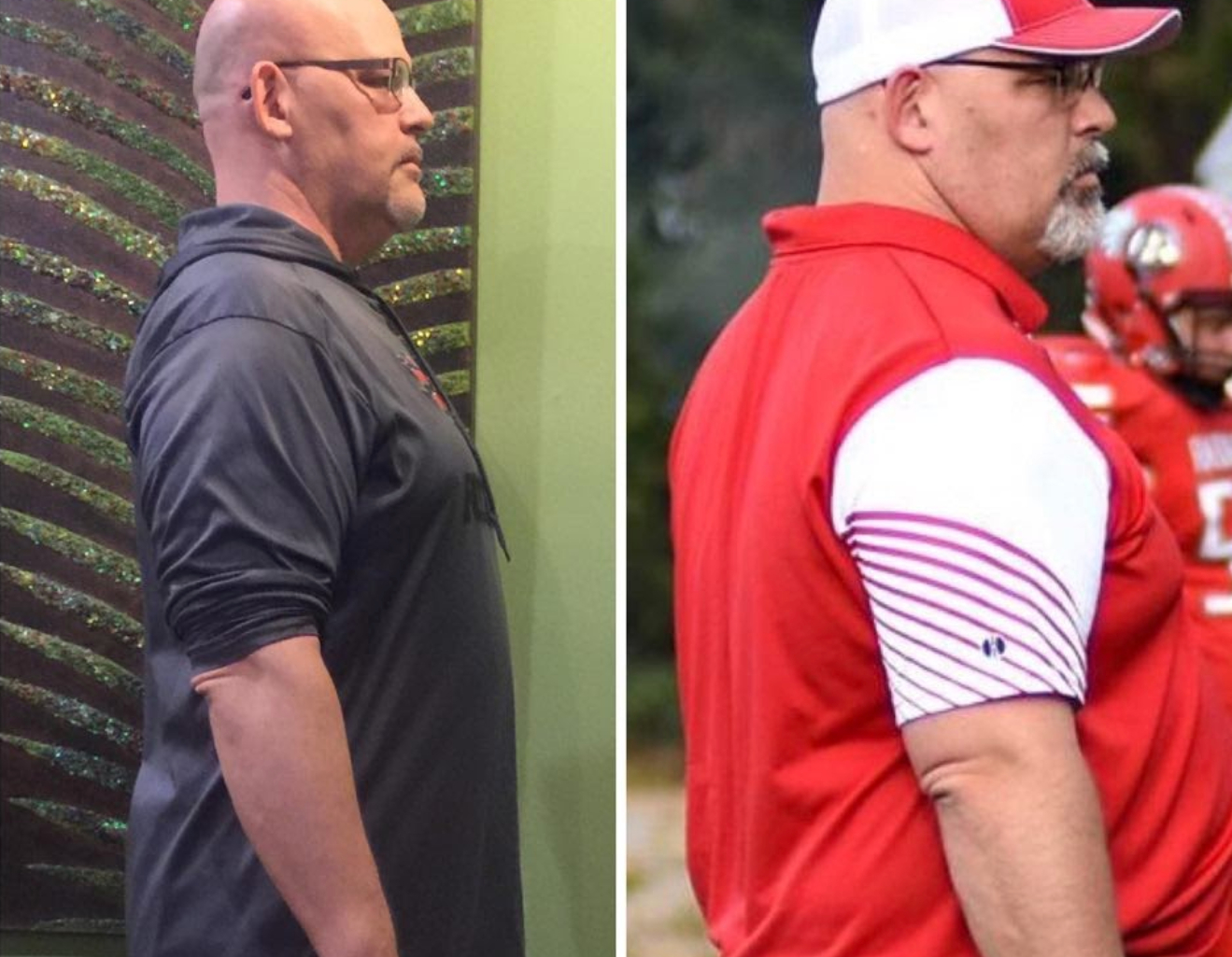 Basic foods
Confer switched to a plant-based diet in December 2017. He says he didn't count calories or look at portion sizes. Instead, he stuck to very simple plant-based whole foods, usually roasted or sauteed vegetables with potatoes (sweet or white, baked or wedges).
He said: "We bought an air fryer early on, then an InstaPot. So we could do potatoes in an InstaPot or we cut them up and do fries in the air fryer. That was a lot what we did during the first year. We'd mix in some beans and that type of thing, stuff, for some added protein. But we were very basic that first year, and at that point, it was all about wanting to get the weight off and getting my blood work numbers in a better spot."
Within three months, Confer had dropped 42lb. He said his blood work was 'amazing compared to where it was' before he changed diet. At that point, his doctor took him off cholesterol medicine and lowered his blood pressure medicine (which he eventually came off entirely). Within a year, he had dropped 80lb.
He noted that this was all achieved without a strenuous workout regime, saying: "I've done all of this really, honestly, without working out, and I've been able to maintain it without any type of consistent workout regimen. I mean, I try to get some walking in as much as I can, that type of stuff. But honestly, I don't do that as much as I should."
Your 'man card'
According to Confer, when he first switched to a plant-based diet, his football friends 'initially kind of cracked jokes about it and had a little fun with it' – but they have now embraced it, and will always try to ensure they pick places where he can eat when they go out.
He sees his experience as evidence that plant-based diets can work for men – despite the way culture links meat-eating with masculinity, saying 'you don't have to turn in your 'man card' to go plant-based'.
He told PBN: "Here I was, a 300lb football coach that had been around coaching and doing that stuff for years and years. Not many coaches are going to change that way of eating the way I have. But it's been a good thing."
Other benefits
Aside from coming off medication, Confer experienced a slew of health benefits after changing his diet. He says that within weeks of ditching animal products, the almost constant heartburn and indigestion he suffered from all but disappeared, alongside hip, joint, knee, and shoulder pain.
He said: "I always chalked [these pains] up to my years playing football and some injuries I had. Everybody talks about arthritis and it's just kind of part of growing old…but I think we should be blaming the foods we put in our bodies and the impact that has."
He also sleeps better. "I was never diagnosed with sleep apnea," he said. "I never had a sleep machine or anything like that. But… before losing the weight, I had a couple of scary moments where I woke up not able to breathe, coughing, and choking…It was never anything I talked to my doctor about, which I probably should have. But within that first month or so I was sleeping better."
Advice for others
According to Confer, a lot of his friends and acquaintances have reached out looking for information about his transformation – with others saying they too have started to transition away from meat and dairy.
In terms of advice he gives others, he said: "I would say to do a little bit of your own independent research on the whole food plant-based way of eating. There's a lot of information out there."
In terms of resources when it comes to food ideas, he suggests Forks Over Knives, Pinterest, and his own Facebook page Coach Confer's WFPB Cooking.
Speak to your doctor
Confer adds that he himself did not take his own advice and do large amounts of research – after his doctor recommended the diet, he just read a few articles, but felt instantly that it was for him. He admits though, that he was lucky to have a doctor who supported plant-based living.
He added: "I know most people aren't that fortunate, and I've learned over time of doing this that there are a lot of doctors out there that don't subscribe to it, don't believe in it. And certainly, I think that's changing more from when I first did it even though it was not quite three years ago. Having a conversation with your doctor is always good if you have health issues, not just jumping into something and stopping your medication."
According to Confer, he tries to educate people without pushing anything on them. "Everybody has that… it's almost a negative view towards vegans, so to speak. And I don't consider myself necessarily vegan, but I know that there's a lot of negative attitudes out there towards vegans and people feel like they pushed their way of eating and that stuff on people," he said.
"And I always come across it as this, 'look into it. Try it for two weeks if you're interested. And if after two weeks, you can come back to me and tell me that you honestly don't feel any difference, that you don't feel better, then do your thing'. But I tell people, if you do it for two weeks, there's a pretty good chance you're going to come back to me saying, 'wow, I really feel different'. And it's a better feeling than it was before."