New guidelines concerning beverages for children were recently developed by a panel of experts from four organizations – The Academy of Nutrition and Dietetics, The American Academy of Pediatrics, The American Academy of Pediatric Dentistry, and the American Heart Association.
This collaboration resulted in a new campaign called 'Healthy Drinks, Healthy Kids' which is supposed to help parents and caregivers to make best beverage choices for kids age five and under.
The new guidelines state that children should consume breast milk, formula, cow's milk, and water; limit juices; and avoid most plant-based/non-dairy milks.[1]
Increasing consumption
The panel noted that consumption of plant-based milks made from foods like almond, soy, coconut, rice, and cashews is increasing.
While stating that the products are not 'dangerous', the 'experts' claim that these are not the nutritional equivalent of cow's milk.
According to pediatrician Natalie Muth: "The concern is that these drinks will displace milk and that subsequently, children will not get enough of important nutrients that they need like calcium, vitamin D, and protein."[2]
It may be that one of the motivations for the development of the new guidelines is the fact that use of plant milks is increasing, and the dairy industry called on its bought-and-paid-for 'experts' to scare people into returning to cow's milk.
Conflicts of Interest
After the guidelines were issued, the Physicians Committee for Responsible Medicine asked the American Heart Association to withdraw its support of the recommendations due to its conflicts of interest.
The National Dairy Council makes financial contributions to the AHA as a member of the organization's Industry Nutrition Forum.[3]
A news release from PCRM concerning the guidelines includes a screenshot showing that on August 20, 2019 the AHA listed the National Dairy Council as a contributor, and just days after the report was released, the National Dairy Council was removed from the sponsor list. It seems that if the AHA was proud of its affiliation with the National Dairy Council, it would not have done this.
The AHA is not the only organization involved in this project that is conflicted. The Academy of Nutrition and Dietetics has a long history of cozy relationships with industry, and until recently the National Dairy Council was the AND's Premier Sponsor.
Abbott is now the AND's Premier Sponsor,[4] and is the maker of several cow's milk formulas and other dairy-based products.[5] Many state chapters of the AND still list dairy producers as sponsors. For example, the home page of the Ohio Academy of Nutrition and Dietetics shows drinkmilk.com as a sponsor.[6]
The American Academy of Pediatrics Children's Fund lists as its President's Circle sponsors Abbott Nutrition (makes dairy-based products for children); Mead Johnson Nutrition (makes infant formula); and Nestle (maker of infant formulas and other dairy-based products for children).[7]
The American Academy of Pediatric Dentists advertises online that corporate sponsorships are available, but I was unable to find a list of its corporate sponsors. They were not even listed in the organization's annual report.[8] The AAPD seems to keep its corporate sponsor list a well-kept secret.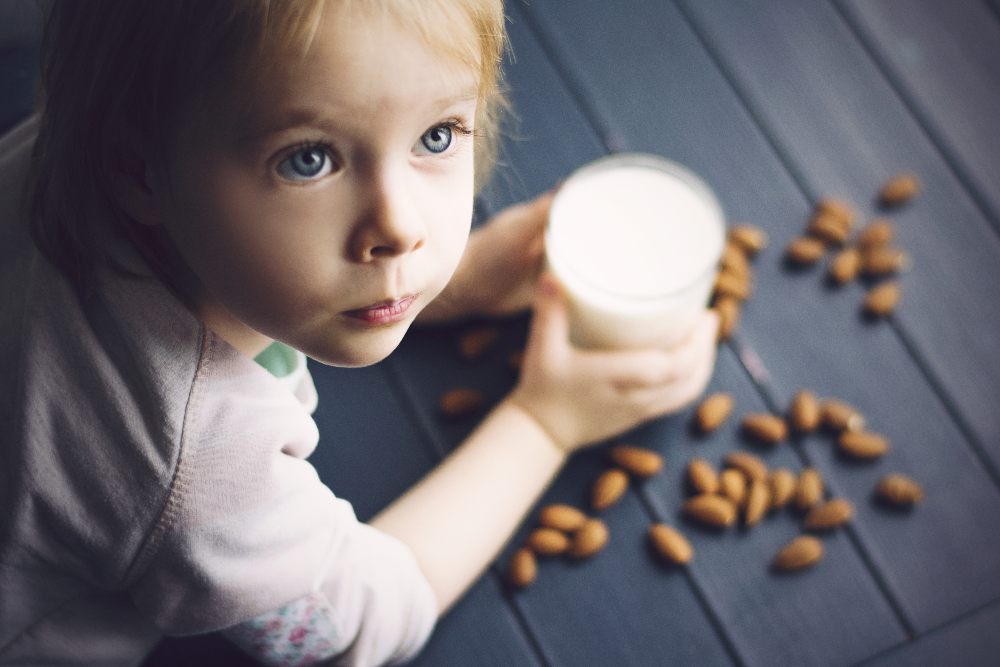 Milk is Not a Health-Promoting Food for Kids
According to the National Institutes of Health, about 65 percent of humans have difficulty digesting or are unable to digest lactose after infancy.[9]
Milk allergy is the second most common food allergy in children. Common reactions are vomiting, diarrhea, hives, and eczema. The most common severe reactions are wheezing and shortness of breath.[10] Consumption of cow's milk products has been shown to cause colic,[11] can cause recurrent ear infections,[12] and is a contributing cause of type 1 diabetes.[13] [14]
In spite of this, the guidelines from this group recommend that two-three cups of pasteurized whole milk be given daily to all children 12-23 months of age, and up to two cups per day of fat-free or skim milk be given to children two-five years of age.[15]
Plant milks are not recommended by the group as replacements for dairy milk for several reasons, one of which is that many non-dairy milks contain added sugars. The experts do not seem to be bothered, however, by the fact that cow's milk contains estrogens.[16]
The report states that it is not known if nutrients from plant milks are as bioavailable as nutrients in cow's milk. One study cited by the group reports that plant milks are fortified with vitamin D and calcium and it is not yet known if these are bioavailable.[17]
But studies show that while dairy products are, indeed, high-calcium foods, consumption of dairy in childhood does not build strong bones or prevent fractures.[18] [19] Like plant milks, cow's milk is not a natural source of vitamin D and is fortified with it. So if fortification with vitamin D is a bad idea, cow's milk is not superior to plant milk because both are fortified.
Another study cited by the group involved analysis of plant milks and cow's milk and concluded that the nutritional composition of cow's milk and soy milk are similar, and that soy can be an acceptable substitute.[20]
The guidelines state that plant milks can be useful for those with allergies or intolerance to cow's milk, but recommend that this substitution be made with input from a dietitian or healthcare provider to ensure adequate nutrient intake. The hysteria over nutritional equivalency seems rather hollow since the authors acknowledge that it is possible to obtain enough nutrients from a diet that excludes dairy.
Conclusions
A group of experts representing organizations with financial ties to the dairy industry and the makers of dairy-based foods and formulas have developed a set of guidelines, some of which are very flawed.
Advice to breastfeed infants and encourage young children to drink water and avoid fruit juice is well-founded. Advice to consume cow's milk and avoid plant milks is not.
References:
1. Technical Scientific Report. Healthy Beverage Consumption in Early Childhood. Recommendation from Key National Health and Nutrition Organizations. September 2019.
2. Rick Lewis. New Kids' Guidelines: Drink Milk, Water, Avoid Plant-Based Milk." Medscape September 23 2019
3. https://www.pcrm.org/news/news-releases/physicians-group-demands-aha-withdraw-new-beverage-guidelines-children
4. https://www.eatrightpro.org/about-us/advertising-and-sponsorship/meet-our-sponsors/abbott
5. https://www.abbott.com/product-list.html
6. https://www.eatrightohio.org/aws/OAND/pt/sp/home_page
7. https://www.aap.org/en-us/about-the-aap/corporate-relationships/Pages/Friends-of-Children-Fund-President's-Circle.aspx
8. https://www.aapd.org/advocacy/aapd-pac/about-pac/annual-reports/
9. https://ghr.nlm.nih.gov/condition/lactose-intolerance#statistics
10. Williams P. "The Epidemiology of Milk Allergy in Children." Pediatrics 2013 Oct;132(Suppl1)
11. Jakobsson I, Lindberg T. "Cow's milk proteins cause infantile colic in breast-fed infants: a double-blind crossover study." Pediatrics 1983 Feb;71(2):268-271
12. Juntti H, Tikkanen S, Kokkonen J, Alho OP, Niinimaki A. "Cow's milk allergy is associated with recurrent otitis media during childhood." Acta Otolaryngol
13. Karjalainen J, Martin J, Knip M et al, "A bovine albumin peptide as a possible trigger of insulin-dependent Diabetes Mellitus," NEJM. 1992 Jul 30;327(5):302-7
14. Akerblom , Knip M. "Putative environmental factors and Type 1 diabetes." Diabetes/Metabolism Revs 14 (1998):31-67
15. https://healthyeatingresearch.org/app/uploads/2019/09/HER-HealthyBeverage-ConsensusStatement.pdf
16. Farlow DW, Xu X, Veenstra TD. Quantitative measurement of endogenous estrogen metabolites, risk factors for development of breast cancer, in commercial milk products by LC-MS/MS. J Chromatogr B Analyt Technol Biomed Life Sci. 2009 May 1;877(13):1327-34.
17. Singhal S, Baker RD, Baker SS. "A Comparison of the Nutritional Value of Cow's Milk and Nondairy Beverages." J Pediatr Gastroenterol 2017 May;64(5):799-805
18. Bolland MJ, Leung W, Tai V et al. "Calcium intake and risk of fractures: systematic review." BMJ 2015 Sep;351:h4580
19. Feshanich D, Bischoff-ferran HA, Frazier AL, Willett WC. "Milk consumption during teenage years and risk of hip fractures in order adults." JAMA Pediatr 2014 Jan;168(1):54-60
20. Schister MJ, Wang X, Hawkins T, Painter J. "Comparison of the Nutrient Content of Cow's Milk and Nondairy Milk Alternatives. What's the Difference?" Nutrition Today2018 Jul/Aug;53(4):153-159