Reverse Your Type-2 Diabetes And Lose Weight Naturally Today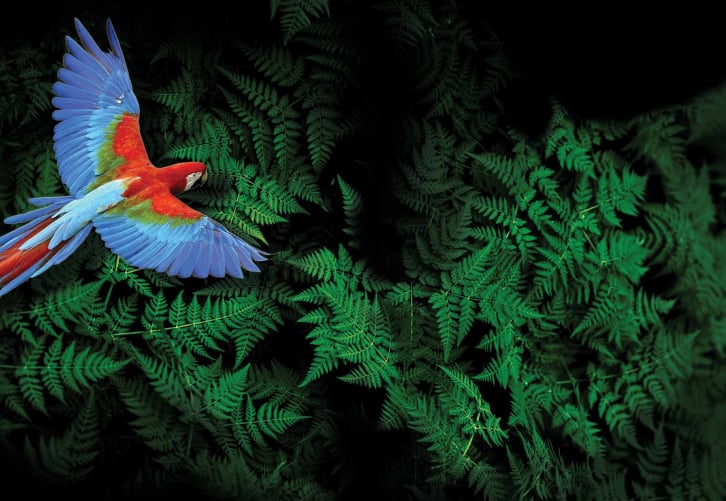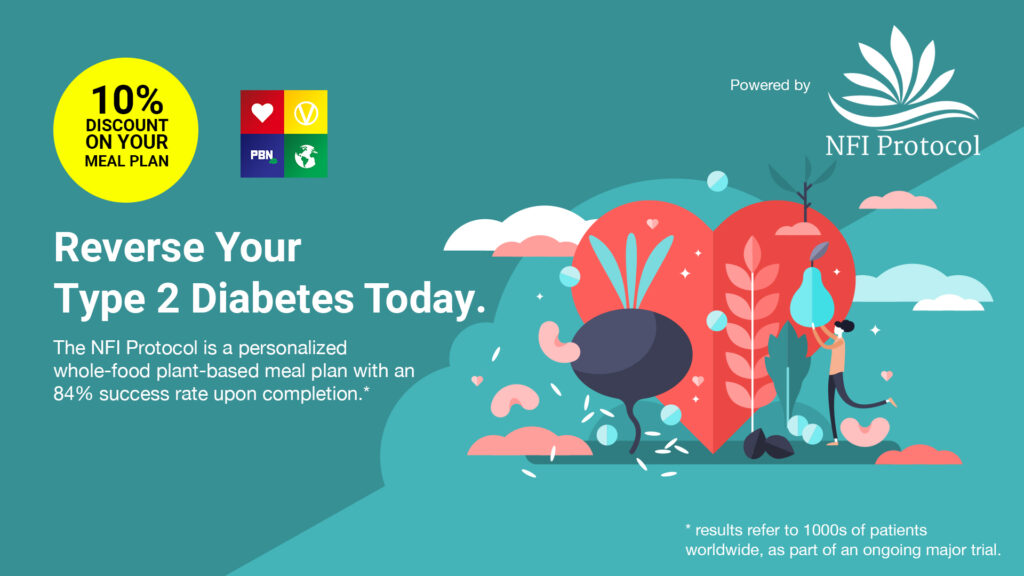 A 10% DISCOUNT AVAILABLE TODAY!
Sign up today for €35.10 for your specifically tailored protocol – SIGN UP TODAY
A Protocol That Actually Works
Rapid weight loss
Pain relief
Minimised need for medication
Improved digestive function
Reduced blood glucose levels
Reduced HbA1c
Reduced blood pressure
Reduced cholesterol levels
What Will I Be Eating?
The diet consists predominantly of beans, legumes, nuts, seeds, fruits and vegetables.
Plant Based News backs the NFI Protocol – here's why
The NFI protocol takes the guesswork out of nutrition and guarantees the best possible outcomes for individuals. We looked at the results and found them to be unprecedented.
The first study – featured in the peer-reviewed Diabetik Forum journal (you can see a copy here) – demonstrated an 84% remission rate from type 2 diabetes. This was authored by a number of leading diabetes academics, including doc. MUDr. Emil Martinka, PhD, head of the National Institute for Diabetes and Endocrinology in Slovakia; prof. MUDr. Ivan Tká?, PhD, who leads all medical departments in the country as well as being the head of the University of Košice; prof. MUDr. Marián Moká?, DrSc., FRCP Edin, who is in charge of all the diabetic doctors; and prof. MUDr. Peter Galajda, CSc – head of diabetes research, among others. The NFI Protocol is listed on the state-run peer-reviewed Diabetes Association website and increasingly receiving more media attention. Recently for example, Slovakia's biggest newspaper published an article headlined Is this the end of type 2 diabetes in Slovakia? on its front page (see below).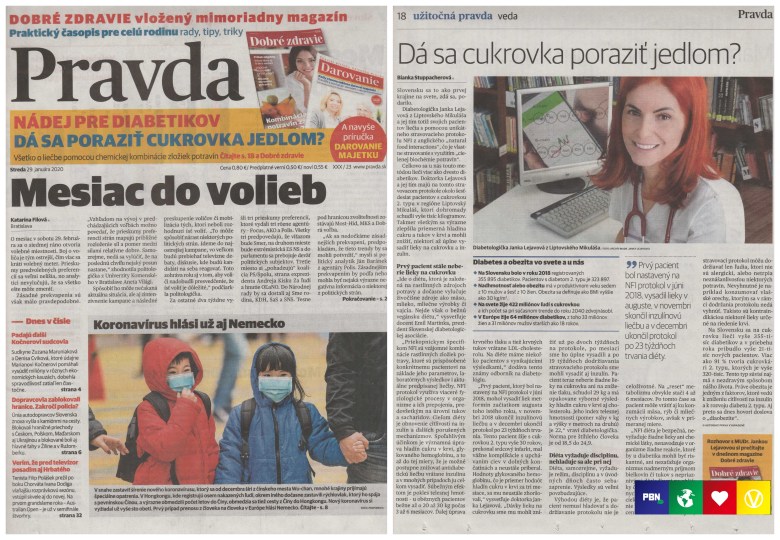 We interviewed the Founder, David Hickman, about the NFI protocol (directly below).
Vlasto (testimonial below) provides the first patient transformation from the National Institute study conducted in Slovakia earlier this year. After just 5 weeks, his average blood glucose dropped dramatically and now no longer suffers from type 2 diabetes (daily blood glucose has decreased from 8.9 to 4.9% and off all medication).
It is important to note that Vlasto achieved full remission whilst still in the obese BMI category. This is particularly relevant because it counters the conventional narrative that type 2 diabetes reversal only occurs due to loss of excess body weight.
"HARNESSING THE CHEMISTRY FOUND WITHIN NATURAL FOODS TO TARGET LIFESTYLE DISEASE" ~NFI protocol
The NFI diet is a whole-food plant-based diet that goes one step further, by mixing and matching different plant foods in combinations that are tailored to an individual person. It was developed by scientists and engineers in Europe who looked at the molecular interactions of thousands of specific foods to understand how they affect lipid saturation and other relevant markers in different patients.
Dr. Lejavova has spoken (directly above) about the success of one of her patients (Peter) on the NFI protocol. The protocol has been nutritionally approved by specialists in a number of countries. It has also been backed by acclaimed diabetes researcher Professor Martinka who presented the NFI protocol at National Congress in 2019 (click HERE to see an English translation of his slides).
One thing that surprises most people about the diet is the rapid weight loss, despite patients enjoying unlimited calories. For example, Janka (testimonial directly above) lost over 35kg after 5 months on the NFI protocol.
For The Best Outcomes: Important Instructions
It is very important to input the exact data measurements that are requested during the set up phase. If the data inputted is not accurate, it will mean the effects of the NFI diet will be slower.
Due to changes in your weight and potentially other data points, the plans will need to be recalculated every two weeks. This specific tailoring ensures that you get maximum improvement during the following two weeks.
The plan has to be followed exactly, whatever is written on the diet plan has to be eaten. You do not have to always eat the exact prescribed amounts but you must consume what is on the plan to get the benefits. An example being if an orange is on a specific meal plan, eat at least half of it, if you can not eat all of it. The reasons for this are the chemicals present in the orange will not be present in your body if you do not eat them and subsequently you will not get the desired chemical effect after that meal.
The order of the days that are specifically prepared must be followed in their exact order, for example eating an avocado on Monday will supply your body with a specifically desired chemical compounds which will be needed on Tuesday to boost the reaction between the other food groups.
From a meal timing point of view, it is also important not to swap lunch with dinner for reasons explained above.
10% DISCOUNT AVAILABLE EXCLUSIVELY.
Sign up today for €35.10 for your specifically tailored protocol – SIGN UP TODAY
IMPORTANT NOTE: If you're interested in gourmet meals, this meal plan is not for you. This is a very strict clinical diet, which includes only simple foods, designed with chemistry in mind, to help you lose weight and reverse lifestyle disease. Only consider purchasing this meal plan if you want results and are serious about complying 100%.
*The NFI Protocol results in 82.9 percent of patients stopping all medication within 20 weeks (based on verifiable data from 831 people). With medical supervision, the type 2 diabetes reversal rate on the NFI protocol is 93.6 percent (based on Dr. Lejavova's cohort of 117 patients).