A search on Google Trends shows that interest in the term 'vegan' has reached an all-time high.
Data going back to 2004 (see below) shows a steady interest up until around 2012, an increase until 2015, then a sharp increase to 2017.
The growth has been put down to a number of reasons, from growing consumer awareness around animal welfare, to films like What the Health and Okja.
?
Films
According to animal rights charity PETA, there was a 65 percent increase in the number of Google searches for the term 'vegan' in the six weeks following the release of Okja in mid-May.
PETA's Vice President Colleen O'Brien told VegNews: "In July alone, PETA received more than 21,000 requests for our vegan starter kits – double the number of an average month.
"These powerful films are creating a new generation of vegans, one screening at a time."
Data
The latest data on the number of vegans – which dates back to 2016 – shows interest in converting into numbers.
Polling by Ipsos Mori showed a huge rise in the number of vegans in Great Britain over the last decade, from around 150,000 to more than half a million.
Jasmijn de Boo, Chief Executive officer of The Vegan Society at the time of the polling, put the increase down to a number of reasons.
She said: "To have over half a million vegans in Britain is fantastic.
"More people than ever are now acting upon the health and environmental benefits of veganism, and finding out what really goes on in the meat and dairy industries and deciding they do not want to contribute to the pain and suffering of animals."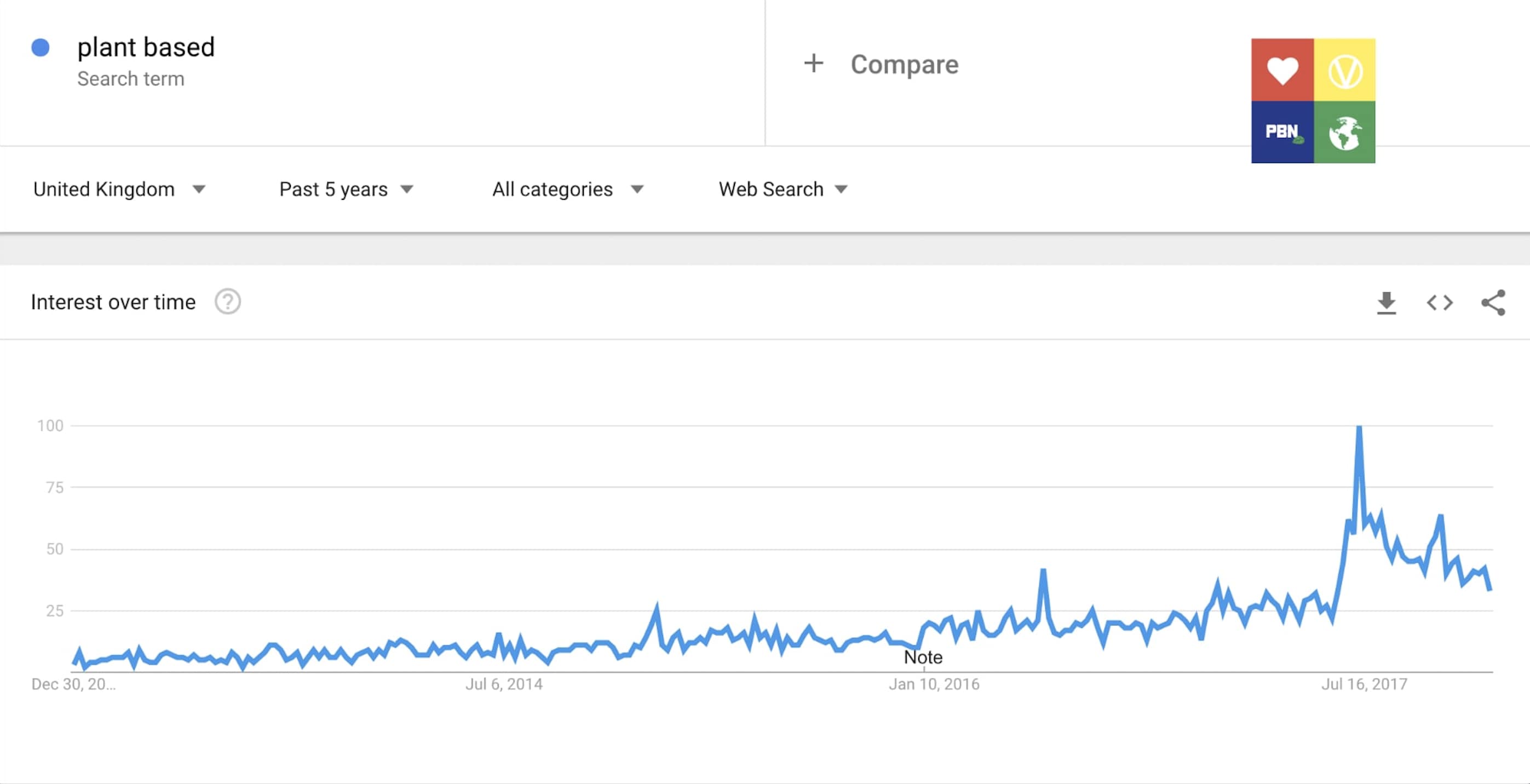 Veganuary
Another key reason searches for 'vegan' have peaked at this time of the year could be an increase in the number of people wanting to try a new lifestyle in the new year – likely in part driven by charity Veganuary.
The initiative – which encourages and supports people to try veganism in January – has seen year-on-year growth since its launch in 2004.
So far a massive 75,000 people have signed up to take part in 2018.
Plant-based
Searches for 'plant-based' are also seeing growth – though interest peaked during the summer of 2017 This coincides with the release of smash hit documentary What the Health on Netflix in June.
Though it was originally released in March, many more people saw the film when it was launched on the screening platform.
The film had a huge impact – with one vegan restaurant owner saying he had noticed more people eating plant-based because of it.
V-Eats Modern Vegan owner Troy Gardner said: "It's crazy that I've heard so much about [What the Health] in such a short period of time. And just 10 minutes ago, the gentleman who services our dish machine at the restaurant was telling me how he and his wife have just gone vegan.
"Yesterday was their first day, and he cited What the Health as the thing that pushed them over the edge."