It was my first time in Iceland, and I had no idea what to expect in terms of vegan food.
I know some traditional dishes include cured meat and dried fish, but I was happy to find out that, like most other European cities, Reykjavik has plenty to offer a greedy vegan.
A word of warning – everything is expensive in Iceland except tampons! You just have to adjust your mind-set, or you'll spend the whole time saying 'how f**king much?!'.
Eating out
Our first night, we headed down the road to Kaffi Vinyl – Reykjavik's first 100 percent vegan café, bar, restaurant, and record shop located in Hverfisgata 76, parallel to the main shopping street Laugavegur.
I chose lasagne: it arrived piping hot in a bowl, and was made with a tomato-based sauce, vegetables, béchamel, sauce and cashew cheese; it came with a fresh spinach salad, green pesto, and a slice of crusty garlic bread (£17).
My fella went for the Thai noodles: a generous plate of noodles, colorful vegetables, cashew nuts, and crispy tofu (£17).
Bottoms up
We had a beer each too and it was during happy hour (4pm-7pm), so it was around £5 for a pint.
The eatery also serve wine and a few cocktails, they can even make a whisky sour made with aquafaba.
The food was delicious, and I was sad to have only had time to visit this place once.
If I go to Iceland again, I will definitely return here. Kaffi Vinyl is open from 9:00am-11:00pm on weekdays and 10:00am-11:00pm on weekends.
Winter warmer
The next day we did the 'free' city walking tour, which was great fun and very interesting.
It was freezing though and snowing on and off so afterwards, we decided to look for hot soup… I'm so glad we did, as we found a real treasure of a place in Súpubarinn (Bergstaðastræti 4).
It's a small café offering a choice of four veggie/vegan soups. The day we were there they had Tomato and Basil, Mulligatawny, Tex Mex, and Malaysian.
Whole foods
Soup and a sandwich costs around £10, but its a generous bowl of steaming hot soup and a delicious homemade sandwich full of pickles and interesting veggies.
Soup and bread costs a little less and you get hummus with your bread. Most cafes have jugs of tap water available (sometimes with lemon, cucumber, or ice in it).
I suggest going for that – unless you want beer or wine – as the tap water is pretty amazing (apparently local people find it very amusing when they see tourists buying bottled water).
Opening hours and Monday to Friday 11am-8pm, Saturday 12pm-8pm, and Sunday closed.
Food trek
That evening it was snowing heavily and the hunt for the Northern Lights was canceled, so we headed up to a bar/restaurant called Pylsa on Laugavegur 105.
It serves a range of sausages, including the vegan Bulsur, which comes with maple syrup-sweet potato mash (for some reason we were given chips instead), fresh salad, and coconut creamed kale (£13).
The dining tables are in an area behind the bar surrounded by old mirrors and red velvet curtains – a bit Twin Peaks, but in a good way.
The place does great cocktails and happy hour is 4pm-8pm when beer is about £5 instead of £9-10.
There is a hostel upstairs, which is said to do dinner deals. Open Tuesday-Saturday 5pm-10pm.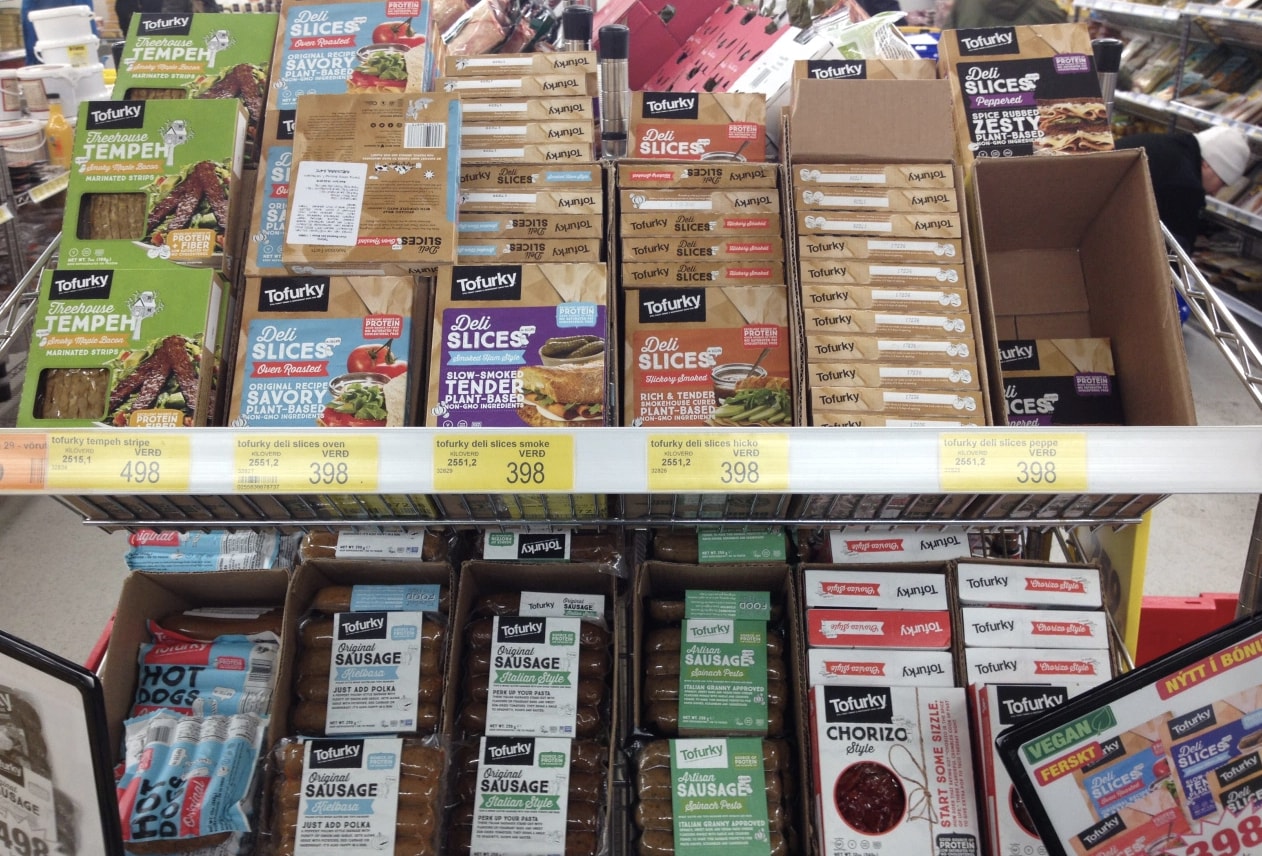 Something fancy
The poshest meal we had was at the Lava Restaurant at the Blue Lagoon.
Tip – if you book a premium pass for the Lagoon you get a free drink in the lagoon and a free glass of fizz in the restaurant too. It offers a set menu and an à la carte menu, which includes delicious dishes like baked celeriac.
Pizza
The last evening, we went for a pizza at Eldsmidjan on Laugavegur 81.
The waiter told us the owner was a vegan, and that's why the menu featured the Vegano: a thin-crust pizza topped with a tomato sauce, mushrooms, onions, broccoli (bit weird), black olives, and vegan cheese.
There are three sizes to choose from small (£15), medium (£20), or large (£27). The medium sized one covered a regular plate and was more than enough for one, I gave a slice away…
Takeover
It was so easy to find vegan food in Reykjavik.
Most cafés we went in had soya milk, and I had a great vegan mocha coffee in Mokka-Kaffi on Skólavörðustíg 3A (where singer John Grant was photographed for one of his album covers).
To save a bit of cash, if you are heading out on a tour or a day trip, I recommend going to the Bonus supermarket and buying some bread rolls and some vegan meat or cheese slices to make your own packed lunch. (Tofurky products were widely available in Bonus).
It's just amazing to see how fast things are changing across the planet – the vegans are taking over…
This piece wasoriginally published here