Earlier this year Guinness confirmed that its stout is now officially made using a filtration process that no longer includes isinglass.
This means draft Guinness is vegan. I'm not a massive fan, but I have to say the rumours that the black stuff tastes better in Ireland are true.
Grab a pint (or a half) at the Palace bar at 21 Fleet Street. Built in 1823, this pub is steeped in history. In the forties and fifties, journalists, poets, artists and novelists would gather here to right the wrongs of the world while having a drink. The Palace is still conducive to discussion; you'll see older men sitting around chewing the fat, while sipping their pints.
Breakfast
Dublin has a healthy scattering of vegan-friendly cafés, and an exceptional vegan restaurant. For breakfast, it seems that veggie Dubliners favour avocado on toast – it was the standard vegan option in a number of eateries including Two Pups Coffee at 74 Francis St (opposite St Patrick's Cathedral), which offers avocados on toasted le levain sourdough bread with crispy garlic peanut butter and green chili and olive oil for €8.
The Fumbally, around the corner at Fumbally Lane, offers avocado on rustic toast with pickled red cabbage, toasted seeds and popped amaranth for €6.50. The menu also features falafel wraps and a range of vegan salads. It's a large space with a laid-back (slightly hipster) vibe, and is good spot to eat locally-sourced organic food.
A bit further down the main road from St Patrick's Cathedral, the Thursday Café, at 37 Clanbrassil, street also offers avocado, on toasted tartine breads with fresh tomatoes and toasted seeds for €6.8. Beans on toast (€7) and a Mexican breakfast (€9) of tortilla, mixed beans, fresh tomatoes, coriander and wait for it… avocado – are also on offer.
Tradition
Luckily, I like avocado. However, I do like a dirty fry-up too. In town, you can get a more traditional vegan breakfast at the Cornucopia café at 19/20 Wicklow Street.
For €9.95 you can select five options from the hot counter: homemade vegan sausages, oven roasted tomato, red onion with fresh herbs, homemade hash browns, roasted chilli mushrooms and homemade baked beans.
The website says the Cornucopia offers scrambled tofu too, but it was not available the day I visited. Included in the price is toast and tea or coffee. Be warned, you select five options from the hot plate, they are then plated up and your plate is taken to the till where you order a hot drink. Your food is then left to go cold while the staff make your toast and drinks. The system needs a little streamlining!
HappyFood, at 27 Camden Place, offers a Happy Vibe vegan breakfast: chickpea scramble, sausages, tofu Bacon, beans in tomato, garlic and chilli sauce, with a leafy salad and nutty bread for €11.50. Sadly I didn't get to try this but reviews of the food here are fairly good.
Fine dining
I only ate out once in the evening, but what a meal that was. Sova Vegan Butcher, at 51 Pleasants St, Portobello, describes its food as tasty, healthy, happy and sexy – which is all true. It's a purveyor of fine dining with vegan food prepared according to its own delicious and unique style.
Fine dining it is, but without pretension, no amuse-bouche or foam in sight here, just really lovely, inventive vegan food. Scallops, chicken, steak… it's a long time since I ordered anything like that.
The scallops were fantastic! You know that moment when you bite into supposedly vegan food and panic? It was safe. They were cleverly made out of Portabella mushroom stalks sitting on a potato cake and topped with kelp caviar. The black pudding crisp and pickled cauliflower were a real treat too. Everything was well-seasoned and tasted really good.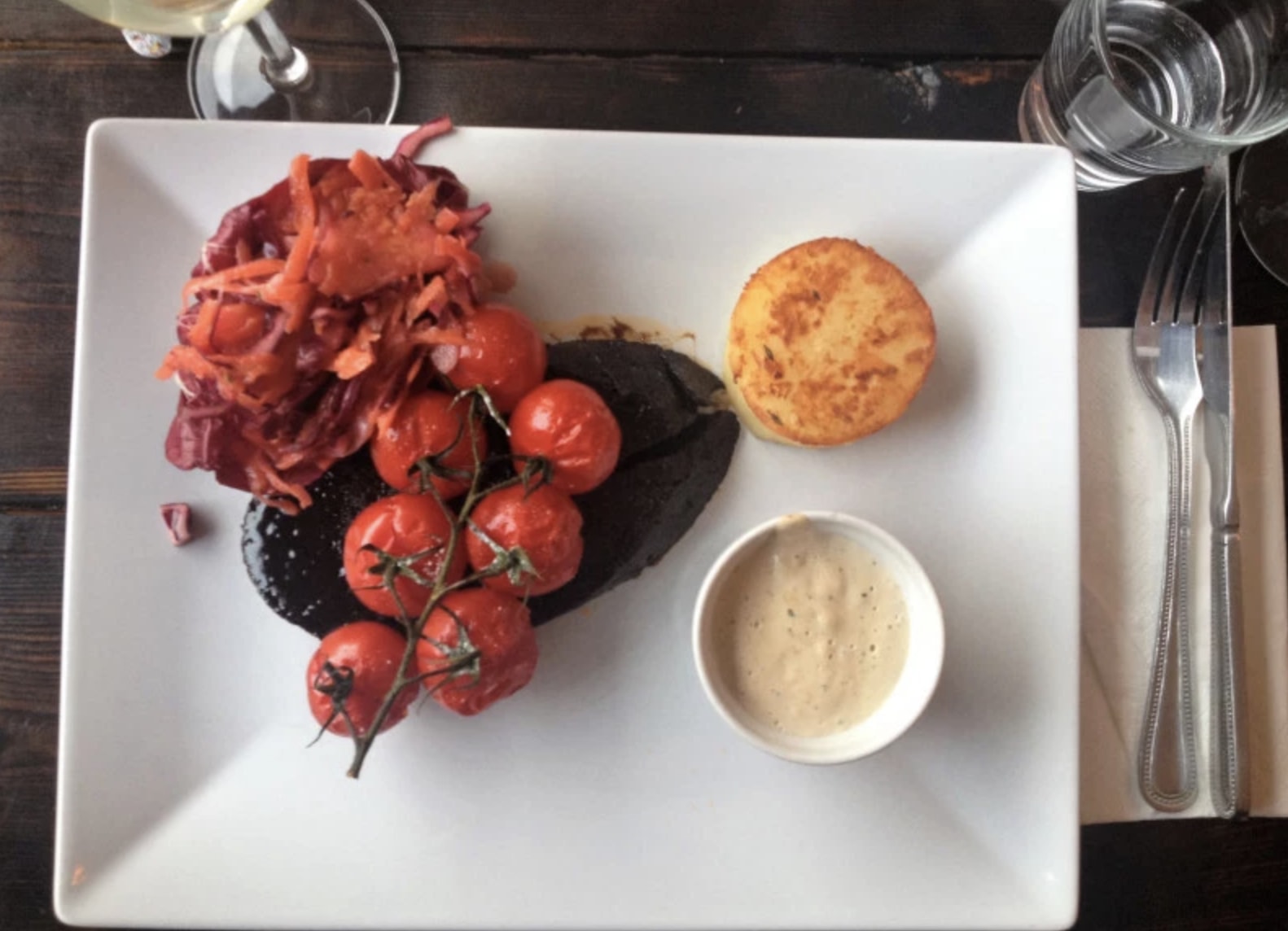 Meat alternatives
I had the seitan steak with peppercorn sauce – again, an extremely flavorful meal. The steak was hearty and tasted earthy and rich. The fondant potato, roasted tomatoes and slaw balanced the dish well. The peppercorn sauce was made with soya cream, cooked down to a rich, dense, creamy and peppery sauce. Delicious.
My companions tried the Soya Schnitzels and Chia Cheeseburger. They were both happy with their choices. Four generous schnitzels came with duchess potatoes which looked like something from Dr Zeus.
The broad beans with this dish were peeled – truly a labour of love! The burger was a hit too, although it was hard to see where to start as it was so tall.
Something sweet
The starters and mains were the highlight. The desserts – we had cheesecakes – were very nice but not outstanding – maybe meringues made with aquafaba or a panna cotta would have added some panache in keeping with the other courses.
All in all, good value ( €25 for three courses and BYO with a corkage charge of €6 for wine – as many bottles as you like). I would recommend going here for a great vegan meal with friends and would definitely go again given the chance.
Like most cities in Europe, and indeed around the world, vegan food is fast-becoming a standard option for all – we are taking over.
This article was originally published onJustbloggs Vegan