No matter how organized you are and no matter how much prep you usually put into ensuring you've always got something delicious and vegan to snack on, there is always going to be a time when you get caught out.
Roll back the years to half a decade ago, and leaving the house without a solid plant-based meal plan could've seen you come a cropper.
However, in 2018 (with a vegan market that is moving at unprecedented rates), there are enough vegan options to go around.
And if it's vegan sandwiches you're on the lookout for, a quick stop at your local supermarket should be able to provide you with a plant-based lunch that'll sustain you right through 'til dinner.
Here are the five supermarket sandwiches we just can't get enough of.
1. Marks & Spencer – Beetroot & Apple Slaw (£3)
The vibrant red beetroot bread used by Marks & Spencer for this tasty sarnie makes it almost jump straight off the shelf and into your basket.
A welcome break from the usual falafel and hummus, the tart apple slaw paired with the earthy beetroot flavours and moreish kale pesto makes for a dream team filling that proves eating vegan doesn't mean eating repetitively.
2. Whole Foods Market – Tofurky Chick'n and Sweet Corn (£3.50)
You'll have to be one of the lucky people with a Whole Foods Market nearby to benefit from Tofurky's range of sandwiches to-go, but those who are, and are fans of meat-alternative products, are in luck.
We tried these, and despite not being huge sweetcorn lovers, the joy of having a pre-made sandwich that oozed with vegan mayo and chunks of chick'n won us over.
We can't wait to see these in supermarkets everywhere.
Waitrose has been hitting the headlines of late after becoming the first UK supermarket with a dedicated vegan section.
Customers at the upmarket retailer, which has come on in leaps and bounds with its vegan offerings, can now take their pick of two vegan sandwiches.
Its Spicy Curry Vegetable sandwich packs in cauliflower, aubergine pickle, onion bhaji and other seasoned veg – those who like a bit of heat will love this.
4. Sainsbury's – Mediterranean Vegetable and Olive Sandwich (£2.20)
Olives can be a divisive food, so this option isn't for everyone, but with hot weather upon us, Sainsbury's Mediterranean Vegetable and Olive sandwich is a delicious slice of summer.
Any sandwich that includes red pepper tapenade is always going to be a winner in our eyes, especially when combined with crunchy, fresh veg.
Plus the eagle-eyed amongst you will have noticed it's the cheapest on the list too – double win!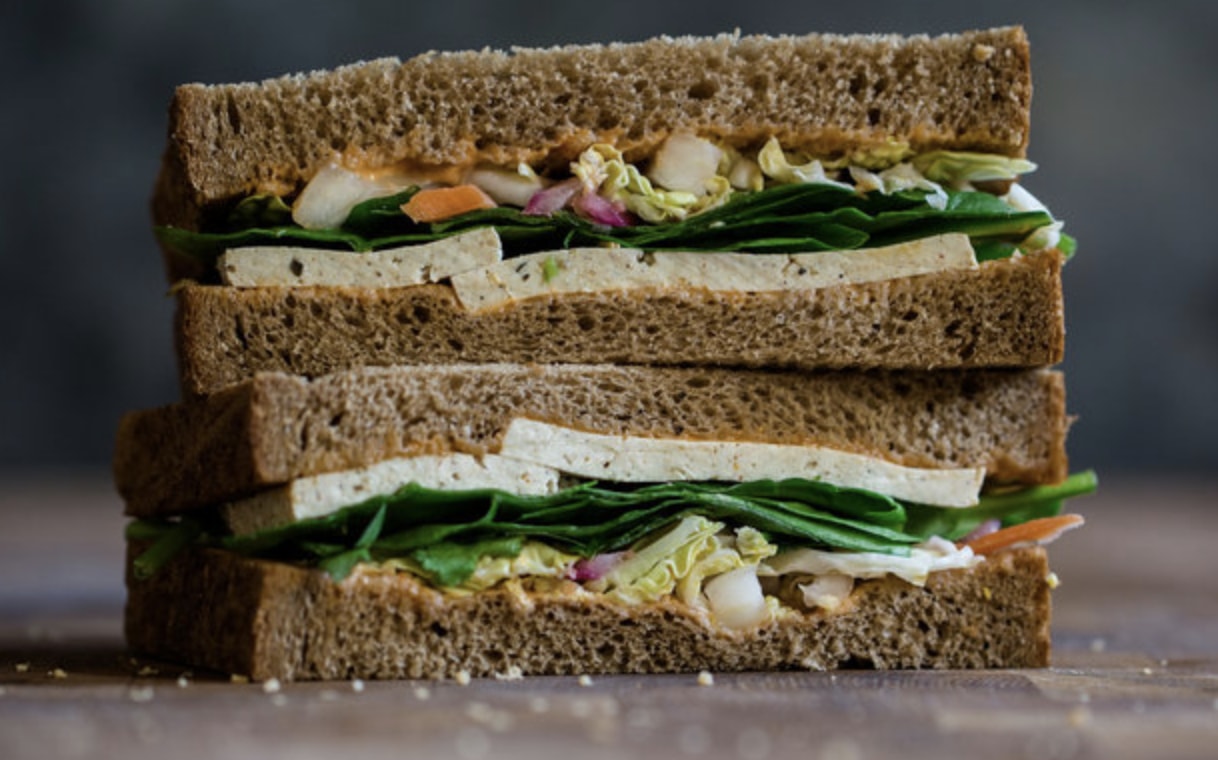 ?
No list of vegan convenience foods would be complete without a mention of Tesco and its mighty Wicked Kitchen line-up.
We're particularly fond of the Fiery Tofu and Slaw sandwich that's guaranteed to add a real kick to your lunchtime – the 'fiery tofu' certainly lives up to its name.
Like the rest of the ground-breaking Wicked Kitchen range, this sandwich tastes super healthy, but certainly doesn't lack any flavor.