The increasingly desperate dairy industry has launched a promotional campaign in which it calls cow's milk 'plant-based'.
Dairy bosses recently admitted that the industry is 'facing an existential crisis' due to vegan campaigning.
The disingenuous new adverts from Irish Dairy appear to be a conscious attempt to fight the plant-based message.
Plant-based
The poster, which features a young woman looking wistfully into the middle distance while quaffing cow juice, describes milk as 'completely natural'.
A bizarre claim to make about a pasteurized product that is the result of artificially inseminating genetically modified animals.
It says: "Looking for a completely natural plant-based milk?
"Irish cows are fed outdoors on a diet of fresh, green grass."
Conflicting
In addition, the company has released an advert, in which it describes dairy milk as 'natural' compared to its plant-based counterparts (see video below).
The advert depicts a wannabe hipster woman ordering an almond latte in an attempt to 'go natural'.
A young girl hands the woman a carton of nut milk – and the woman duly counts the ingredients and is horrified to see that it contains 12.
"There's just one ingredient in REAL milk," she crows. "Milk!"
Plant based
There's a conflicting message here – the brand is at pains to paint plant-based milk in a negative light.
On its website, it compares dairy to nut milk, concluding that the stuff from cows is nutritionally superior.
But it is desperate to jump on the plant-based bandwagon, using the term on its poster.
The message doesn't seem to have resonated on social media.
False advertisement
On Irish Dairy – The Complete Natural's Facebook page, the poster image was met with negativity.
User Daniel Gould posted an image of various plant milks, saying: "They taste a hell of a lot better too. Must be the lack of pus in the glass and blood on my hands."
Tawnie Ocampo added: "False advertisement! How dare you call cow's milk natural and plant based.
"I hope you get sued."
Ironic
Unsurprisingly, the post fared even worse when it was shared to PBN's Facebook page.
Ste Phenix wrote: "How ironic is it that the dairy industry hates us calling plant-based drinks as milk, yet they can describe milk from an animal as plant-based."
Petra Biedermann added: "What BS but I am sure people will believe it, buy it and think they are doing something good for their health!"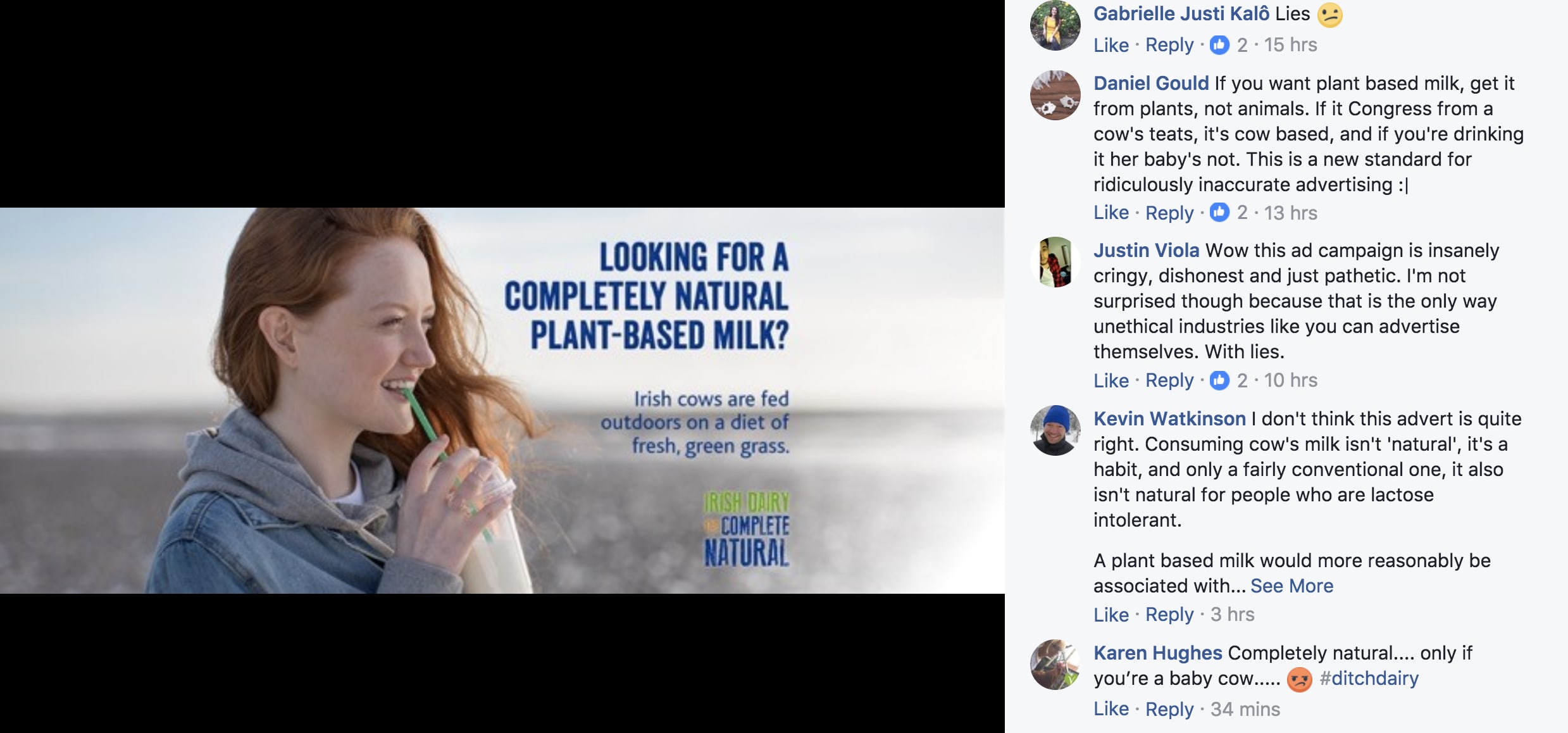 Opinion
This campaign reeks of desperation.
Recent months and years have seen a slew of attempts by the dairy industry to stop plant-based producers using tradition dairy names – i.e. milk, cheese, and butter.
For example, earlier this year, the EU upheld a ruling reinforcing the above.
Similar battles are taking place in the States, where congressmen have banded together to ask the Food and Drug Administration to stop plant-based drink producers from calling their drinks milk.
Progress
The interest in vegan diets has skyrocketed during the last few years – and the growth of the plant-based milk sector has rattled big dairy.
There's a famous saying – 'if you can't beat them, join them'.
Come on dairy – don't join the vegans in just calling your product plant-based – why not actually look at creating a true plant-based product?
READ MORE:
VIDEO: Vegan Activist James Aspey Opens Up About Bulimia Struggle
SUCCESS: 'Cube Of Truth' Vegan Activists Campaign For Animal Rights
This Movie Dubbed The 'New Earthlings' Is Set To Make Millions Of Vegans