Iconic cartoon South Park got tongues wagging a few weeks ago when it featured a major character pretending to go vegan as the key storyline in an episode.
In the episode called Doubling Down, Eric Cartman told girlfriend Heidi he would go vegan, in an attempt to save their relationship.
But Cartman ended up lying to his girlfriend, and giving her non-vegan foods, pretending they were plant-based.
Impact
After eating a junk-heavy diet, Heidi quickly became cantankerous and put on weight.
The recent episode, Moss Piglets, shows how eating animals has made her even meaner than Cartman.
According to the episode's write-up on vulture.com: "We can tell Cartman has rubbed off on her by the way she pronounces school as 'skew', but it's because that's part of a sentence comparing a Saturday at school to slavery that we can tell he's penetrated her soul.
"So extreme is Heidi's transformation into a Cartman double that even he's kind of repulsed, and now we've arrived at the joke."
Moss Piglets
Tired of people commenting on her weight gain since indulging in her junk-heavy diet, Heidi loses her temper when she thinks the school's principal is about to do the same.
She screams: "Oh what are you going to call me fat now too?
"It just so happens I'm a vegan. Which means it's difficult for me to get enough protein so my body doesn't burn fat it burns muscle.
"Which means it looks like I'm fat but I'm actually way healthier than any of you."
Doubling Down
Previous episode Doubling Down depicted a parallel between Cartman and Heidi's abusive relationship, 'likening the president's stranglehold on his Cabinet'.
Writer Charles Bramesco said: "Heidi's a sweet girl, and Cartman punishes her for this by tricking the young vegan into eating KFC, making fun of her weight, and repeatedly freezing her out and then begging her to take him back.
The episode itself came in for some criticism, relying heavily on 'jokes' around rape and antisemitism, with Bramesco adding: "As the undercurrents of neo-Nazism in America grow more pronounced, Cartman's strain of blithe Jew-hate has grown less and less funny."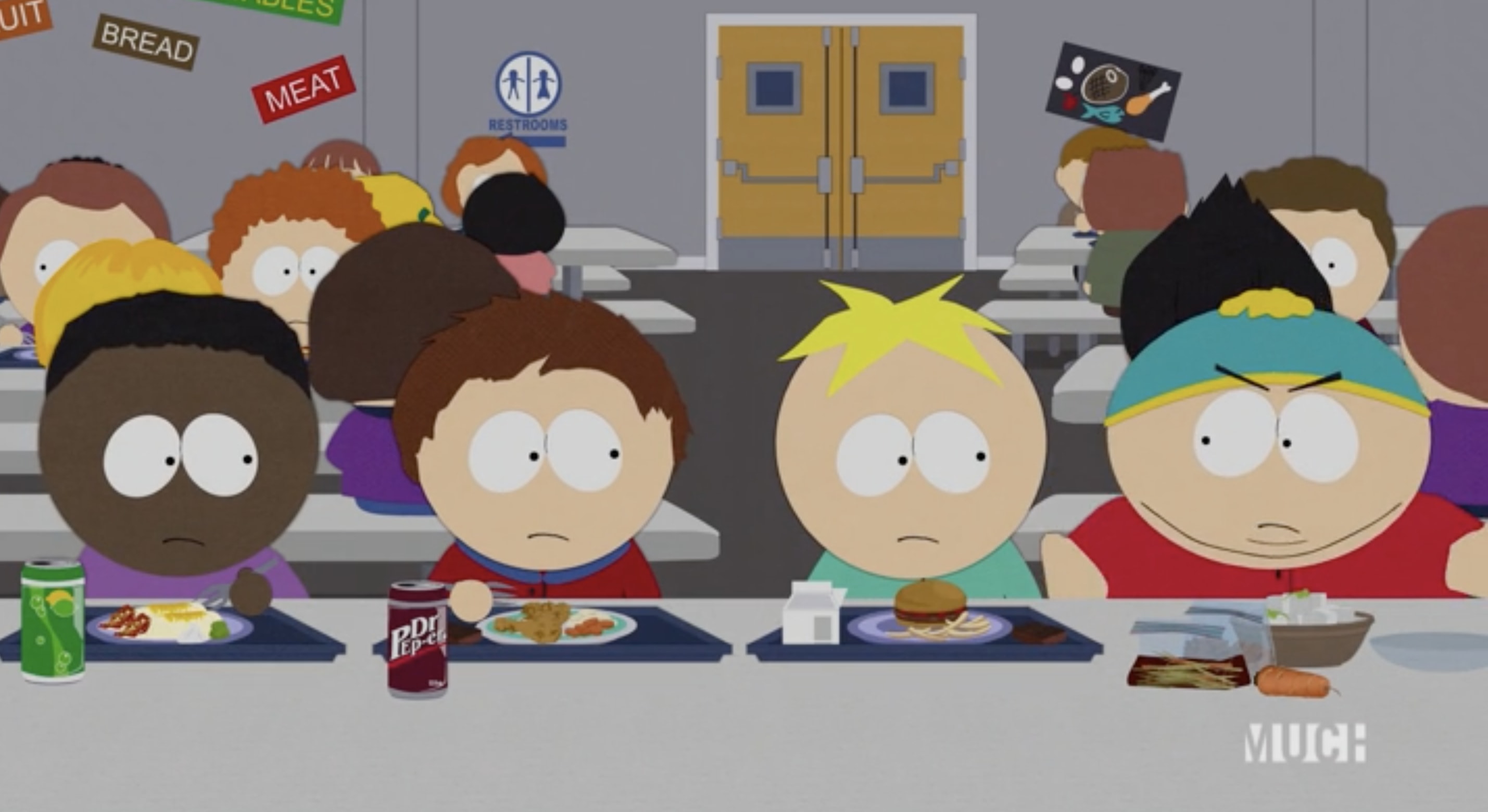 Representing veganism
After Doubling Down aired – with this polemically troubling context – there were mixed views from vegans, as to whether the show's representation of veganism was a positive thing or not.
Observing the show on the surface level, on the one hand it mocked veganism as it showed Cartman eating a plant-based lunch of ice-cubes and a carrot.
But it also – at first at least, before her dramatic transformation began – showed Heidi as a morally 'good' character.
And as some commentators said, surely any publicity is good publicity? The fact the movement (and the word itself) was such a major part of such a mainstream television program shows how far it has come.
As others on social media have said – it will be interesting to see where South Park continues to take this vegan storyline.
READ MORE:
Made In Chelsea Sisters Lucy And Tiffany Watson Spill The Beans About Their Vegan Restaurant
Pizza Hut Rumored To Be Launching Vegan Cheese Throughout UK Following Successful Trial
Sales Booming After Cafe Goes Vegan – Owners Set To Open Second Branch