So vegans are the militant ones?
If you've paid attention to the media coverage over the last few weeks, this would be the impression you're left with, from the Australian-activist Joey Carbstrong challenging Jeremy Vine over his ham sandwich, to a farmer's claims of receiving death threats as a result of vegans turning up outside slaughterhouses and livestock markets (which turned out not to be true).
Distorted
But that is a distorted snapshot of the way veganism is transforming British culture.
In my research interviewing vegan men and doing ethnography with animal rights advocates, I have seen a very different picture: a more complex set of interactions between farmers, slaughterhouse workers and vegans.
Often these are not confrontations at all, but conversations, and in many places agreements – if not over the value of animal lives, at least over the right to peaceful protest.
Rise
The rise of veganism 350 percent more vegans than 10 years ago; a quadrupling of 'vegan chatter' on social media since 2015/16 – is a challenge to the dominant worldview that it is normal, natural and necessary to eat animals and their secretions.
And with any challenge to existing views, there are a whole range of emotions stirred up – particularly when people's livelihoods, such as in farming, are so closely tied to the identities of those living that way.
Vegan activist Joey Carbstrong talks to PBN about being labelled as 'millitant'
So who are the militant ones?
But if anyone's acting militantly, it is not the vegans, but the farmers, truck drivers and slaughterhouse workers who feel threatened by the rise of veganism.
They fear the significant changes in consumption behaviours, such as fifty percent of Millennials considering removing animal products from their diet, or the huge increase in the sales of non-dairy milk.
And when vegan advocates visit slaughterhouses and livestock markets, emotions can spill over. As happened yesterday (February 14), vegan activist Earthling Ed was attacked at a livestock market in Oxfordshire.
Tension
According to activists, the tension at the auction was higher than usual.
"I think this could be to do with the way vegans have been portrayed in the mainstream media recently," said Ed, "as very militant and aggressive."
While I have witnessed these activists cursing those employed to kill and dismember cows, I have seen more civil conversations.
The SAVE Movement, which organises these vigils, has a Memorandum of Understanding based on the ideas of Mahatma Gandhi and Martin Luther King, fostering a love-based approach to animal compassion.
It is not the 'extremist' end of the vegan movement, as some media outlets would have you believe. More often than not, abuse is shouted at advocates from passing cars ('Get a job!') and many times the lobbing of bacon and meat at the activists.
Farmers on the attack
But this recent increase in the labelling of vegans as 'militant' has empowered those animal agricultural workers to go further.
As well as the attack on Earthling Ed, in Sheffield last week, a vigil advocate who was filming from a public footpath had blue dye and slaughterhouse filth thrown over her.
There is footage of workers brandishing knives in public view having 'forgotten to put them away', video of activists being hosed while on public property, and the footage of a slaughterhouse owner hitting a phone out of an activist's hand and smacking her in the face.
And those who attempt to slow down the trucks so activists can bear witness to the animals within, are regularly rough-housed out of the way.
Earthling Ed is attacked by a farmer
Aggression
In Newcastle, where I do much of my research, there is a well-known green tractor that all vigil attendees are warned to stay away from.
The aggression from farmers and truck drivers towards advocates far outweighs the aggression the other way round – evidenced by their driving, and their social media posts in which they regularly regret not knocking over an advocate or two.
This is despite how keen the activists are to show their love for the animals, rather than any negative feelings towards the slaughterhouse workers. Have a look at these images of love hearts from a Valentine's vigil (see below).
The culpability of the media
In any other walk of life, the attacks on activists would be classed as assault.
The police, however, seem loathed to intervene – perhaps also believing the outdated images of peaceful animal advocates as 'militant' 'terrorists'.
The media is culpable.
The last few weeks have seen a swathe of uncritical articles accepting farmers' claims of threats from militant vegans. Compare, for example, these first and second drafts of a Telegraph story.
On BBC Radio Norfolk last week, advocates were apologized to before the interview for how rough a time the journalist was going to give them, knowing his audience was mostly farmers.
This, despite the fact that the Norfolk advocates have peaceful agreements in place with the two slaughterhouses at which they bear witness.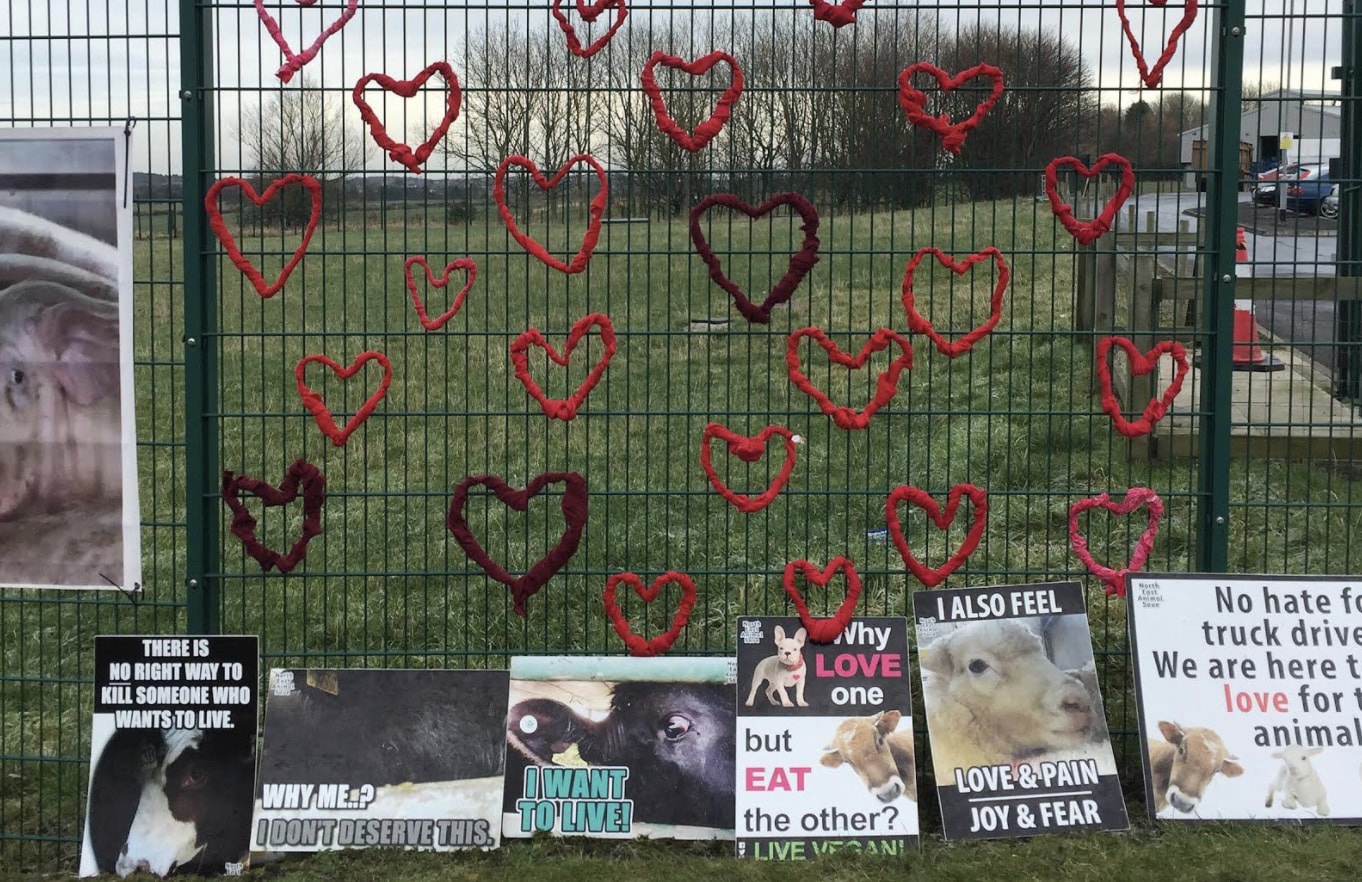 Victim
The farming community is keen to play the victim of unwarranted protest, labelling vegans as 'militant' and the opposite of normal and reasonable.
The irony is, of course, that farming, far from the idyllic image sold to us through children's books, dairy advertising, and the industry's representative bodies, is as violent as it gets.
Male dairy calves, deemed useless by-products, are often shot at birth.
It is industry standard for 'unprofitable' piglets to be killed by slamming their heads into concrete floors.
When emaciated dairy cows are no longer productive, they are sent to slaughter 10 or 15 years before the end of their natural lifespan.
And most day-old male chicks, useless to the egg industry, are macerated in grinders for pet food, gassed or suffocated in plastic bags.
Farmers are not immune to wishing the worst on their vegan opponents, either.
Dr. Jude Capper, the woman behind the #Februdairy campaign, the dairy industry's pushback against Veganuary, was caught on Twitter joking about dead vegans, days after condemning the alleged death threats from vegans to farmers.
Vegan activist Joey Carbstrong has been smeared by the farming community and media
The missed opportunity for dialogue
All of this leaves the impression that vegans and farmers are at war.
But only the latter want you to believe this. It is not true. The Vegan Society strongly condemned intimidation and violence against farmers, and has launched its Grow Green campaign, providing guidance on plant-based farming solutions.
The transformation of animal activism in the last decade, from violent altercations to peaceful witnessing, from loud street provocations to performance-led interactions, has been global and profound.
The rise of the vegfest, the spread of plant-based diets throughout sports, the success of programmes such as Springwatch, and the conversations initiated by films such as Cowspiracy, have led to a re-evaluation of the place of the nonhuman animal in society.
The farming industry needs to catch up or be left behind.
Farming
Why animal farmers respond defensively is understandable, but the vegan movement is not anti-farmer. Far from it.
There is real opportunity for dialogue, particularly in the wake of Brexit and this week's launch of the Labour manifesto on animal welfare (already ridiculed by the right wing press…) to re-evaluate our food industries, strengthen our food security, and perhaps have a conversation about what it really means to be a nation of 'animal lovers'.
The vast majority of vegans are not militant, and to call them such is unhelpful and can lead to real harm.
The name calling, the roughhousing, and the assaults on peaceful protesters must stop.