A vegetarian sausage has sparked huge controversy in Australia after it was served at a Bunnings Sausage Sizzle Fundraiser in Melbourne.
The event, which was raising money for a cat sanctuary, offered a vegan alternative to all the meat on offer. The controversy led to a petition on change.org calling for plant-based snacks to be served at all Bunnings sizzle charity events.
But not everyone was happy at what they saw as traditional being tainted.
'Crap'
One user took to Twitter to denounce the move, calling vegan food 'crap'.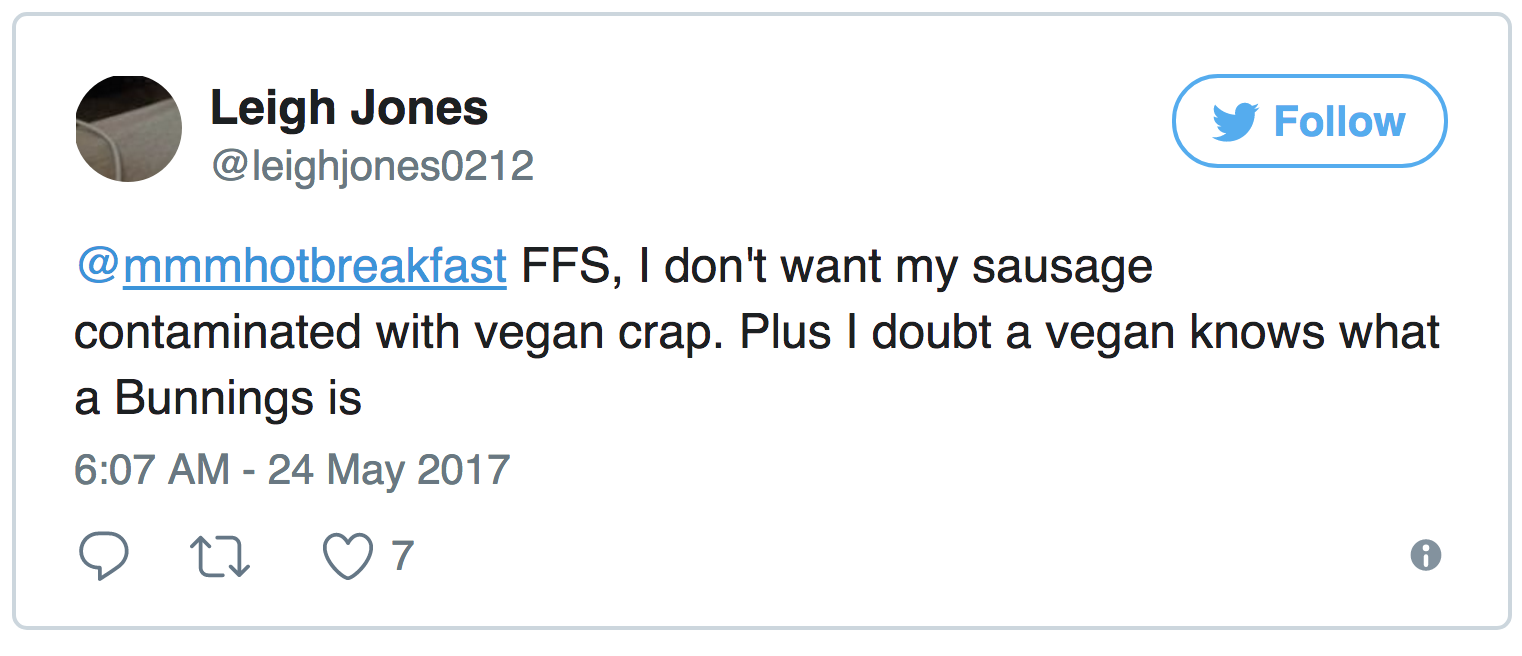 Petition
Despite this, a petition on change.org has nearly 9,000 supporters.
It says: "After recent publicity regarding vegan sausages being offered at Bunnings sausage sizzles we'd like to petition for this to become a permanent option at ALL Bunnings sausage sizzles.
"For long enough the vegans of Australia have had to simply walk past the iconic sausage sizzle and dream of being a part of this great Australian tradition. After finally getting a taste of what it's like to be involved, we like it, we like it a lot!
"Its 2017. Not only are vegan sausages delicious but they are healthier, have a much smaller environmental footprint and no innocent animal had to suffer! It's a win win."
More money
Australian 'vegetarian butcher' Suzy Spoon has waded into the debate, telling news.com.au that vegan meat can be 'confronting' for people.
But she thinks serving vegan sausages alongside the meaty fare at Bunnings events is a win-win.
She said: "All these groups that use the facility of Bunnings for their barbecues, it's to raise money for community events. So it's a great idea to also have some vegan options there because all they're going to do is raise more money, surely."
READ MORE:
New Vegan Breakthrough Aims To Appeal To Meat Eaters
Hampton Creek Is Selling Lab Meat – And Says It Will Be In Supermarkets Next Year