Plant milk producer Rude Health is facing more controversy after it emerged that a senior staff member wrote a vitriolic – and unprovoked – blog post insulting vegans and their lifestyle.
The blog, posted by Camilla Barnard, co-founder and brand director of Rude Health, called veganism a 'fad' and described films promoting a vegan message as 'propaganda'.
It was then followed by an Instagram post promoting dairy – leading some vegans to speculate that Rude Health is owned by a dairy firm (an accusation the company has denied).
Vitriolic
She wrote: "Now it's vegetarianism and veganism, promising to save you from cancer and early death and save the animals while you're at it, if you believe What the Health, Okja and other propaganda films masquerading as documentaries on Netflix.
"You can eat as much gluten as you like on these, which is unusual, but bread without the butter is a bitter win.
"All these regimes are defined by cutting out types of food, which is odd in itself if you aren't forced to by an allergy, but to follow these diets is also to claim the health and moral high-ground.
"You are clean and you care, presumably meaning those of us still eating ham and cheese toasties are filthy dirty and don't care."
Ditching
Unsurprisingly, many vegans haven't taken too kindly to the unprovoked attack.
It is not the only time the company has misjudged its customer base – it also came under fire for a post singing the praises of dairy milk.
But it's the unprovoked attack on veganism that has annoyed former Rude Health customers the most – and led to a huge number of vegans saying they will boycott the brand, as well as some retailers dropping Rude Health's products from their offerings.
Vegan Kind
Online retailer The Vegan Kind was one of the first to ditch the products.
A post on the company's Instagram page said: "Earlier today our lovely followers brought to our attention a very pro-dairy Instagram post from @rudehealth.
"We were taken aback and decided to research into this further, and we were shocked and alarmed to come across posts on their website criticizing veganism as an 'odd' 'regimes' which are 'defined by cutting out types of food' and are 'modern madness'.
"We find it sad that @rudehealth have failed, or are desperately trying to fail, to see that the vegan lifestyle is not defined around cutting out foods, but is centered around protecting animal rights and reducing suffering, and that veganism is not a regime, but a non-violent and positive way to live your life.
"And not only is this 'modern madness' the present, it is also the future. We have decided to put the @rudehealth products that we currently stock into our clearance section and have cancelled the @rudehealth delivery that we were expecting from our supplier today.
"We will not be restocking their products.
"Thank you to all our lovely followers who brought this to our attention.
"And hey @rudehealth, we look forward to welcoming you to the vegan community when you realize that veganism is the answer [sic]."
Others – including The V Stop in Nottingham – followed suit.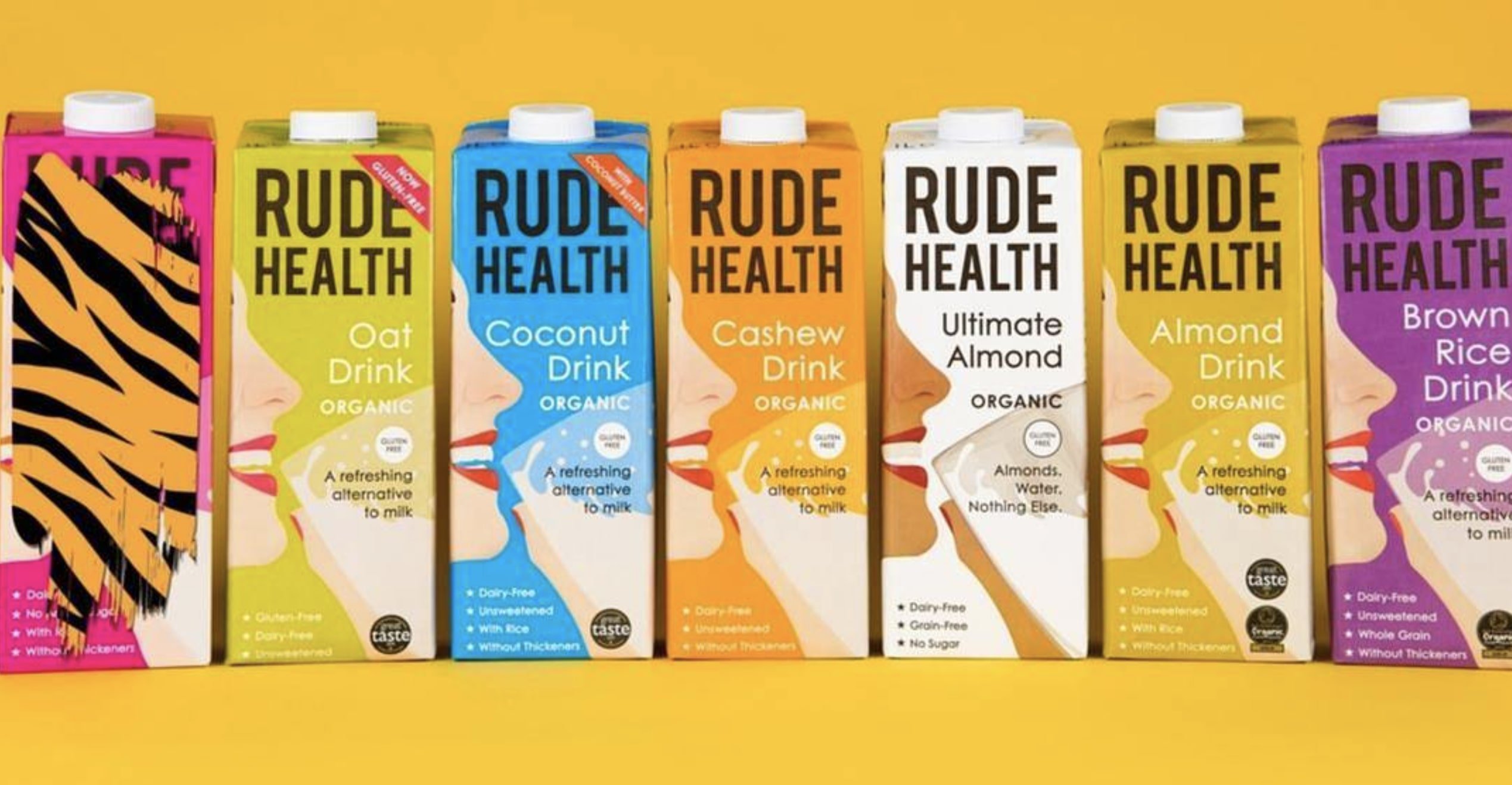 Praise
Consumers have lavished praise on these companies for following their ethical stance. For many, they are not angry that Rude Health isn't a vegan company, rather that the brand launched this spiteful attack on what is a social justice movement, and not a fad diet.
Responding to The Vegan Kind, Instagram user blueollis said: "This is fantastic to hear.
"There needs to be more action done about companies who are profiting of veganism as a trend rather than a lifestyle and political choice.
"Thank you for taking direct action. I will be boycotting this brand until they come around to veganism."
Treehouse1984 added: "It's madness that a company thinks that being vegan is about cutting things out when they themselves make the healthier and more ethical products we replace them with… complete lunacy."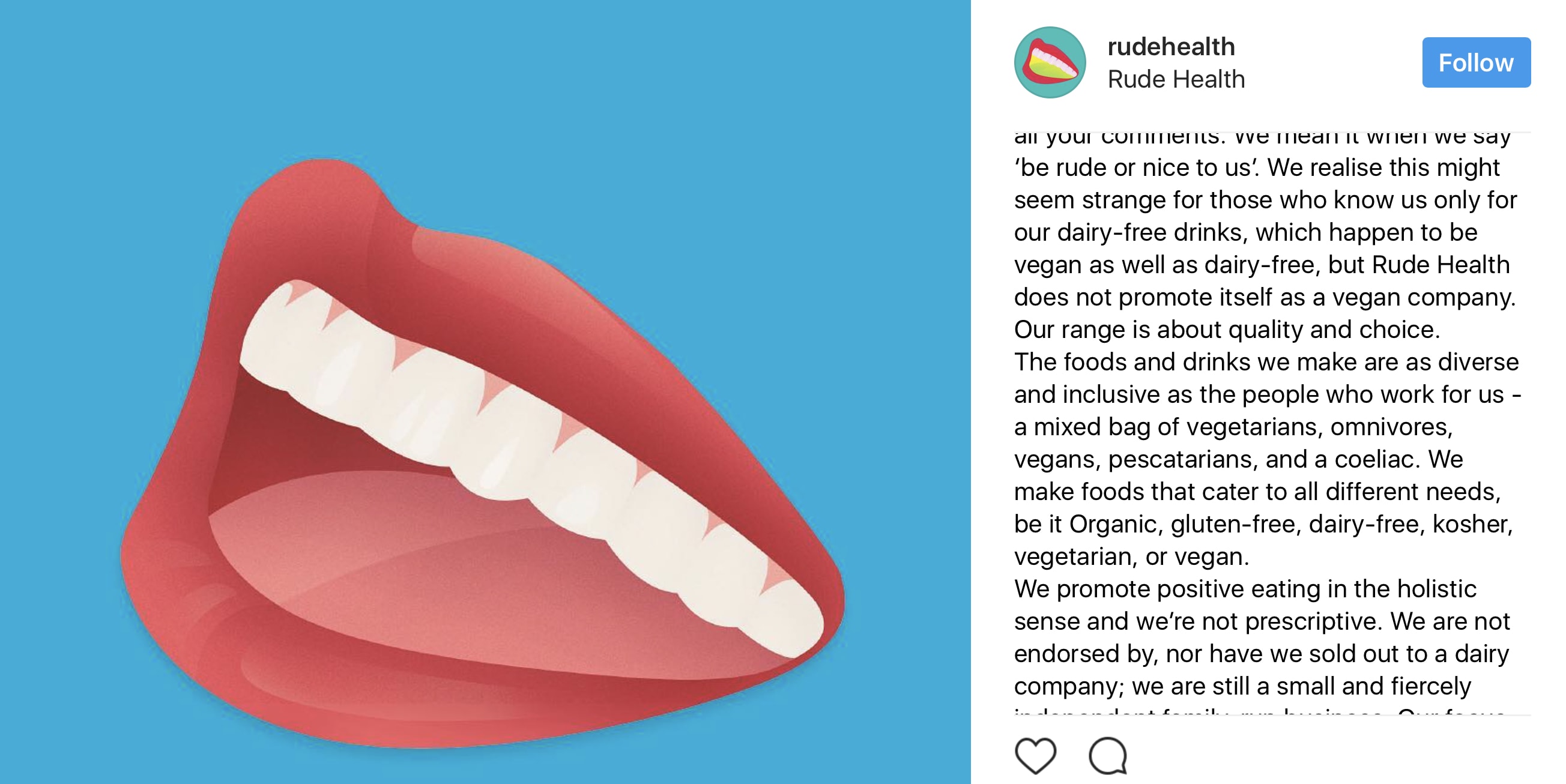 Apology?
While the company hasn't apologized for insulting a major sector of its customer base, it has released an Instagram post to address the controversy around its anti-vegan, pro-dairy message.
It said: "We may be rude, but we never want to offend, and are always up for a frank and open discussion to ignite a wider conversation about food, and so we welcome all your comments.
"We mean it when we say 'be rude or nice to us'.
"We realize this might seem strange for those who know us only for our dairy-free drinks, which happen to be vegan as well as dairy-free, but Rude Health does not promote itself as a vegan company.
"Our range is about quality and choice. The foods and drinks we make are as diverse and inclusive as the people who work for us – a mixed bag of vegetarians, omnivores, vegans, pescatarians, and a coeliac…We are not endorsed by, nor have we sold out to a dairy company; we are still a small and fiercely independent family-run business.
"Our focus is on flavour, responsible sourcing and the enjoyment of food. At Rude Health we use the best ingredients we can find – nothing artificial, nothing refined. We don't support industrial scale or monoculture farming, whether it's for dairy, almonds, meat, avocados or soya.
"We see a clear distinction between the destructive effects of industrial-scale farming and the sustainable practices of small-scale farms.
"What we really want is for everyone to be in rude health. How each and every one of us achieves this goal is truly personal and very individual."
At the time of going to press, the vast majority of responses to Rude Health's post are from vegans pledging to boycott the brand.
PBN has contacted Rude Health for comment. No one from the press department was available, but the company has said a member of the team will respond in due course.
READ MORE:
Vegans Angered After Plant Milk Producer Rude Health Supports Dairy Milk
SCANDAL: German Meat Producers Fight Vegan Companies Over Naming Meat Substitutes