In what is possibly the most exciting week of the year – National Curry Week – we suggest you celebrate accordingly by experimenting with the assorted flavors this Indian dish offers.
Spanning between October 9 and 15, curry week is the perfect excuse to try several vegan curry recipes.
Here are five simple but tasty meal ideas.
1. Tofu And Peanut Butter Curry
A flavorful and creamy dish that is also nutrient-packed, this tofu and peanut butter curry will be ready to devour in just 20 minutes.
Ingredients include tofu, broccoli, cauliflower, tomato sauce, onion, garlic, ginger, peanut butter, and spices.
Fry the onion, as well as the garlic and ginger. Add the tofu cubes, and the curry powder, followed by the broccoli, cauliflower, and boiling water.
Cook for about 10-15 minutes, then add tomato sauce, peanut butter, and salt.
Serve with boiled rice or noodles.
See full recipe here
2. Potato & Chickpea Curry
This filling curry is incredibly quick and easy to make – and a great way to warm up.
You will need potatoes, chickpeas, coconut milk, onions, garlic, curry powder, and turmeric.
Parboil the potatoes for about 6 minutes, during which you can fry the onions, along with the garlic and ginger.
Mix in the spices, the coconut milk, and the parboiled potatoes and simmer gently. At the end, add the tinned chickpeas and salt and pepper to taste.
See full recipehere
3. Coconut Curry
An absolute classic, coconut curries are hearty veggie-packed dishes that are extremely satisfying – and nutritious.
Round up some veggies, boil rice or your grain of choice, and gather ginger, curry powder, cayenne, and coconut milk.
Sauté the onion and garlic together with veggies and ginger, and a pinch of salt and pepper; stir in the spices, as well as the coconut milk, veggie broth, and cook for 10-15 minutes.
Serve over your grain of choice and enjoy!
See full recipehere
4. Channa Masala
This beginner-friendly recipe for the classic channa masala will surely become one of your go-to dishes.
It requires chickpeas, onion, garlic, tomatoes, coriander, and a bunch of spices.
Fry onion, garlic, ginger – and chillies if you're into spicy food – on low heat. Add the spices, the chopped tomatoes, and cook lightly.
Mix in the chickpeas, some water, and cook for 20 minutes until the sauce thickens.
Serve with rice or vegan naan bread and voila!
See full recipehere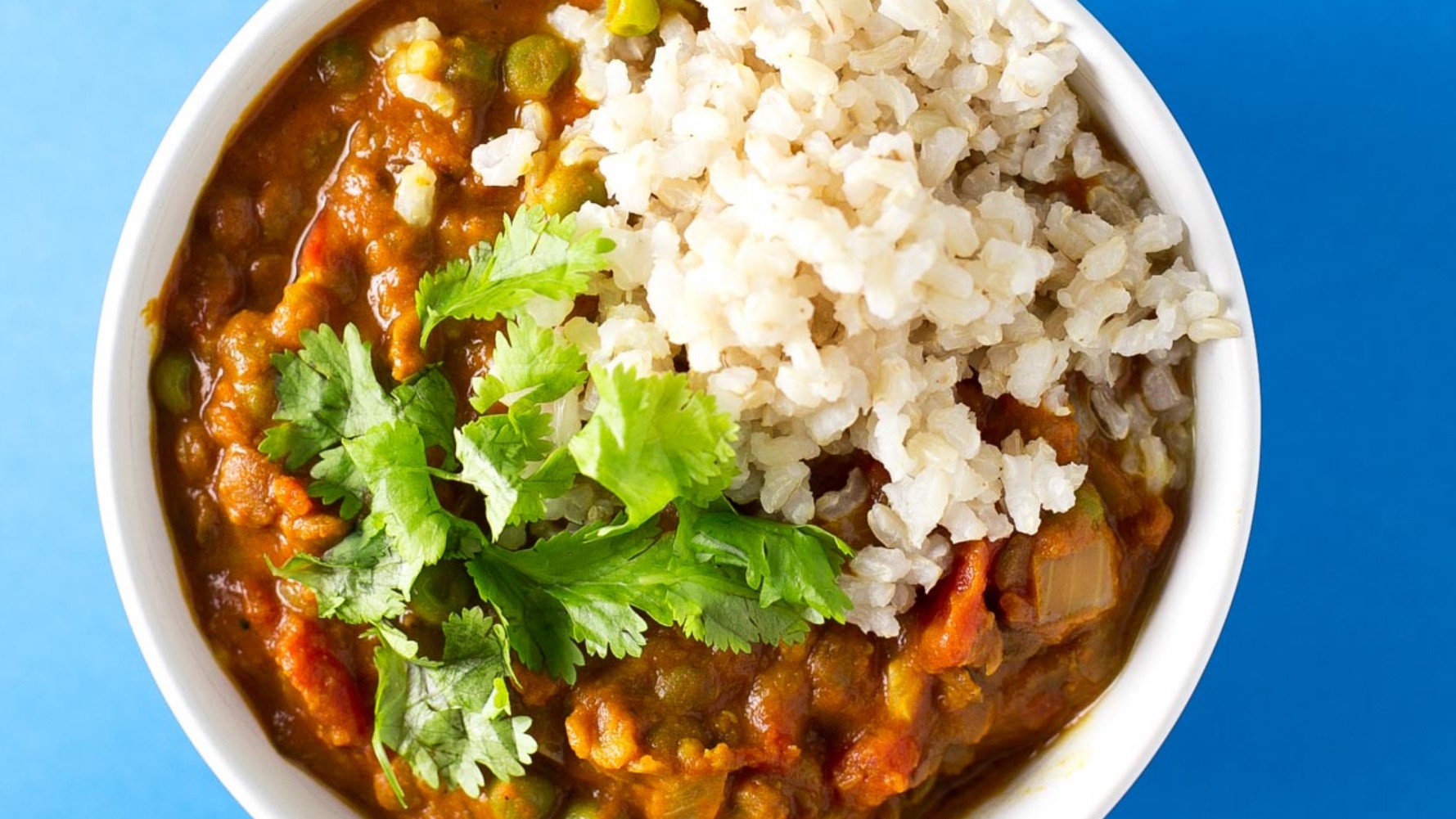 5. Lentil Curry
A no-fuss vegan recipe, this lentil curry will keep you coming back for more.
While the lentils are cooking, fry the onion, garlic, and ginger together with the cayenne powder. Add the tomatoes, coconut milk, sugar, turmeric, curry, cumin, salt, and pepper, and cook for about 5 minutes.
Add the cooked lentils, as well as frozen peas into the pan and simmer for a further 10 minutes.
See full recipehere
READ MORE:
Fast Food Giant McDonald's Launches Trial Of 'McVegan' Burger
Burgers At New 'Seitan's Grill' Described As 'Incredible'
Why 'National Treasure' Joanna Lumley Loves The Plant Based Beyond Burger