Have you ever said, 'I'm a chocoholic' or 'I could never give up chocolate!' Or maybe 'I'm not fit enough to start running'?
Maybe these statements don't resonate with you but thinking back there may have been a time when you've said something similar.
It might be that others have labelled you in a negative way, saying you're lazy or disorganised, for example.
I have been called all sorts of things over the years, particularly as a child and young adult. These things can hurt and lead us down some very negative thinking – if we let it.
Labeling yourself negatively
The problem is that labelling ourselves in a negative way can be self-perpetuating. If you label yourself as unfit that's how you can end up staying.
If you tell yourself you're unfit you're not in the best place to start exercising again. If you struggle when you first start exercising, which is totally normal and to be expected, you're more likely to give up because your brain will reinforce the negative label you've given yourself.
You're creating your own reality and you can become stuck, identifying yourself only in this negative way.
'I'm a junk food vegan'
I often hear people refer to themselves as a 'junk food vegan'. Most of us probably want the odd vegan burger and fries at some point, but this shouldn't be the mainstay of what we're eating.
If you refer to yourself as a junk food lover where does that leave you when you're offered something healthier or if you want to start making some healthier changes?
There are so many more products now suitable for vegans, which is great to see. But to support our health it's important we focus on real wholefoods, which are those with little or no processing, to give our body the nutrients it needs.
So whether you feel your 'problem' is junk food, crisps or chocolate it's worth being aware of how much salt, fat and sugar may be in what you're eating. If we take a vegan frozen pizza, for example, this could have more saturated fat than is recommended in one day. You'll also have had your recommended daily maximum amount of salt, in one meal. Some are even half the recommended amount of your daily calories.
As well as what's in these foods it's also worth bearing in mind they will generally not be giving you the healthy fats, vitamins, minerals, and fibre you need.
Unhealthy habits? The link between your thoughts and actions
When working with clients who are struggling to adopt healthier habits one of the exercises I do with them is consider what a fit and healthy person would do. This might be when they're out shopping, deciding what to eat that week or choosing food when eating out.
Even if you might not think of yourself as someone who is fit and healthy there is nothing to stop you from behaving as if you already are. This is more challenging to do if you have labelled yourself in a negative way.
I am not saying you shouldn't ever eat junk food or chocolate! But labelling yourself positively can make all the difference and means you might not want the fatty, sugary or salty foods anymore.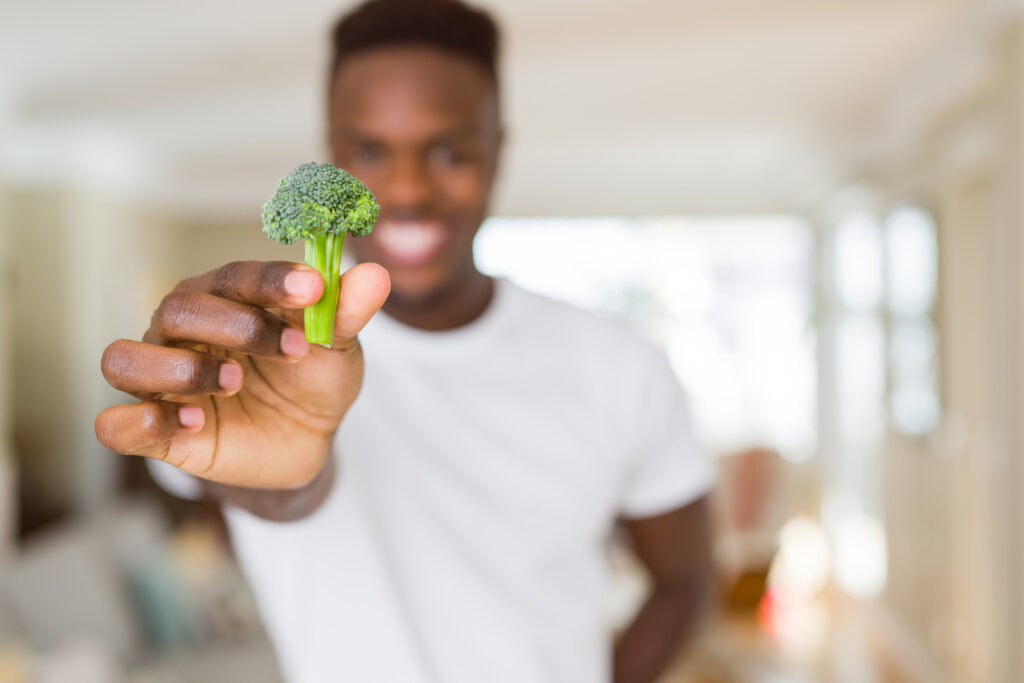 Don't label yourself by your actions
It can be quite common for us to label ourselves when actually what we're referring to is a specific occasion or action. I'll use the example of someone who has tried to go vegan. Say there were a couple of occasions where they ended up eating something that wasn't vegan. That doesn't make them a bad person.
We shouldn't define ourselves by our actions, such as making a mistake or not completing something.
Words can become your actions
I love this quote from Mahatma Gandhi as it shows how what you believe can determine your outcomes.
"Your beliefs become your thoughts,
Your thoughts become your words,
Your words become your actions,
Your actions become your habits,
Your habits become your values,
Your values become your destiny."
We can often find it difficult to move from our words becoming actions. This can be the stage you get stuck on because you don't truly believe you can put your words into actions. It's very easy to say we're going to do something but more challenging to overcome the 'reasons' why we don't!
If you're holding negative beliefs these can become what you think and say about yourself or your goals. Which means you can't then move on to creating a new habit.
How to change negative thoughts
Consider what thoughts and attitudes might be holding you back and preventing you taking action and creating new healthier habits.
Here's an example:
You want to eat healthier plant-based meals, but you tell yourself you don't have time, or you think you're too busy. This is how you have labeled yourself.
So how can you make this work?
Instead of telling yourself 'I don't have the time', ask yourself, 'When can I squeeze in the time'. Is there something you could change or do to make this happen?
With the first statement, you've already made the decision that you don't have the time. By asking a different question, you've left yourself open to exploring options. Another question might be 'Is this actually true, or just something I've decided to believe.'
There's a big difference in the two mindsets. One has possibility, the other does not.
When you make something a high enough priority, it's easier to find a solution. Is there a change in attitude you can make about something that may help you to start moving in the right direction?