It's officially National Burger Day, so we decided to get into the spirit, and share some delicious vegan burgers with you.
This line-up for the best vegan burgers you can gorge on in the UK is just in time for one of the best days in the culinary calendar!
1. Mooshies on Brick Lane, London
Mooshies brings the vegan burger experience into the buzzing atmosphere on Brick Lane. With a totally plant-based menu, it specializes in burgers.
Four burgers can be found on Mooshies' menu – a jackfruit burger, quinoa & black bean patty, battered nori aubergine, and a bhaji burger – all with extra toppings available. Order with a side of cheezy sweet potato fries, and you'll be in for a real treat.
2. Holy Cow, Edinburgh
This 100 per cent vegan, organic, and Fairtrade eatery offers some top-end fare.
Holy Cow, in Edinburgh, bases its dishes on seasonal ingredients, and also caters for gluten-free customers.
The Portobello Mushroom, Pulled Jackfruit, and Thai Carrot are among its most popular burgers.
3. V-Revolution in Manchester
Also known as V-Rev – this winner of VegFest UK's Best Restaurant in 2016 – is a vegan jewel in Manchester's city centre.
Established in 2011, it definitely lives up to the hype, plus its dishes all have cool pop culture names; why not try the Macaroni & Michele's High School Reunion (a burger topped with mac 'n' cheese and Chipotle Coca Cola BBQ sauce), or the Jerry Zinger ('chkn burger' with cheese, hash brown, hot sauce, salsa, and mayo).
4. Gourmet Burger Kitchen, nationwide
Gourmet Burger Kitchen has continued to add plant-based options to its menu in recent times – making it worth a visit for hungry vegans.
The Dippy Hippy boasts a bean-based patty, with beetroot and mint hummus, avocado, piquillo pepper, salad, and relish in a sourdough bun.
There are also three veggie burgers on the menu; Falafel, Californian, and Billy The Kid – just make sure to order without the cheese and/or mayo.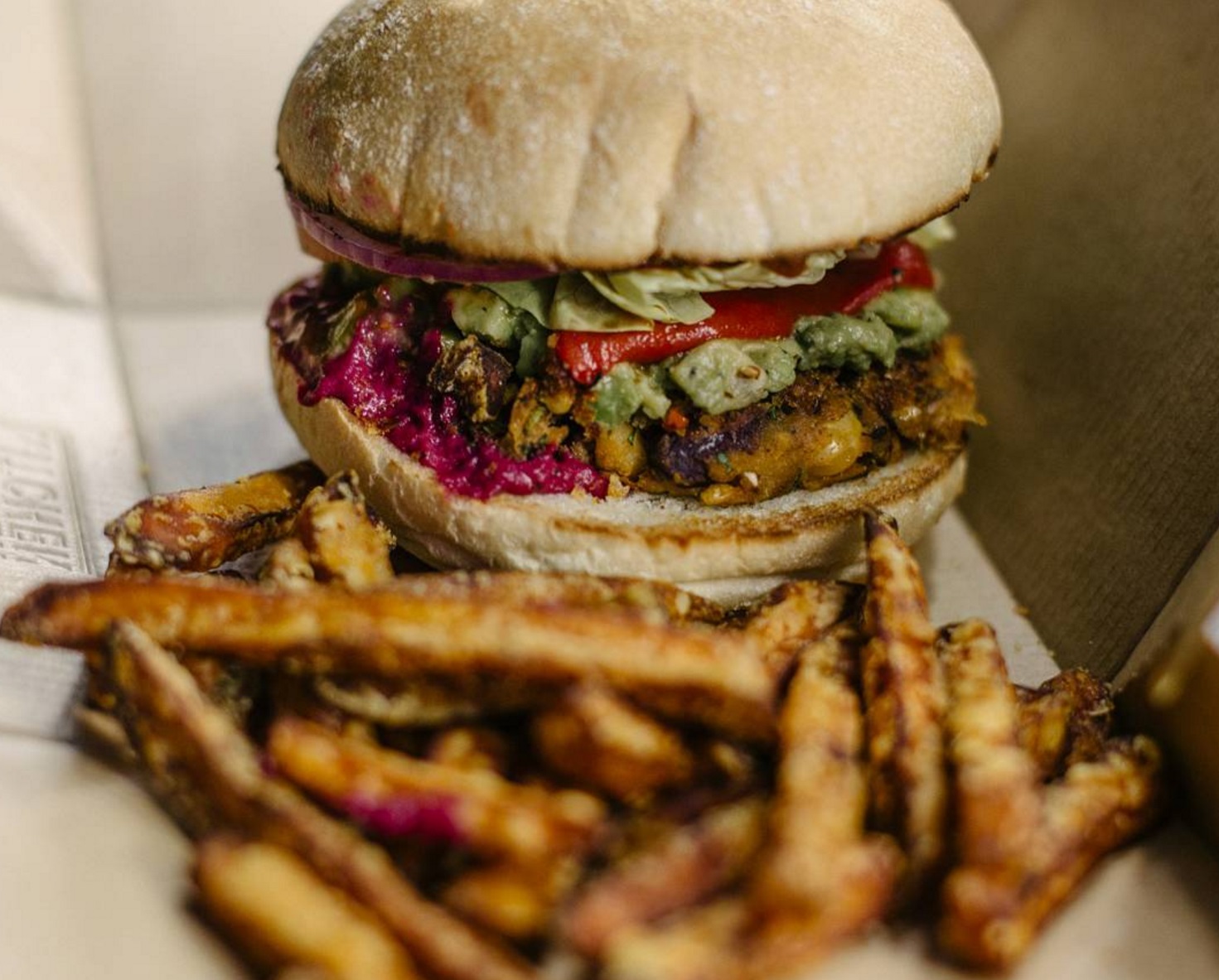 5. The Prince George, Brighton
A refurbished pub known for its vegetarian food, The Prince George is sure to appeal to both vegans and meat-eaters.
The Sunday lunch menu features the vegan falafel burger, piled high with onion jam, harissa, coriander pesto and hummus, and salad.
6. The Vurger Co in Bethnal Green, London
The Vurger Co, which offers a totally plant-based menu – creates decadent burgers made from vegetables, seeds, nuts, and legumes.
You can find its food at various pop-ups around London as well as its 'almost permanent' spot in Bethnal Green.
Options include The Classic (smoky black beans with peppers and corn topped with tomato, red onion, and house-made Vurger sauce), and The Mexican (spiced jalapeno and pepper bean patty topped with hot salsa, chilli mayo, and smashed avocado).
READ MORE:
10 UK Chain Restaurants That Offer Amazing Options For Vegans
Top 12 UK Spots For Amazing Vegan Sweet Treats And Desserts
UK Quizzed On Best Brand, Restaurant, And Supermarket For Vegans: Here Are The Results