Humans gamble with animals' lives every day – most suffer and only a lucky few are saved.
Now an animal sanctuary in Spain wants to turn gambling on its head and use it as a force for good, in the belief that together, we can increase the odds for animals.
Rescue
Jacobs Ridge in Murcia is home to more than 125 animals, who have all been rescued from terrible pasts.
Animals like Grace, a beautiful horse whose owner used to beat her around the head with a shovel whenever he felt she disobeyed him.
She is permanently brain damaged as a result, and it was recommended that she be destroyed. But that's not how the folks at Jacobs Ridge do things.
Grace now lives within a herd of 15 horses at the sanctuary, safe and free from fear.
It is for animals like Grace that sanctuary owner, Julian Nicholson, launched The Animal Sanctuary Lottery.
Safe
He says: "You see, the animals at the Ridge are safe against all the odds.
"Before we found them, they were destined for nothing but misery and a traumatic, early death.
"We need as many animal lovers as possible to start playing the Lottery and help spread the word far and wide. Not only will this allow us to keep our current residents happy and well, but it will enable us to rescue many more animals in need.
"And the great thing about this lottery is that it doesn't only help Jacobs Ridge to be more effective, it will help other sanctuaries as well."
Heartbreaking
The idea behind The Animal Sanctuary Lottery is a simple one: the more players, the bigger the pot of money for sanctuaries and their animals.
Sanctuaries and shelters can apply to the Lottery for funding when they have a need and a lack of funds. And sadly, there is never a minute when an animal is not in need of rescue, nor a sanctuary in need of money…
"The situation out there is desperate," continues Nicholson.
"We have more pigs than any other species at the Ridge, but we could rescue more every, single day – such is the level of abuse so entrenched in our society.
"Bill and Ben would have been killed long ago, for example; their beautiful personalities lost forever for something as senseless as bacon.
"It's heartbreaking to know that so many millions, just as deserving of life, will not be saved.
"As animal advocates, we need to look outside the usual channels of action and funding. It is a burning desire to do so much more that propelled me into creating this Lottery."
For everyone
Jacobs Ridge soft-launched The Animal Sanctuary Lottery some weeks ago, and over 100 people have already committed to playing every week.
But this is just the tip of the iceberg, because Nicholson believes the lottery will appeal to non-vegans as well as vegans.
"We're a completely vegan sanctuary, but we provide refuge for all animals, not just those we typically eat.
"Currently we have pigs, horses, goats, donkeys, cats, and dogs living with us. There are a huge number of people out there who love donkeys and horses, for example, but still continue to eat other animals.
"If we encourage these people to get behind The Lottery then not only will they be supporting the vegan movement, but they'll also learn about other animals along the way. It's a win/win for the animals!"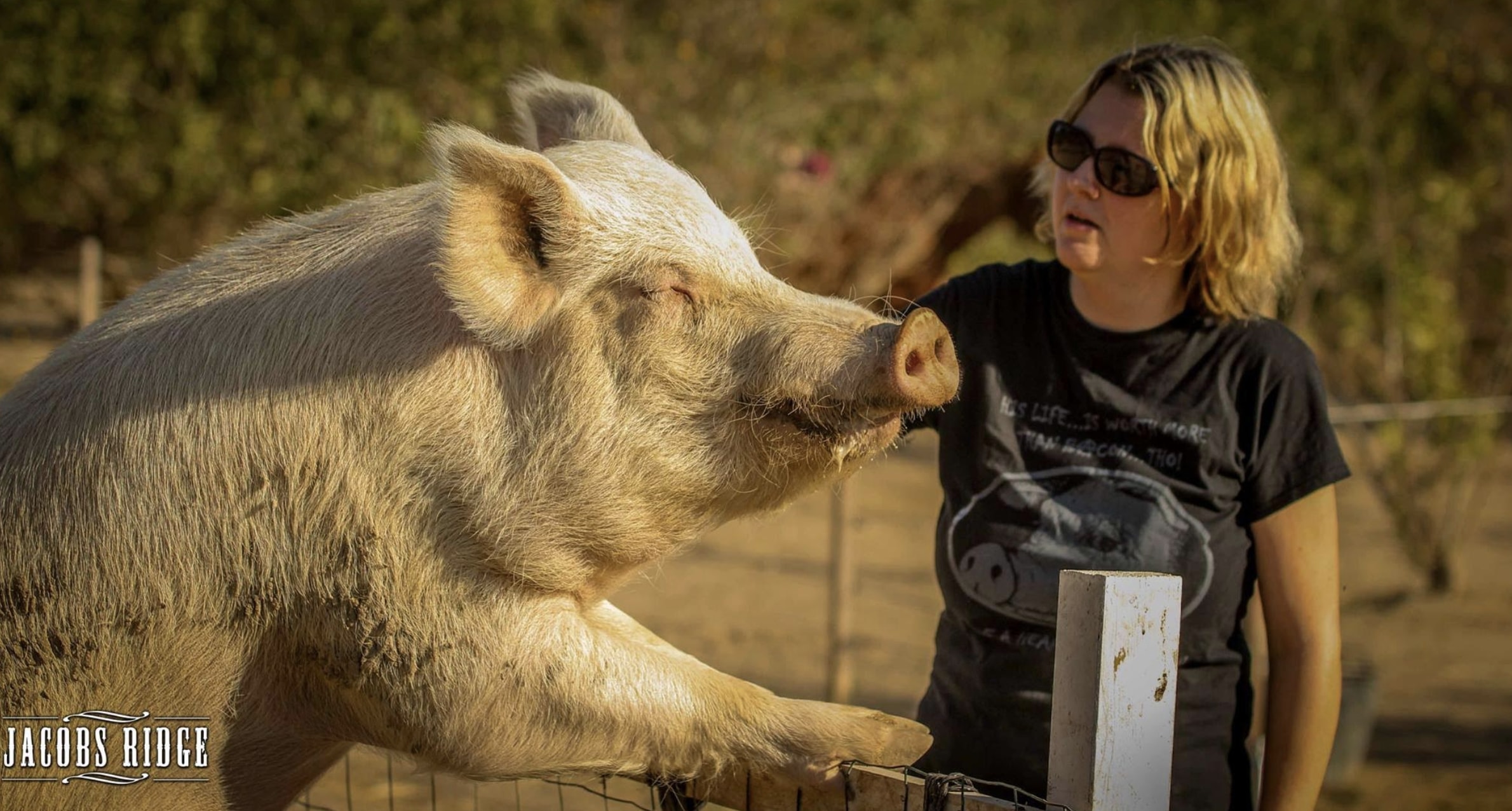 Lottery
So how does The Animal Sanctuary Lottery work? The minimum entry is £1 and a draw takes place every week.
The more players there are, the bigger the prize pot! If you're a lucky winner, then you can do whatever you want with the money.
Some people choose to donate it back to Jacobs Ridge, others put it towards their travel fund for the sanctuary's volunteer holiday programme, and some use it to support other good causes.
'Brilliant'
"I think The Animal Sanctuary Lottery is such a brilliant idea," says new player, Tina Abbott.
"I can only afford to donate a certain amount of money, but by playing every week I have the chance to donate more if I win. I came third in a recent draw and donated my winnings back to Jacobs Ridge.
"As I won almost twice as much as I played, I've already been able to give more than if I just did a standard donation every month."
Game changer
Julian Nicholson has dedicated his life to rescuing, rehabilitating and caring for abused animals, and firmly believes the Lottery will be a game changer.
"I'm always looking for ways to be more effective for animals.
"They are suffering in greater numbers than ever before so we need to do all we can, as quickly as we can. I'm really hoping that we can drum up enough support to make this lottery fly.
To take part in The Animal Sanctuary Lottery,sign up here. You can play for as little as £1 a week.
Jacobs Ridge runs unique 'Volunteer Experience' holidays, where you live and work at the sanctuary and get hands on time with the animals. You can find moreinformation about Jacobs Ridge and the volunteer programme here
READ MORE:
The Telegraph Just Told Vegans To Shut Up – And I'm Having None Of It
STARBUCKS: 'We Will Offer More Plant Based Options'
Vegan Milk To Represent Nearly Half Of The Milk Industry By 2021