Tonight Great British Bake Off screened its highly-anticipated Vegan Week episode, and it grabbed the attention of many.
The Guardian live-reported the episode as ever, describing it as 'interesting' as angry omnivores on Twitter pledged to boycott in protest at the lack of animal abuse.
Vegan first
It was the first time in the show's history that contestants had to eschew dairy, eggs, and honey. They approached the challenge with varying degrees of enthusiasm.
Most excited was Manon – who revealed on Twitter that she'd be ditching animal products for the whole month of October, saying: "Some people stop alcohol for October, I just went vegan for the month.
"So I am excited for you to see all the delicious stuff you can do without any animal products! #veganweek #gbbo #ditchthedairy."
Jon, however, was not as enthusiastic, saying he would prefer a 'kebab week' and eats animals at every meal.
?
Vegan challenge
But how did this translate to the bakes themselves?
"The challenge is they have to deliver on flavor, which we know they can do." said Prue Leith talking about the first challenge of making tarts. "But can they do it vegan?"
Manon's pastry was described as 'very delicious' by Leith. Paul Hollywood said she'd done a great job overall.
Rahul's pastry was also described as tasty, with Leith going as far as describing it as 'poetry' and saying she could 'hardly believe it was vegan' as it was so tasty.
Kebab-loving Jon didn't fare so well: his pastry was described as 'gluey', 'rubbery', and 'not wonderfully attractive'.
Paul Hollywood described Kim-Joy's pastry as 'amazing', and even offered the much-vaunted handshake – symbolizing the high quality of her bake.
Vegan technical
Perhaps the toughest challenge was the technical: in which the contestants had to make a vegan tropical fruit pavlova – using aquafaba.
The contestants had varying degrees of success – with Rahul's winning praise for the neatness and flavor of his attempt, as did Briony and Manon.
Kim-Joy fared badly, coming last, and Rahul won the round. He said: "I made something and the judges liked it; that's a very good thing."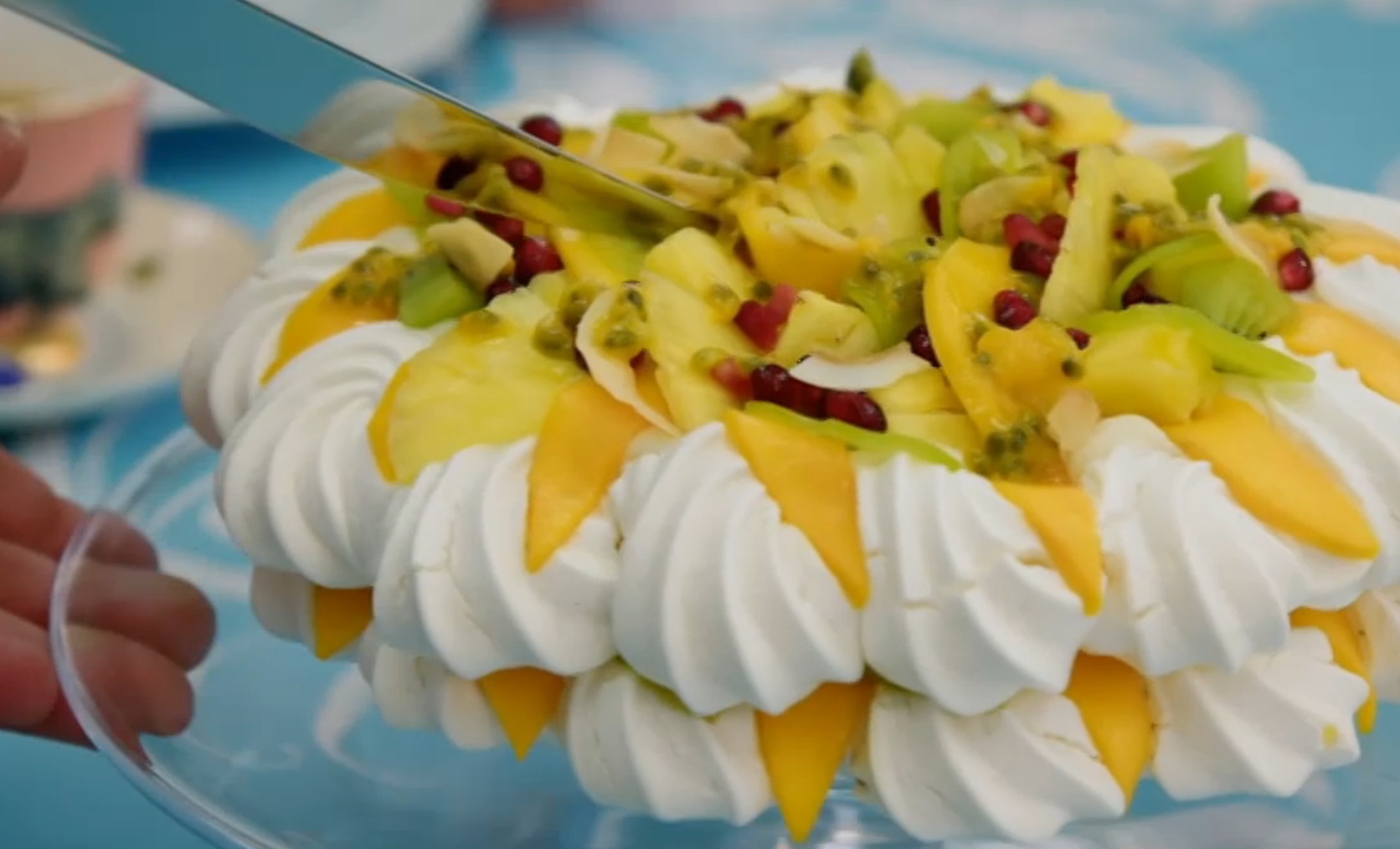 Vegan show stoppers
Tension really mounted during the 'show stopper' round. As dramatic music played, contestants worked out how to hide the 'wonk' of their bakes.
"Oh man, that was awful," one said, as they all shuffled out of marquee.
But the worst was yet to come: there was a sickening crunch as Ruby's cake completely collapse, leaving her in tears – though Leith said the taste was delicious.
Rahul's also fell apart. Briony and Kim-Joy fared better.
Judging
Facing a tough decision, Hollywood admitted he was disappointed with some bakers, though host Sandi Toksvig described it as a 'really successful vegan week'.
Kim-Joy won Star Baker of the week. Announcing the loser, Toksvig said it gets more difficult every week, as they become more fond of all the contestants.
Jon was the unlucky one, who said he was 'immensely proud' to have made it as far as he did.
GBBO
Vegan Week on Great British Bake Off has gathered many column inches, as well as angry, and supportive tweets.
As judge Paul Hollywood said, the episode reflects the changing face of how we eat, and though many of the old vegan myths were dredged up ("it tastes so good, I can hardly believe it's vegan!") it was ultimately positive to see vegan cuisine brought into such a mainstream arena.
Maybe one or more viewers out there watched the show and realized that veganism is not about deprivation, and it's not weird, or impossible. Maybe it's worth giving it a go.
And ultimately, that's the best thing we could ask for.